5 Websites Like Textbroker
In this article, we're running down the top alternatives to one of the most popular content writing services – Textbroker. Textbroker advertises itself as an affordable writing website that offers quality content, but it's developed a reputation for a somewhat shaky level of quality. For this reason, we've created a list of alternatives for you to consider.
What is Textbroker?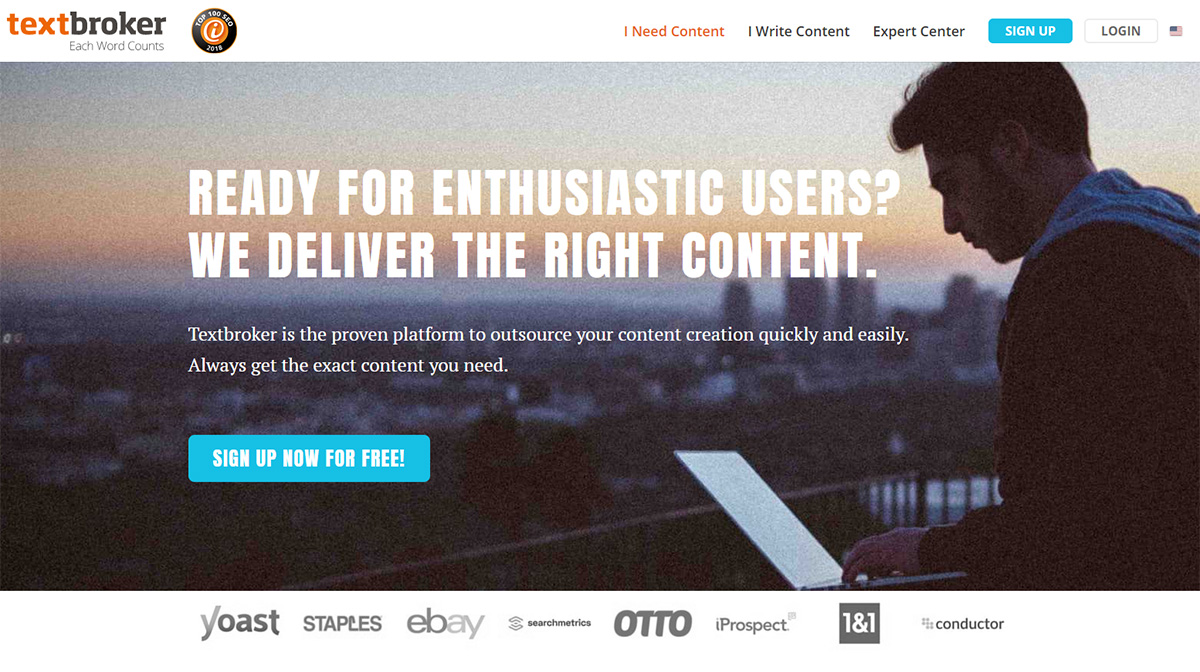 If you aren't familiar with Textbroker, we'll quickly explain the service.
Textbroker is one of the oldest "content mills" around. Textbroker is a content writing service that offers custom content for business and website owners. Through a freelance platform, the Textbroker team assigns writers to create website content, like blogging, newsletters, products reviews, etc. However, the fact of the matter is that Textbroker works with thousands of writers, which means there is constant content without much supervision or quality assurance. As a result, some have found it increasingly difficult to depend on the quality of written content they receive from Textbroker.
It also doesn't help that Textbroker consistently positions themselves as one of the "most affordable" content creation services. In other words, a freelance job on Textbroker won't pay an experienced writer as much as their competing services, which makes it difficult for Textbroker to attract quality writers. And as a business owner looking for quality writers to create website content, you get what you pay for, as the saying goes. For these reasons, many are starting to look elsewhere for content creation. Here are some of our top picks:
Websites Like Textbroker
Writer Access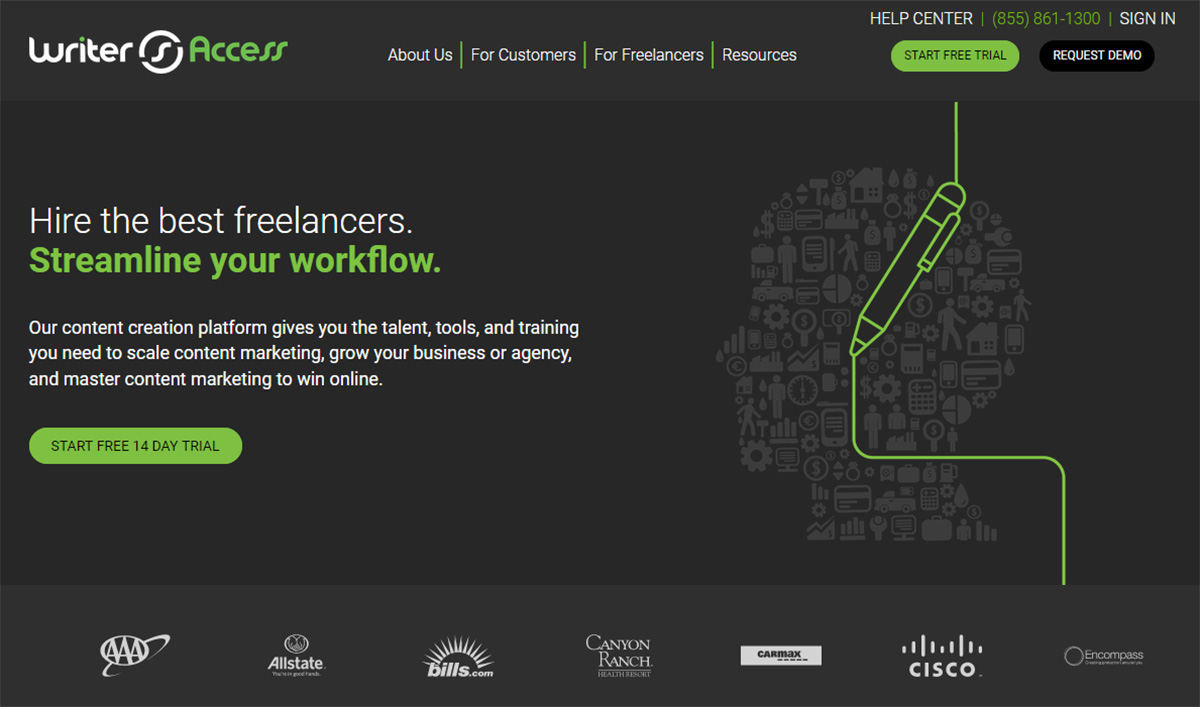 Writer Access is very similar to Textbroker in many ways. They have a large pool of writers with complex expertise, and they are able to match these writers with your business's content requirements. Articles are written with your business's goals in mind, and optimized for SEO. So far, it sounds a lot like your typical content service. The difference with Writer Access is the quality of their writers. Simply put, Writer Access pays better than many competing content services. Writers are paid based on experience level, but it typically is much more than competing content services. Additionally, Writer Access takes a smaller portion of the profits themselves. The result is higher quality writing for competitive prices. Definitely one of our top recommendations.
Content Refined
If you're looking for a more personalized content creation experience, there's Content Refined. Content Refined offers personalized content services tailored to your business, and each piece is optimized for SEO – including keyword optimization and relevance. Content Refined provides more individualized service than Textbroker. Content Refined pairs you with a project manager who will work with you to define your business's goals, and help you create a custom content plan for meeting these goals. From there, they'll assign the work to a writer well-versed in the subject matter. Content Refined has an extensive editing process, which ensures that the work is relevant, readable, and optimized for SEO.
Upwork
Upwork is more of a "general freelance marketplace" than a standard content service. You can find all sorts of talent on Upwork, but you'll have to be specific about it. There are many content writers of various disciplines, and each writer can set their own hourly rate.
If you're looking to get a writing project completed on Upwork, you'll submit a proposal, with a detailed explanation of what you want done. Then, freelance professionals can submit an application.
Our recommendation is to be prepared to pay if you want quality. There are many fantastic writers on Upwork, but they won't come cheap. If you want a serious professional, you need to pay professional rates. Freelance professionals on Upwork are given "ratings" by past clients, so it's not difficult to tell who the most reliable writers are. Upwork is also ideal for other sorts of freelance projects, including design, artwork, marketing materials, ad copy, and much more.
Scripted
Scripted is another site that seems to be (no surprise here) quite similar to most of the other sites on this list. Once again, the difference comes down to the quality of writers. Scripted carefully vets its writers, and pays them very competitive rates. The result is a group of writers who are capable of writing quality stuff. As a client, all you need to do is join Scripted, tell them what you're looking for (goals, CTAs, etc.), and they'll use their SmartMatch system to pair you up with a writer to handle your work. It's all pretty streamlined and intuitive, and we've been happy with the results. They're trusted by some pretty major brands, including Adidas, LinkedIn, and IBM.
Verblio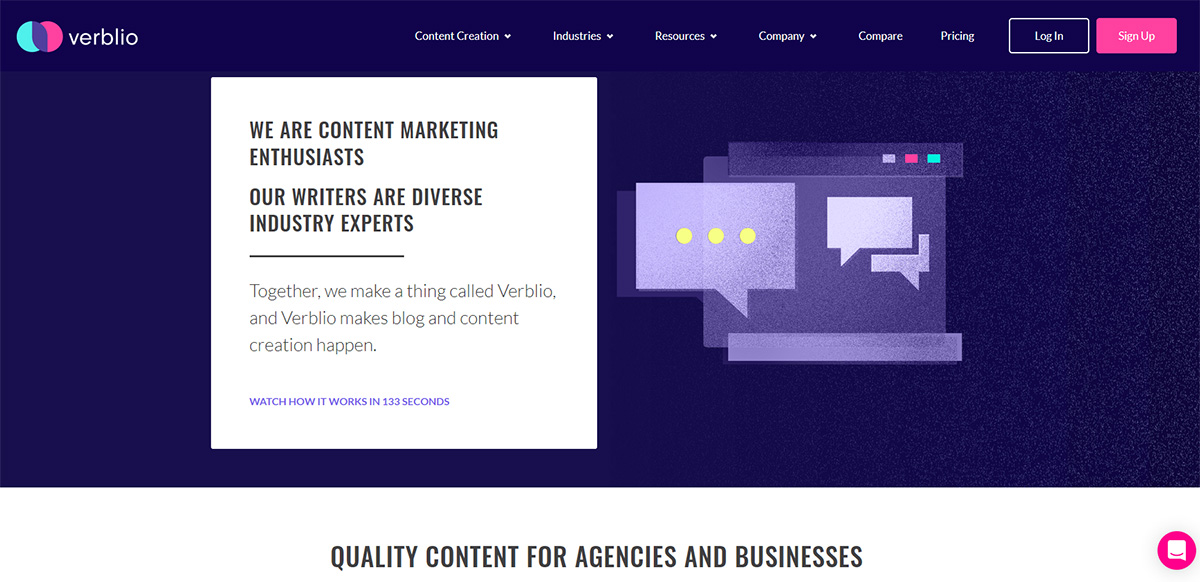 Verblio has a rather unique setup in that, once a writer is "vetted" by the service, they are free to take on just about any proposal submitted by a client. However, other writers can also choose to handle the same proposals, and the client only needs to accept one. In essence, writers "compete" for your business on Verblio. You review the submissions, and choose the ones you like best. If you particularly like the work of a certain writer, you can get in touch and work on more projects going forward. There's a lot of quality writing to be found on Verblio if you're willing to dig for it. So long as you don't mind reviewing multiple submissions at a time, you'll be happy with the quality of the work you get.
Making Your Choice
As you can see, there are many options at your disposal. Our top recommendation is to fully outline your content needs and business goals before you begin. You can't buy proper content for your business if you're unsure the type of content you are looking for. You need to know your business's target market, what you're trying to achieve with your content, and how you want these messages communicated. You won't be satisfied with any content service if you are unable to communicate what you are looking for.
And remember, quality doesn't come cheap. If a service looks too good to be true, it likely is. If the content service isn't offering fair compensation, then the content you receive will be lacking in quality. That being said, we hope we've made this process easier for you going forward! There are many great choices out there for quality content, you just need to know where to look.