Amazon Affiliate Program – How Much Money Will Your Site Make Now?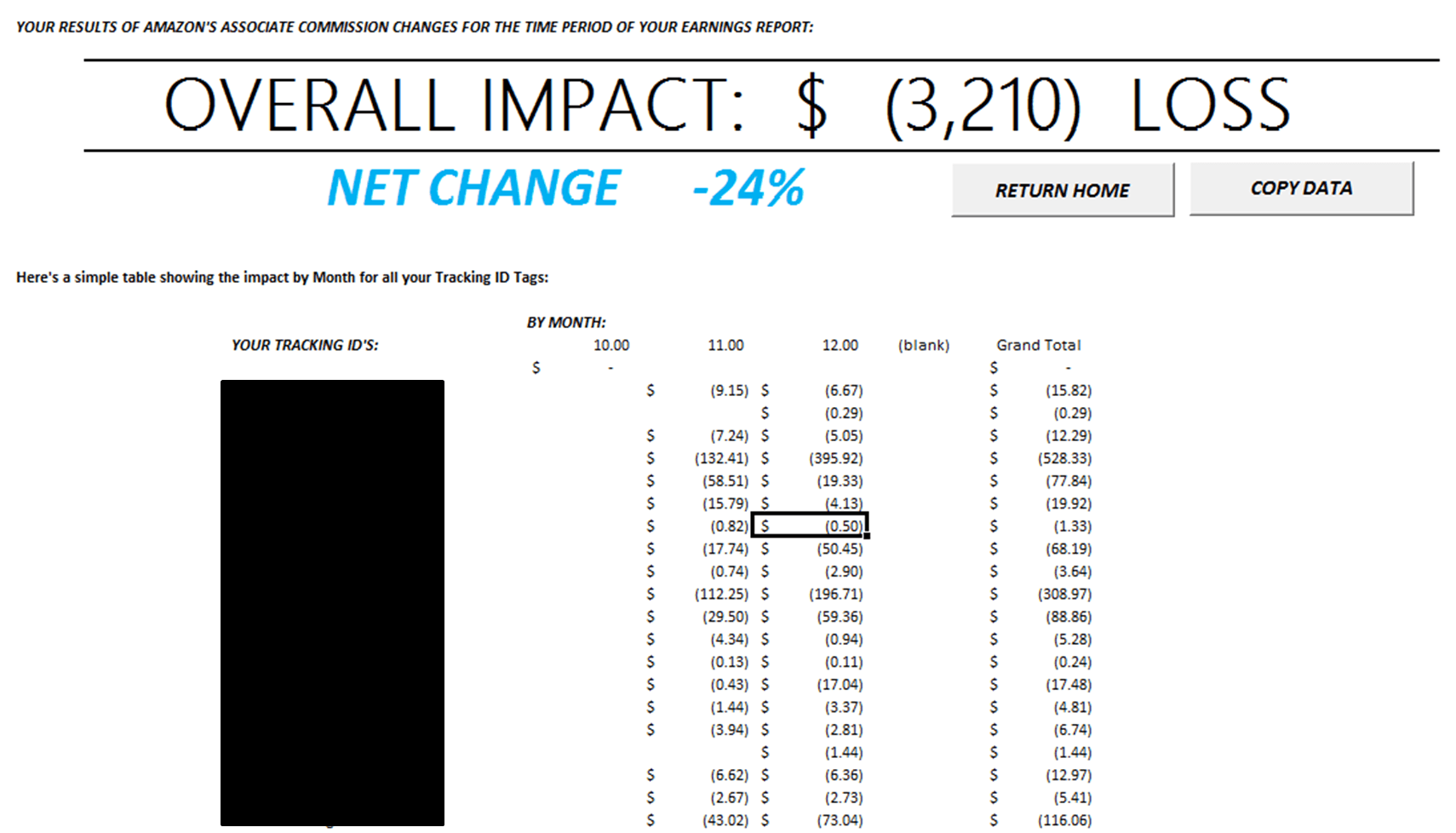 Want to know the EXACT impact the changes to the Amazon Associate Commissions will have on your site?
See the 2020 April Amazon Affiliate Earnings update
With the new changes how much money are you going to lose or more are you going to make moving forward?
With the help of some geniuses I have put together a tool that will show you quickly and easily the exact impact on your account!
What Would Have Been The Impact For Me?
For Nov & Dec Only I Would Have Had a 24% Drop in Earnings!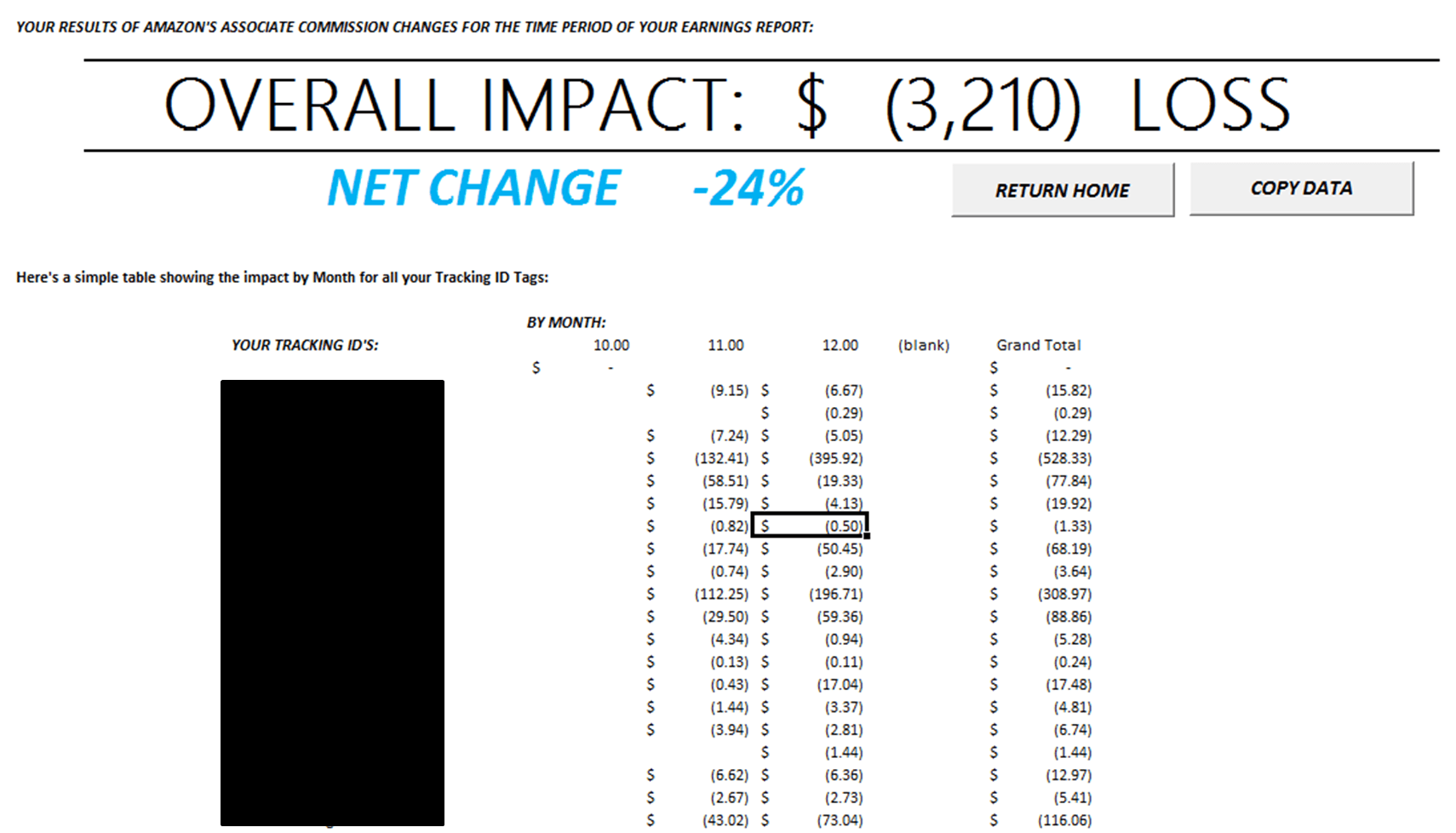 Find out how much your earnings will be impacted by, it takes under 5 minutes and you can stop guessing at the impact!
CLICK HERE – DOWNLOAD FREE SPREADSHEET
Download Spreadsheet
Download Earnings Report From Amazon
Upload Earnings Report to Spreadsheet
Let the Spreadsheet Do Its Thing & Immediatly See How Much Your Sites Earnings Will Drop OR Grow By!
I like to say it is pointless discussing a hypothetical impact when the data is available to know. The data above is from my account in Nov and Dec 2015. This post and tool will show you the exact impact these changes will have for you and your site and hope will add some data to the discussions which are occuring online now!
Amazon Affiliate Program Change:
On Feb 23rd Amazon announced a very big change to the Amazon Associate program. Moving forward instead of having a tiered commission structure people now will have a flat structure defined by category and not related to the volume they drive.
Change is a constant with Amazon. This post covers the topic of the earnings update. If you want to stay up to date with Amazon Affiliate Disclosure checkout this guide.
Before:
From – https://affiliate-program.amazon.com/help/operating/policies#Associates Program Fee Statement
Variable Standard Program Fee Rates
With a very limited segment of categories at a lower commission…
Amazon Associate Commissions as of March 1st 2017
So the bottom line is that many products will now get a flat 4% vs what might have been 8.50% if you were doing substantial volume.
So How Will this Affect You and Each of Your Sites?
Fee Change Calculator Tutorial:
Now that you know what the change is… the potentially million dollar question (if your site is big enough) is what will be the change to your earnings?
This tool will allow you to upload your data from your Amazon Associates account and determine what your earnings would be under the old vs new commission structures.
You will see if this policy was in place for whatever time period you select what your earnings would have been.
DOWNLOAD THE FREE SPREADSHEET
Step 3 – Select Download Reports
Step 4 – Select Timeline You Want to Analyze (suggest picking trailing 12 months)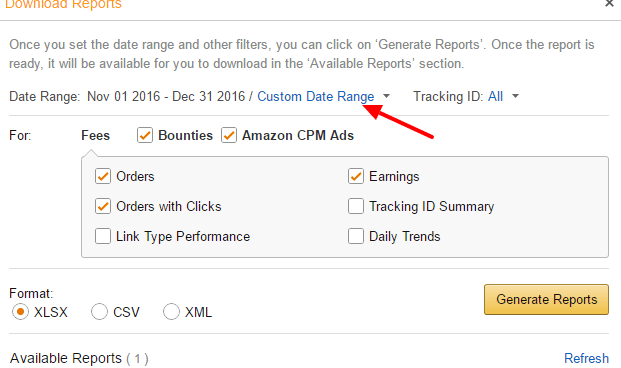 Step 5 – Wait For It To Download & Download It
Step 6 – Open The Free Tool I Sent To You (
click here to get it
)
(Important – Enable Editing and Enable Content)
Step 7 – Open The Downloaded Report
Step 8 – Copy the entire "Fee-Earnings" tab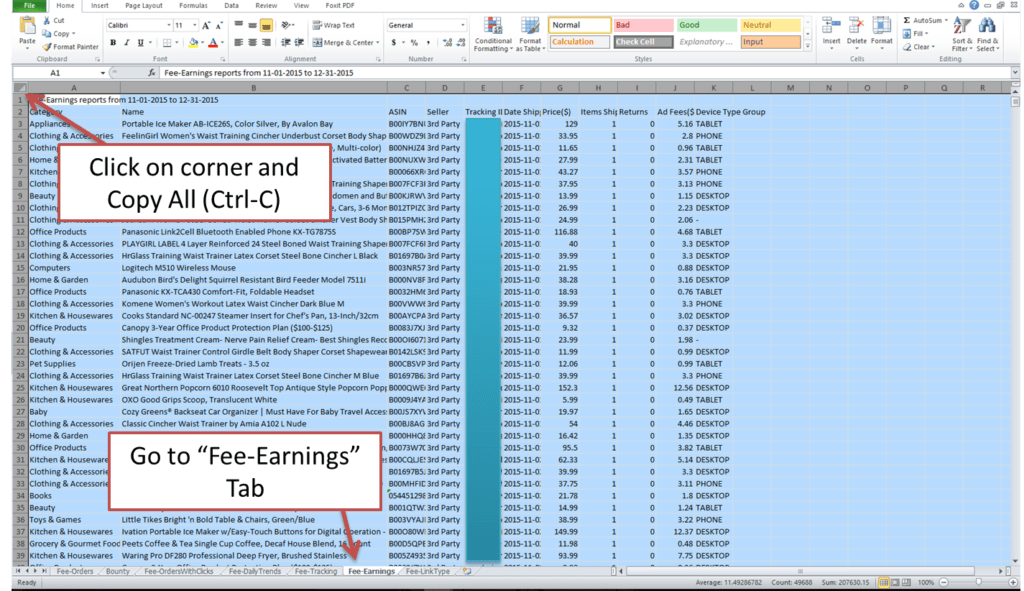 Step 9 – Paste the entire "Fee-Earnings" tab into the tab specified on the tool
Step 10 – Go Back to The Instructions Tab Hit The "

SHOW ME THE IMPACT

" button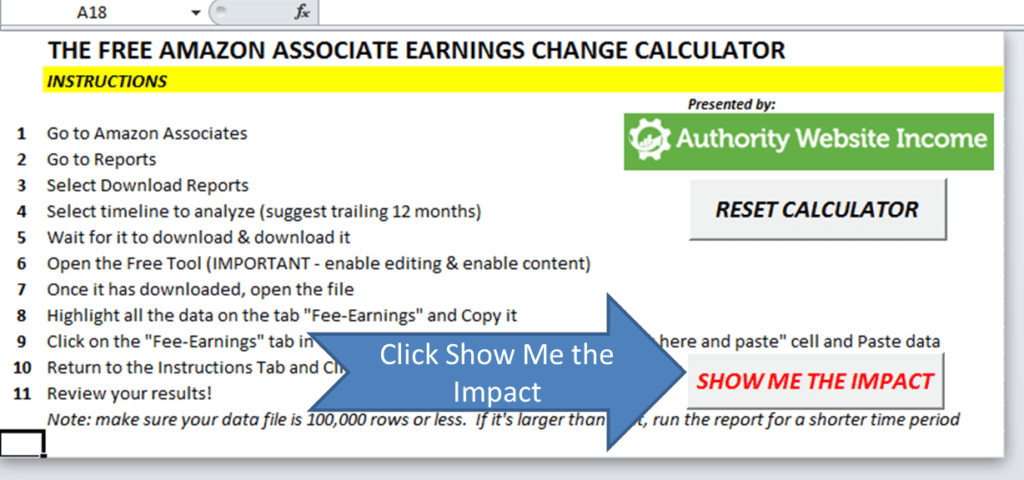 Step 11 – See Your Results & Analzye!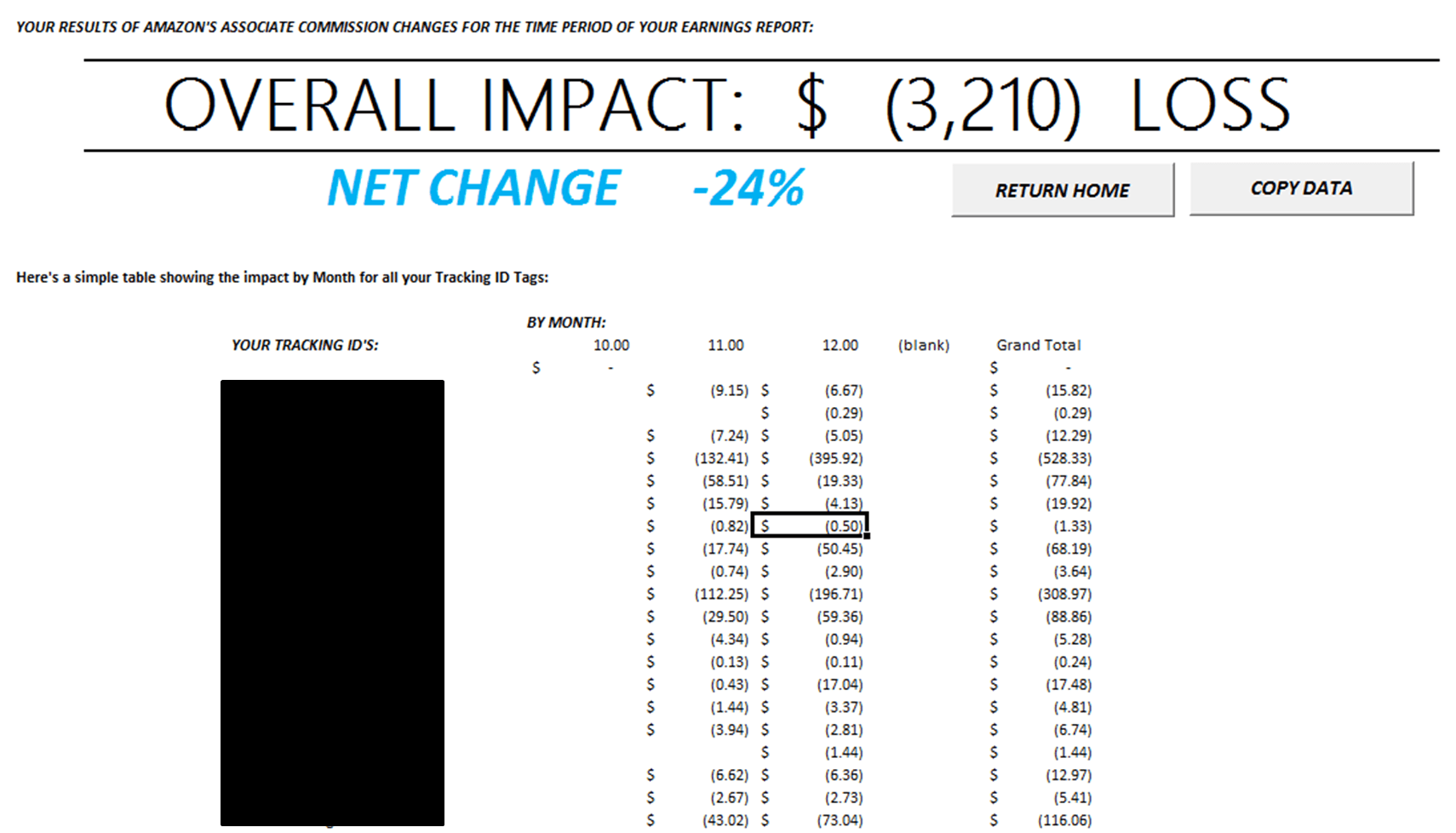 Who Will This Change Help?
This will help the little guy starting out in some niches since now from day 1 you have the same earning potential as much larger sellers.
Hopefully this will help everyone by having another player become more competitive in terms of a true Amazon Affiliate Alternative (jet/walmart?)
Affiliates in Arkansas (random but Arkansas residents can now participate)
Who Will This Change Hurt?
Any seller heavily focused on a specific niche… toys or PC Components
Buyers/Sellers who just either bought or sold a winner or a loser with this shakeup will be impacted
From the math it looks like most large Amazon Affiliate site owners will take a hit.
How Will This Impact Website Valuations?
Who knows, we will have a month where this gets talked about and the sale of site will likely slow then a process for establishing fair value (hopefully this tool will help that) and things will be back to normal soon I predict.
I predict many of the brokerages will have content coming out soon commenting on how they will handle this change (EmpireFlippers, QuietLight, FEInternational etc).
5 Clever Ways to Benefit From This Change:
First, don't over-react. Things will be back to normal soon and even though I believe this will ultimately take money out of affiliates pockets and into Amazons the change is not substantial enough that there will be a mass exit from Amazon Associate Sites.
Additionally whenever there are changes it provides a unique opportunity. Here are 6 clever ways you can benefit from this change…
Focus your websites content on products related to your site that get a higher commission. If you run a video game review website that makes money via Amazon start focusing content around digital video games and make 10X more for each dollar spent! (great time to signup to a content service that does this keyword research for you!)
If you are an FBA seller than position your product into a category with a higher commission so it will be easier to recruit affiliates. For example a toy makeup kit could (maybe?) be luxury beauty product (depending on being a gated category) changing the attractiveness of an affiliate promoting it from 2% to 10%! (obviously do at your own risk since I am sure Amazon will crack down on people abusing this). This example is a little extreme but look at the example below regarding standing desks attachments being furniture vs PC Components.
Using the tool I have provided here spot an arbitrage opportunity with a website for sale that will perform better moving forward. For example if there is a home / lawn & garden niche site that was only at the 6.5% commission level it would likely now have most products at the 8% level. If you can identify those sites that are selling at a discount relative to expected future earnings you can scoop a deal at an 18% discount.
Buying sites where you know there is a good alternative monetization method. For example if you have a PC component website and have a method of monetizing the site that outperformed Amazon then there will likely be Amazon Affiliate site owners who would be happy to sell at a discount. For example if you run an ecommerce shop in the IPhone/PC Cable space you can likely buy some websites that will drive traffic to your store at a substantial discount to what you could have 1 week ago. This applies for people in the FBA space wanting to pick up an affiliate site to drive sales to their physical product, those websites may have just gotten cheaper for the same traffic depending on the niche.
If you are building a new site (or getting an Amazon Affiliate Site built for you) focus on niches that have products that get a higher commission. This will be a temporary opening as others will do the same thing driving up competition for the keywords in the higher commission categories of Amazon.
For most people this is one action they should do! Review all your most important pages to see if the product you are promoting is in a low commission category vs a high commission category. For example you will be 4X better off promoting a standing desk converter in the furniture category then a standing desk in the PC components category. For example look at the 2 products below they look similar but on one you will earn a 2% (or 4%) commission and on the other you will earn an 8% commission on (Furniture).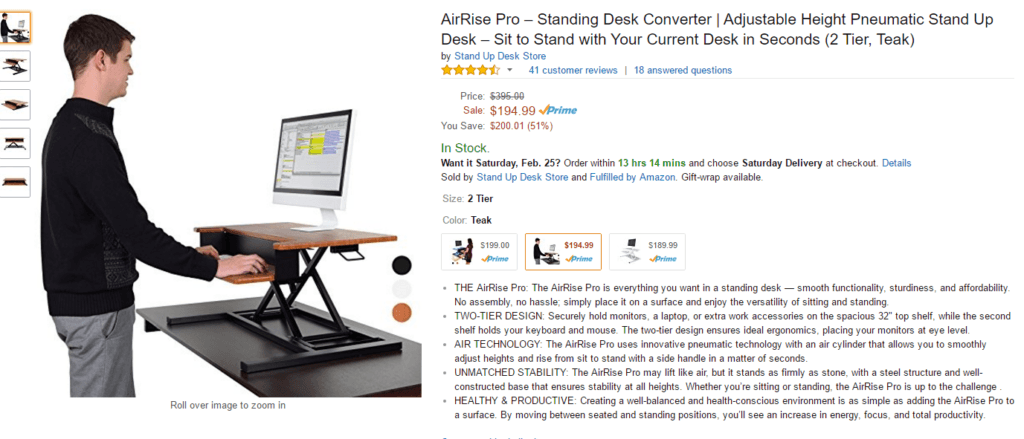 How Will This Impact Your Site?
Please use the tool and comment below/take the survey on how this will impact your site! Do you have any ideas on how to benefit from this change?