Alternatives to iWriter
iWriter is a popular content writing service Using this freelance platform, iWriter advertises premium writing skill and service for rock-bottom prices. However, as is the case with many service offerings of this nature, some have found it too good to be true. In this article, we'll examine whether it lives up to these lofty claims, and also give you several iWriter alternatives to consider.
What is iWriter?
iWriter, at first glance, is your standard content writing service. They work with thousands of writers to mass-produce written content pieces, and offer their service at very competitive prices. iWriter allows clients to purchase different "tiers" of website content, depending on how much work, research, and SEO optimization they require. That being said, even at the "Elite Plus" tier, iWriter's prices are very low. The most you can spend for 1000 words of content is $72.
Of course, working backwards, lower priced content means lower paid writers. Therefore, it's not reasonable to expect that iWriter's writer base is comparable to what you'd expect from a more expensive service. That's not to say that you can't find talented writers on the platform, just that top quality writers know their worth. All this being said, if you're looking for a more reliable content writing service, let's check out some alternatives:
Alternatives to iWriter
UpWork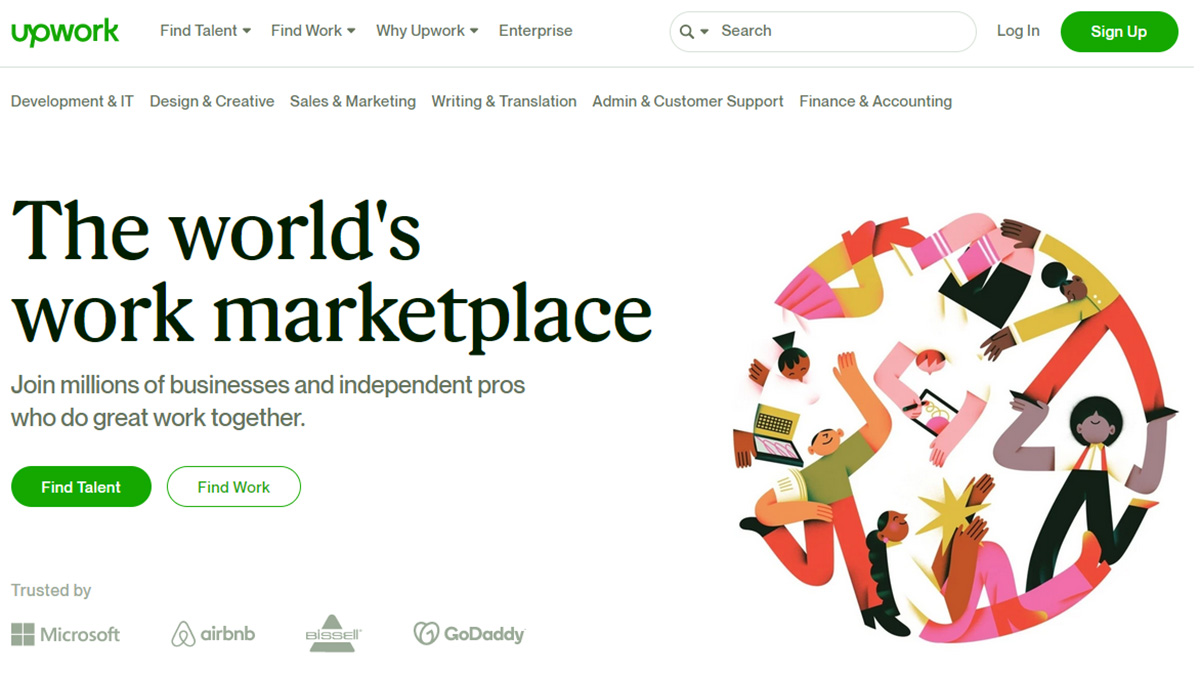 UpWork is less of a content writing service and more of a "freelance marketplace." On UpWork, freelancers of any kind can create a profile, advertising their services to the world. Freelancers list their experience, list their expertise, and set their own prices. Clients can review their work, so the most talented freelancers rise to the top. As a client, you submit a proposal, and freelancers can contact you about the work (or vice versa). If you're willing to put the time into building relationships on UpWork, there is fantastic content writing to be found. Just be sure to clearly outline your content goals in your proposal to increase your chances of finding the best match.
Compose.ly
Compose.ly is quite similar in principle to iWriter. The main difference is in quality. iWriter carefully vets its writers, claiming to accept less than 1% of those who apply. iWriter also pays its writers much higher rates, which also means their service is quite a bit more expensive. But the level of quality tends to be much more reliable as well. Basically, you can expect high quality content from Compose.ly, but you can also expect to pay more for it.
Compose.ly also offers basic SEO optimization for their writing services. Compose.ly performs keyword research, and optimizes content to help it rank on Google. Compose.ly positions themselves as a premium content writing service, and we've found that they uphold this reputation. They are more expensive than iWriter, but the difference is noticeable.
Verblio
Verblio has a rather unique setup in managing proposals and assignments. As a client, you submit proposals to have content written. You have a chance to outline your brand voice, content goals, and content outlines. From there, the proposal is uploaded to a writer portal, where Verblio's pre-vetted team of writers can access the work, and write the content if it matches their expertise. Essentially, multiple writers can "compete" for your proposal.
Once the work is completed, you are free to review it, and you can accept the content that you like best. As long as you are willing to put in the effort to review the work yourself, you are likely to find something you are happy with. Verblio is priced competitively, and their writing team is competent. If their unique business model sounds good to you, then give them a shot.
Content Fly
Content Fly is a new company, but they've developed a solid reputation. Similar to Compose.ly, Content Fly invests their efforts into hiring top writers, claiming to accept less than 1% of those who apply. Also similar to Compose.ly, they charge more than their competitors for content. In other words, you can expect quality content from Content Fly. Content Fly offers a streamlined platform. It only takes a few minutes to join and submit a proposal. Proposals can be as detailed or basic as you want, but we recommend you clearly lay out your goals so you're happy with the work you receive. Once a proposal is submitted, you can expect your work within a few days.
Content Refined
Content Refined takes a bit more of a personal approach to content writing. From the outset, you'll be paired with a project manager, who will work with you to outline your content goals, brand voice, and so on. From there, they'll work with you to create a custom content plan, which includes SEO tactics to help content rank. From there, they'll pass on the work to one of their pre-vetted writers, and the work will be completed according to the deadline. Content Refined works with a diverse group of writers, who have expertise on many different subjects and topics. If you're looking for a more personalized approach, check them out!
The Bottom Line – Pick The Service Best For You
In this article, we've given you a wealth of options to choose from for your content writing needs. The best choice is just the choice that best matches your needs. Before you consider any content writing service, you need to consider what you are looking to achieve with your content. Examine your business, examine your goals, and decide how content will help you meet those goals. This way, you'll be able to work with a content provider to create a proposal to help your business succeed.
There are many quality options above, but it will be difficult to be satisfied with any option if you don't know what you're looking for. We hope you've found our list helpful. We know it can be difficult to sift through the crowded content marketing space. Good luck in your next content endeavor!