Ultimate Expired Domain Guide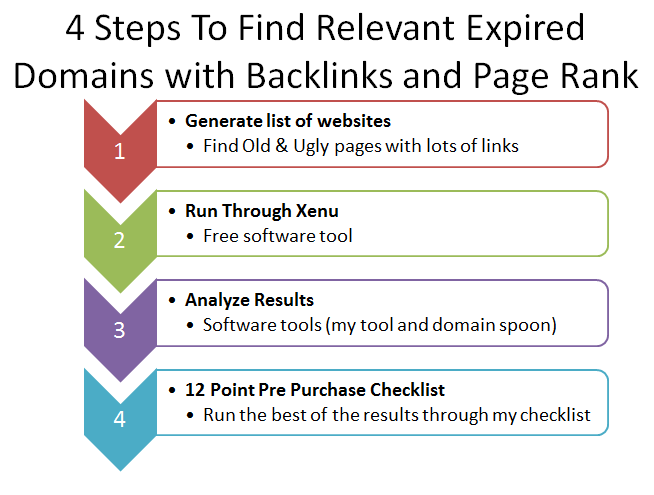 UPDATE – Every strategy originally listed still works but there have been a few changes. To ensure this resource continues to be THE BEST resource on finding expired domains and building private blog networks I have edited it with the latest tips and tricks.

In addition to this post I created the ultimate guide to building your own PBN

DONE FOR YOU SERVICES – Since the creation of this post I have started offering 3 highly requested services. If you are interested please check out the sales pages (often sold out but sign up to be notified when they re-open)

2016 CHANGES – For people who have already read this 8,000 words here is the summary of the changes….

I no longer recommend IXWebHosting, instead either HostNine or this list of inexpensive hosts I use
I no longer recommend DomainSpoon, I know strongly recommend PBNLab
Relevant 301 redirects does not mean the domain should not be purchased
DomCop.com added as a reasonable free alternative

IMPORTANT – This post took me one month to create something special for you – the readers of websiteincome.com. Although I do not consider myself a Guru at all I have over the last 3 years built up a pretty large amount of knowledge on how to use expired domains to boost search engine rankings! After receiving a lot of emails from people incorrectly using expired domains and my last post causing a lot of great question I decided to create this the Ultimate Expired Domain and Private Blog Network Guide!

But I wanted to provide value to you beyond just 8000 words….so I have decided to give away a custom in house tool that I had developed to make the process of finding valuable expired domains much much easier! As well as another very valuable bonus to anyone interested…

FREE GIVEAWAY…

Thank you, the reader, for motivating me to create this guide…I really hope you get value from it, my extra's and I look forward to hearing from you!

Jon Gillham

jonhaver11 (at) gmail
Best Domain Marketplace in 2016

PBNHQ is a great marketplace to purchase expired domains that have been reviewed by a human to confirm it is of high quality!
Feedback On This Guide
I have been very happy with how this guide has been received over 1000 social shares! and over 200 comments. There have been some huge thank you's rolling in and I wanted to share one from the Empire Flippers…
2 Minute Segment from Justin and Joe talking about this guide
Listen to the full episode here
There are 8000+ words and several videos below but in a couple minutes let me show you how it is possible to find very authoritative expired domains easily…don't worry if it's a little fast and I gloss over the details I go into WAY more details lower in the article!
The Easiest Method To Find Powerful Expired Domains…
VIDEO COMING SOON (Aug 2015) FOR THE NEWEST/EASIEST DOMAIN FINDING TOOL – PBN Lab
I NO LONGER RECOMMEND DOMAIN SPOON(tool has stopped being supported) I NOW USE PBN Lab
The Steps Covered in This Video
Generate long list of relevant high PR webpages that are

Old – Ugly – Filled with Lots of Links

Run through Xenu Link Sleuth (free tool)
Enter List into my free domain finding tool
Run through my 10 Point Pre Purchase Checklist
[wpsharely]
[/wpsharely]
Intro
A couple weeks ago I created a post which got a lot of interest about expired domains. People felt it was one of the most helpful articles on the subject that they had read.
Well, I felt like there was a lot left unanswered and after helping a few people through the process I came to see several holes that still needed to be filled.
That is the reason for this guide….The Ultimate Guide to Expired Domains…
This is the most detailed guide ever on how to find, evaluate, buy and use expired domains to improve your search engine rankings (it does not focus on buying and selling the domains).
This detailed guide is broken down into the following sections…
 INDEX
Intro (you are here)
List of Tools (almost all free!)
Section 1 – What are Expired Domains and How are They Valuable
Section 2 – Expired Domain Knowledge Base

30 tips to not leave a footprint
How to protect your investment using Silos

Does Page Rank matter? – The 4 metrics I care about
12 Point Domain Pre Purchase Checklist

Section 3 – How to Find Expired Domains – Video Tutorials

Free Lists
Auctions
Mining for the BEST domains

Manual method
My custom software
Premium method

Section 4 – How to get the maximum SEO benefit from Expired Domains – My Procedures

Feeder Site Creation SOP
Direct 301 Redirect SOP
Blog Network Management SOP

Final Thoughts

Quick Action Guide (avoid the overwhelm!)
The idea is that this will be an evergreen document I will continue to update and improve upon it based on the latest information. If you have any suggestions on how to improve or questions that should be asked please let me know in the comments section below.
DISCLAIMER – GOOGLE PENALTY – This all sounds too black hat aren't you trying to trick Google? – My Response – If you focus on relevant domains, useful content and adding value to a human visitor than I believe it is in line with Google's goals.
 Real Example… Imagine a website that offers a Grant for College Students, then for whatever reason the grant is no longer offered and the website expires.  I then purchase the expired domain, have an article created explaining why the grant no longer exists and where they could go to find other similar grants (while including a link to my relevant money site). Am I adding value to the visitor? Are they better off with this useful information than running into an error page?
My answer to this is that yes I believe I am adding value to the human visitor and this is in line with what Google wants from a user experience stand point.
Word of caution – This powerful SEO strategy can very easily be abused and I make no promises it will not get you in trouble with Google if you abuse it. If you always ask yourself "does this add value to a human visitor?" and the honest answer is yes than you should be in good shape!

List of Tools
Basic Tools
Other Hosts I Use…
More Advanced Tools
Section 1 – What Are Expired Domains And How Are They Valuable?
What Are Expired Domains
Expired domains are domains that were once registered and for one reason or another have not been renewed by the owner.  Daily there are between 25,000 and 60,000 domains that drop daily.
These domains hold value for 2 reasons…
The Domain Name – Domain sales or "domaining" is big business and a lot of larger players are in this space picking up assets (expired domains) with the intention of re-selling at higher values.  I am not familiar with this space but if interested http://www.domainsherpa.com/ covers this business.
Backlink Profile Value – The backlinks and authority an established website builds up over time is not lost if an expired domain is handled correctly once purchased. This is the value I look for when purchasing expired domains.
The domain expiration process…
How Much SEO Value Do Expired Domains Offer?
This section was originally posted here but included below for completeness.
Within the last few months there has been 3 successful public case studies that all have one SEO tactic in common, they are…
#1 – Tung Tran from CloudLivingJourney.com has his niche site bestadjustabledumbbells.org/ ranking #1 after only 38 days and on track to be making $500/month. He talks about his impressive results and all the strategies he used. One item that a lot of people would miss is the expired domain he picked up to generate a high PR backlink for his site.
See the image below showing where he describes how he used his expired domain…
#2 Spencer Haws from NichePursuits.com has his website http://www.sharpsurvival.com/ ranking #1 in Google for his target keyword after 62 days! He has also used expired domains to trade links and get high PR relevant links from sites in his niche.
#3 – Myself for my case study Site (My Case Study Website URL is Now Hidden) is generating over $1000/month from search engine traffic and has been promoted using expired domains. I have wrote about how I use these only a little bit twice…
https://websiteincome.com/300-visitors-per-day-and-450-per-month/
https://websiteincome.com/website-is-profitable/
Other People Talking About Expired Domains…
This post is everything I have learned about expired domains but I would be doing a disservice to everyone if I didn't share all the smart people that have shared great information I have learned from…

Section 2 – Expired Domain Tips– What to Look for and How to Use Expired Domains
In this section I cover off several important concepts before starting to look for a domain. It is important to understand these concepts now before the expired domain search can begin. Otherwise you may end up paying for a domain that is worthless.
30+ Tips to Ensure You Do Not Leave a Footprint
A lot of people are scared about expired domains and blog networks because of the carnage of the larger blog networks including Build My Rank etc.
If you follow these 30 tips below when you set up any new expired domains you will have a better chance of maintaining the link value of the site and not have it get de-indexed.
Buying Your Domains:
Buy expired domain which have a diverse backlink profile
Always register with privacy activated (whois guard)
Use a popular registrar(millions of other sites also registered there)
Hosting
5 sites max per IP hosting account (better option is to silo so only 1/IP)
Don't use SEOHost or other hosts focusing on being "SEO Hosts" as I suspect Google will be watching their IP ranges more closely.
Use Popular and Inexpensive Hosting Accounts – Here are the ones I recommend:
Building The Website
Don't use the same username on each website
Use a different theme for each website
Its ok to use WordPress on each website
Don't use plugins that leave a unique footprint

Akismet and some others that require a code

Use a different Privacy Policy on each
Use a unique About Us page
Don't install Google Analytics
Don't install Google Adsense
Don't install Google WebMaster Tools
Don't try and monetize the blogs for yourself
Do install some monetization (this may be too time consuming)

Use a different affiliate code/advertiser number etc for each site to have each site appear unique
This is important for manual reviews – a site that shows no signs of monetization is open to more scrutiny by a manual reviewer

301 redirect all old URLs to similar pages

This will maintain the PR for as long as possible
A plugin can be installed to help with any pages you missed

Vary what plugins are used (don't use your favourite SEO plugin on every site)
Vary the permalink structure from site to site
Vary how the site is built

Don't use the exact same plugins configured in the exact same way, randomize how the site is built
Running The Network
Never Ever Interlink within the network (never link one network website to another)
Interlink each article to another article on the website

SEO smartlinks or similar plugin can help automate this

Include subheadings and bullet points on your articles
Link to 1 or more authority website/article on the topic of each article posted
25% or more of posts should not include external links to your money site(s)

These "no external link" posts should still link to internal pages/posts and the occasionally authority site

Posts should vary in length 300-1000 words

Don't have every post 305 words long

Include media in your posts (Youtube Video, Images)
Only post unique articles
Original written articles are best (low cost readable articles are ok)
Don't have every blog in your network link to every money site
Make sure all sites in the network are not also linking to each money site as this would produce a footprint
Vary Keyword Phrase in Anchor Text in links to your money sites

Instead of using "dog training" everytime vary the anchor text "training a dog", "how to train a dog", "dog training tips", "dog trained" etc

Generic Anchor Text should be occasionally used in links to your money sites

visit, click here, naked URL, website, this page etc

Limit the number of posts per website to 1 or less per day
Prepare a detailed procedure for how the network should be run and outsource it to someone on ODesk (see my procedure below)
Silo Your Feeder Sites
One tip I want to share is the way I Silo my networks around money site topics. For example if I have 3 basic markets(real estate, financial and health)  I have money sites in then I will have 5 small networks of feeder sites. Each of these networks will not link to the money sites in other niches and vice versa.
This strategy makes sense for me because of my focus on relevancy but also adds an additional layer of protection against leaving a footprint and de-indexing.
The Importance of Relevance
Rightly or wrongly my focus is on finding relevant expired domains. Relevant expired domains are the only domains I now focus on.
My belief is any SEO benefit from non-relevant expired domains is the result of a loop hole in Google's algorithm and will eventually close.
For example if I have a site on mortgage rates in California and buy an expired domain formerly held by an environmental group in Kansas that I then link to my California site there is no benefit to a human user and Google will eventually be smart enough to know that.
Do "High PR" Expired Domains Matter? The 4 Metrics I Care About Most…
Metric 1 – Page Authority (30+)
This metric was created by Moz.com and is defined as the following.
"Page Authority is Moz's calculated metric for how well a given webpage is likely to rank in Google.com's search results." (learn more about Page Authority here)
Based on detailed analysis by Moz.com they showed that for link metrics it had the highest correlation between a website and high search rankings.
Source (http://moz.com/blog/ranking-factors-2013)
Based on these findings and my own experience the metric I focus on from OpenSiteExplorer (Moz's link analysis tool) is Page Authority.
Metric #2 – Trust Flow from MajesticSEO.com (15+)
I think of trust flow as the measure of how respected a website is.
"We start with a large list on manually reviewed URLs. These have a crowd-sourced level of trust but by no means include all the trusted sites on the web. It turns out, though, that trustworthy sites tend to link to trustworthy neighbours. Those neighbours also tend to link to trustworthy neighbours themselves. In fact – after lots of iterations – those outside the circle of trust are put in the cold." MajesticSEO.com
Metric #3 – Citation Flow from MajesticSEO.com (15+)
I think of citation flow as the popularity vote. A site with a high citation flow generally means it has been getting lots at least decent quality links to it.
Citation flow predicts how likely a URL is to rank based on the number of links going to it.
Trust & Citation Flow Explained In Easy To Understand Example…
Here is the real world comparison of people with varying trust and citation flow giving investment advice…
Trust and Citation Flow Explained in "Real" Example: Receiving Stock Tips…

Low Trust Flow

High Trust Flow

Low Citation Flow

Cold call stock tip "guru" calls you up and says he has a pharmaceutical company whose stock is ready to explode 10x. (low trust, low popularity)

Little known Noble Price winning economist provides detailed summary of value of companies compared to stock price (not very popular but very trustworthy)

High Citation Flow

Popular talking head screams into the TV everyday with 50 stock tips! (Buy Buy Buy, Sell Sell Sell) (Popular but not really trusted)

Warren Buffett provides unbiased advice on the state of the economy and stock purchase decisions based on that. (Very Popular, Very Trusted)
Metric 4 – Google Page Rank
Page Rank is a highly over emphasized metric when it comes to buying expired domains. There are a lot of reasons for this but mostly because it is the easiest metric to measure a sites authority by. When comparing 2 sites the fastest quantifiable number to compare is page rank. Generally a PR4 is better than a PR2.
Here is what Google says about page rank…
"Webpages with a higher PageRank are more likely to appear at the top of Google search results." (source)
The bottom line for me is that I still would prefer a higher PR expired domain but it has to have decent other metrics.
The important thing to know is that for SEO purposes Page Rank alone means nothing!
A PR5 Domain with NO Backlinks is Worthless!
Page rank is typically updated a few times per year with the last update being Feb 4, 2013.

Summary of the Metrics I am After…
| | | | |
| --- | --- | --- | --- |
| | Decent Domain | Good Domain | Amazing Domain |
| Page Authority | 25+ | 40+ | 50+ |
| Trust Flow | 15+ | 25+ | 40+ |
| Citation Flow | 15+ | 30+ | 50+ |
| Page Rank | 1+ | 3+ | 5+ |
If one metric is below the decent column I won't rule the domain out depending on the others.
My aim is to find mostly Good domains with some decent (if perfectly relevant) and a few Amazing domains!
The metrics for an Amazing Domain are just that…pretty incredible and very hard to achieve.
OFFERS…

5 Common Ways Expired Domains Are Used…
Expired domains are typically used in 1 of 5 ways…
1. Feeder Site (my favourite)
2. 301 Redirect
3. Private Blog Network
4. Build "Money" Site on the Expired Domain
5. Bought and sold for more than they were purchased for – This is not something I have any experience with.
In this guide I will share how I go about using them for the purposes of 1 (feeder site), 2 (301 redirect) and 3(private blog network).
My 12 Point Expired Domain Pre Purchase Checklist:
When people have written me sharing the domain they purchased this is most often the piece that would have helped them the most!
This is the pre-purchase checklist I review before purchasing a domain…
Section 3 – How to Find Expired Domains with Backlinks and PageRank – VIDEO TUTORIALS
There are 3 basic strategies people use to find expired domains
Free Lists like ExpiredDomains.net, DomCop.com
Auction (GoDaddy Auctions, SnapNames)
Mining for them yourself (My Favourite)

Basic Free method
Paid Premium
Using my tool to automate
| | | | | |
| --- | --- | --- | --- | --- |
| OPTION | Ease | Time Consuming | Cost | Quality of Domain |
| ExpiredDomains.net | Easiest | Quick | Low | Low |
| Auctions | Moderate | Slow | Moderate-High | Low-Moderate |
| Finding Them Yourself | Most Difficult | Slow | Low (once set up) | Low-High |
1.       Find Expired Domains with Free Lists (CHEAP & EASY BUT LOW QUALITY DOMAINS)
Here is the easiest way to find relevant expired domains. You will not find any domains that fall into the "Good" metrics but it's a great way to easily find relevant expired domains free to register.
Domain Found Using This Method:
http://www.wpgourmetlattes.com

Cost = Free to register
PR = 0
PA = 31
CF = 23
TF = 15
[wpsharely]
[/wpsharely]
Go to ExpiredDomains.net or DomCop.com
Set up a FREE account
Set up your search like the following

Search Term – Your Keyword
Common Filter – min Backlinks = 1 & min Site Results = 1

Pick The Domain(s)

PR > 0
Page Authority > 30
Majestic Trust Flow > 15
Majestic Link Flow > 15
Keyword Spam – Based on majestic SEO link profile does the link profile appear natural, 3 questions to test

i.      Is porn/poker/pharmaceuticals mentioned in the anchor text?
ii.      Is the anchor text all English?
iii.      Is the exact match keyword density below 15%?

Check Relevance – Put the site into archive.org (alternative) and ask yourself these questions…

If the person visiting this website ended up at my site instead would they be happy since their question/problem was answered?
If the person was selling this site and the price was right would it make sense for my website to buy this site?

Bonus Alexa < 10M

Register Domain with Privacy Protected at NameCheap.com
Set up website at a different host than your main site

Best Host For These Purposes I Use – Click Here
IMPORTANT – Make sure you use a different host than your main site

Pick a Strategy

Direct 301 redirect
Build feeder site (my favourite)
Build a private blog network site and use for 3-way link trades with other sites in your niche

Execute Your Chosen Strategy
OFFERS…
2.       Buy High PR Expired Domains at Auction (FAST BUT MORE EXPENSIVE METHOD)

How to find relevant expired domains with page rank and backlinks at the Auction Sites…
This video will show how to easily identify domains at the multiple auction sites that would be most helpful to your SEO efforts.
I will not go into the details of how to best win an auction since I am not the right person to talk to that.
8 minutes of searching results in 2 quality niche "gourmet" specific domains…
http://www.2raysgourmet.com

Cost = $10 + registration fee
PR = 2
PA = 35
CF = 24
TF = 27
http://www.rojosgourmet.com

Cost = $280 + registration fee
PR = 2
PA = 41
CF = 30
TF = 25
Go to ExpiredDomains.net or use this free Chrome/Firefox extension (http://bettergodaddyauctions.domcop.com/)
Set up a FREE account
Go to "other domains"
Set up your search like the following

Common Filter – Search Term – Your Keyword
Common Filter – min Backlinks, PR and Site Results = 1
Common Filter – No Fake PRs
Additional Filter Tab – Set your max price
Additional Filter – TLDs = .com, .net, .org, .ca
Adwords & SEO Filter – min Moz Page Authority = 20
Common Filter
Additional Filter
Adwords & SEO Filter
Sort Results by # of Linking Root Domains
Review Results in All Tabs
Pick The Domain(s)

PR > 0
Page Authority > 30
Majestic Trust Flow > 15
Majestic Link Flow > 15
Cost within your budget
I do not use auction sites since I have had luck finding domains that I can register for only the registration cost.
However, many people have found it far easier although a little more costly to identify the domains on Auction sites.
There are tools I haven't used like PR Power Shot which I have heard mixed reviews about. If anyone can provide some honest feedback on it I will include it here. The idea of the tool is similar to expireddomains.net and it crawls the auction sites and provides more actionable information on the domains up for auction.
Here is an article that talk more about the auction process – How to Grab an Expiring Domain Name
Tool to make auctions easier – http://bettergodaddyauctions.domcop.com/
3.       How To Mine For The True Gems of Expired Domains (BEST METHOD!)
This method has been adapted based on the methods taught by Hayden at NoHatSEO and focused around making sure to find HIGHLY relevant expired domains for the given niche.
In addition a custom tool I have had built makes the manual process much faster.
First I will show you the 100% free and harder way then move up to the more advanced and more powerful method.
Manual (Free*) Method  (NOT FUN! – DO ONCE TO UNDERSTAND METHOD – VARYING QUALITY)
*Free only if you don't value your time!
Here is a very labour intensive manual method. It can take hours and hours of work!
http://www.artsintheinns.com

Cost = Free + registration fee
PR = tbd
PA = 39
CF = 22
TF = 23
FREE GIVEAWAYS…

One Free Expired Domain Found To Help Your Website!
Go to Google with the aim of finding older high authority websites in your niche that have a lot of external links. The idea here is to then check the links to see if any of the links no longer work because the domain has expired and is available for registration
Enter a couple of the search terms into Google

"keyword" list -2013 -2012 -2011 -2010 -2009= gourmet list
"keyword phrase" list -2013 -2012 -2011 -2010 -2009 = gourmet restaurant list = gourmet recipe list = gourmet food list
"keyword phrase" websites -2013 -2012 -2011 -2010 -2009 = gourmet websites = gourmet restaurant websites = gourmet recipe websites
"keyword phrase" directory -2013 -2012 -2011 -2010 -2009 = gourmet restaurant directory
"keyword phrase" blogs -2013 -2012 -2011 -2010 -2009 = gourmet recipe blogs

Review the results for authoritative sites with a lot of links on them and record the ones you find on a text file – pick a few you want to run through Xenu. The ones that have the most links on them and also have the highest Page Rank. Don't pick too many since you have to do a manual sort later – pick around 5.
Download and install Xenu link sleuth (free tool) that will crawl through the entire site and see
Set up Xenu with the following settings…
Once Xenu is Complete go to File -> Export to Tab Separated File & Save on Your Computer
Open Excel then go to File -> Open and Browse to the File You Saved (make sure to have "All Files" selected when opening the file you created)
Select "Delimited" then select "Finish"
Select "Delimited" then select "Finish"
Highlight Row 1 and Go to Data & Select Filter
Filter to NoSuchHost in Column C
TIP – The remaining steps become very easy if you use either the free tool I have or PBN Lab
Available
Page Authority
Citation Flow
Trust Flow
Clean Up URLs (potentially time consuming)
You now need to trim all the urls to just the URL (no http:// or www)

http://blog.website.com to website.com
http://website.com/page1 to website.com

TIP – Ctrl-F and then find all http:// and replace with nothing, do the same for www.
TIP – Filter Column A for any sites containing URL's you would not register – .edu, .gov, .com.au, .ca, etc and then delete those rows
Manually trim the remaining URLs
Sort the cleaned up list into alphabetical order in column A
Copy the domains 50 at a time into Namecheap bulk domain availability checker – here
Enter in Column B a Y if the domain is available & Repeat until all domains are checked for availability
Sort Column B to remove blanks (you are now left with a list of domains to check their backlink profile on)
Investigate any that show metrics over 10 further
Scroll through the 3 domains and record the highest trust & citation flow on the spreadsheet
Scroll through the 3 domains and record the highest trust & citation flow on the spreadsheet
Run the best domains through the 12 point pre purchase checklist
Checklist for – http://www.artsintheinns.com
Relevance

Yes, based on the archive.org content it is reasonable that this site would link to a "gourmet recipe" website

Metrics

Page Authority = 39 > 30
Citation Flow = 22 > 15
Trust Flow = 23 > 15
Page Rank = TBD

Spam Check

Check anchor text for Porn, Pharmaceuticals, Poker or foreign language anchor text in Majestic SEO = Clean Profile
Natural Profile (no SEO) – Check backlinks for signs of blog network links, comment spam or directory spam – Use your discretion but if it looks like someone was doing low value SEO on the domain do not buy it! = Clean Profile
Does the exact match anchor text look natural? Below 15% at least = Clean Profile (naked URL is high but that is not uncommon)
Review website in Archive.org (alternative) and see if the domain had content not related to the domain name – If the content does not make sense with the domain name it means it was already used as an expired domain (poorly used) = Natural Website
Redirection/Duplicate Check

Check if the site was last redirected to a new site by checking the most recent page in Archive.org to see if it was being redirected to a new site. If it was redirected before expiring then most of the juice seems to stay with the redirection. Do not buy = Last Capture is not a redirect
Also check if all the old content has been moved to a new site – this may mean even though the redirection did not show up in Archive.org they did a 301 redirect on the old URL and Google has passed all the link juice to the new site. Use copyscape.com or this free alternative for this. = Fail – This site has been moved to a new home but it does not look like it was redirected and hence the backlinks would still work. Not ideal but not a deal breaker.
Registrar History

Check the registrar history if it has been registered and dropped more than once you need to be confident it was not abused by checking it in Archive.org. You can check the number of times a site has been registered by visiting – http://whois.domaintools.com  = Only 1 registrar
This domain passed all measures with the exception of some of its content being moved to a new site. I would say this domain has value for someone trying to rank a "gourmet recipe" website.
Advanced Automated Method
In this video I will assume you have a general understanding of Link Sleuth etc and will not dwell as long on each step.
If these steps are too fast make sure to go through the manual method once first. This will show you all the basics!
http://www.nawga-ifda.org

Cost = Free + registration fee
PR = tbd
PA = 31.6
CF = 24
TF = 31
Collect long list of relevant websites (High PR that is Old, Ugly and has Lots of Links)

Scrapebox can work but I prefer the surgical approach with my VA's
You can outsource
Get creative!

Run list through XENU
Copy and paste "no such host" domains directly into my Free Tool
Final Check of the Best Domains in MajesticSEO.com
 Note – The first step of finding all the lists can still be improved by using scrapebox – this adds another level of complexity that I am not the best person to walk through. Hayden at no hat SEO has created a guide to help with this here.
Automated With My Free Tool Method (MY CURRENT STRATEGY)
If you are going to go the manual route I have an excel tool which automates much of this process…
DOWNLOAD this Tool (CURRENTLY FREE!) 
Enter your cleaned list of URLs into this spreadsheet and it will return…
Is the domain available
Domain Authority
Total Number of Internal Links
Page Authority
Page Rank
Section 4 – How to Get the Maximum SEO Benefit from Expired Domains – My SOPs
My tagline is I will share everything but my password and here it all is…
"Ideas are just a multiplier of execution" Derek Sivers.
I could not agree more and with that in mind I am sharing the detailed SOP's my team uses to execute the 3 strategies I use for my expired domains.
All of these procedures are outsourced to my team. A brand new VA with no WordPress experience would struggle with these instructions but anyone who has installed and played with WordPress and a hosting account should be able to follow.
Below I talk about a few Google Documents my team uses. They are…
Expired Domain Control Document

Tracking document used to keep track of new expired domains added into my team

Backlink Tracking Document

Keeps track of the URLs on my money sites and makes sure each one is getting the right amount of promotion social, outreach, feeder site link as necessary

Feeder Site Creation SOP

SOP for the creation of feeder sites and blog network sites

Feeder Site – SOP (My Strategy of Choice)
Here is the instructions my VA's are to follow when building feeder sites. These documents are all kept in Google Documents where they can be easily updated.
Log into Expired Domain Control Document
Sorry cant share that one 🙂
Register Domain
Register domain at namecheap or GoDaddy as specified

Activate Privacy Settings

Point domain to nameserver per the sheet
Install WordPress
Install WordPress on the domain at the hosting account
Change general settings

Title, tagline and description similar to old site but should not be the exact same (we dont want to be mistaken as the same as the old website (archive.org) (alternative)

Change Permalinks

Vary which setting you choose and sometimes use the custom structure /%postname%/ or other variation you choose. NEVER use the default

Discussion

Unselect the email me when someone leaves a comment option

Install Theme

Install a different free good looking theme everytime and make changes to them options as required. Pick a theme that doesn't require a lot of modifications

AntiSpam Plugin

Vary which plugin is installed on each site, use one of the following

Install a Sitemap Plugin
SEO Plugin
Link Checker
No Follow No Index
Create Email & Forward to [email protected]

Vary – Info, admin, administrator, webmaster @domainname.com

Create a Contact Form (no follow & no index it)
Privacy Policy Page (no follow & no index it)

Create a "privacy policy" page. Set it to NOFOLLOW, NOINDEX

Use others from other sites and Ctrl-F and replace the necessary parts

Install a related post plugin
Install a Social Share Button/Bar etc
Install one social sharing button plugin
Interlinking

To help with internal linking please set up one of these plugins and link to the original articles that have been made with some generic terms like home, about, contact, visit to ensure some interlinking will occur. 3 links per page max

Speed Up Website

Limiting the draw on the server is important when building out these sites. Install one of these plugins to help speed up the website. Make sure you select the option that DOES NOT cache for signed in users(if its available).

Redirects

It is important that you identify the old URLs from archive.org and do 301 redirects from the old URL to the new URL. If you are unable to get content to create a new page do a 301 redirect to the homepage.

404 to 301 redirects

there will be some pages that you will not be able to find and 301 redirect to the correct page so this plugin will allow us to 301 redirect all broken links to our website to the homepage

Remove Old Content

Remove hello world and sample page
Add Content
From Blog Network Control document follow the link to the created content in the dropbox folder (or the content emailed)
Publish 5 articles immediately

Confirm title is relevant
Include the more tag around ~75% of the time
Include an image (~25%-~75% of the time)
Include a video from YouTube (~25%-~75% of the time)
Ensure there are subheadings
Ensure there are bullet points
Ensure tags are used – vary the number
Select 1 category
Complete SEO plugin settings
Link to 1 or more posts on the site
Link to 1 or more relevant authority sites
Do not link to money site in the first articles

Schedule the remaining articles at 1 month intervals

Follow the above checklist
Link to the money site on the specified articles based on the Blog Network Control Document – include the link above the more tag ~50% of the time
Finish the Layout
Modify Graphics

Make sure any graphics on the page (slider) etc are relevant
Include a custom logo on ~25% of the sites

Widget Area – HomePage Description

Ensure somewhere in the sidebar there is text with a description of the site that is similar (BUT NOT THE SAME) as the original site

Mirror the original layout

If the original layout had a left or right sidebar match it

Widget Area (vary w each site)

Links widget to relevant authority sites (not my money site)!
Video Widget – relevant video
News RSS widget
Custom Menu
Blogroll – link to other similar blogs if applicable
Ad – include the image of a relevant Ad and link to the home site – do not monetize with my affiliate links

Final Review – Does the site look/feel "real"? – If Yes done!
Direct 301 Redirect (to homepage or sub-page) – SOP (Not the most Effective)
Log into Expired Domain Control Document
Purchase the domain at NameCheap
Direct the nameservers to host (typically inexpensive SEO Host)
Install WordPress – base install plus the plugin redirection (or similar)
Find all old pages searching archive.org (alternative) and majesticseo.com and redirect them to an appropriate page on my money site
Set up a reminder in Google Calander to check back in 1 month and 3 months to see if there are any 404 errors and redirect those to an appropriate page on my money site
Private Blog Network – SOP (This is too Complex if Starting Out)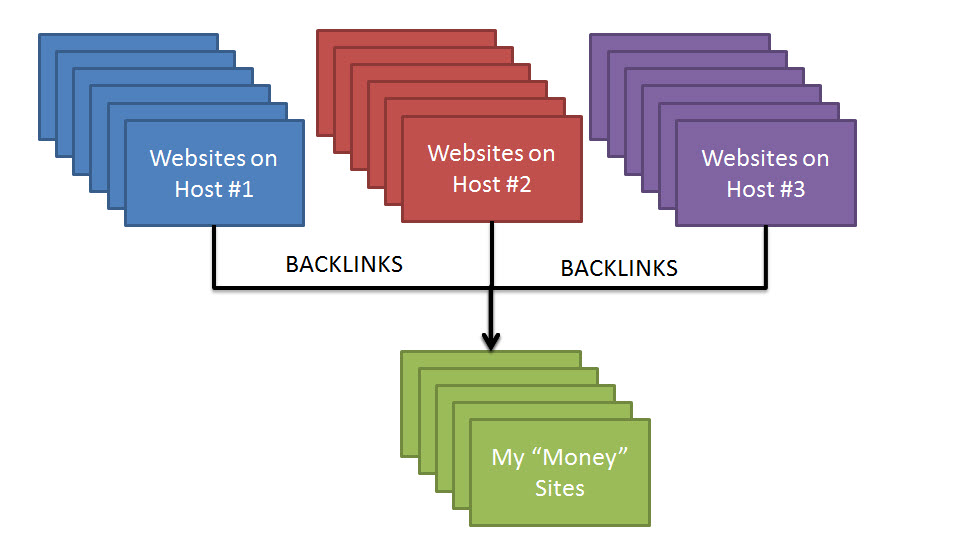 ONE TIME TASKS
Build New Website to Include in Blog Network
Follow the instructions in the new "feeder site creation SOP" document (these instructions are listed above)
Set Up New Money Site into System
Once you receive an email about a new website ready for promotion add the URL to the tracking document – Backlink Tracking Document and tab "RSS to add to Reader"
Add the RSS to your Reader
Insert the article URLs onto the Backlink Tracking Document
This sheet and job steps are similar to the backlink team lead and so you may not have to complete Module 1 steps 1 and 3, but you will always have to add the URL to your Google Reader
ONGOING TASKS
Module 1. Build Links To a Money Site (KEY MODULE!)
Objective – Build some contextually relevant links to the money website and posts within the money website.
Identify the URL you need to build links to from the "Backlink Tracking Document" Google Document and the topic/keyword it is trying to rank for
Get articles from article manager or myself
Identify 1 site on our blog network to use from the "expired domain control document" Google Document
Post 1 article to 1 site in the next 30 days
When posting this article ensure:

Confirm title is relevant
Include the more tag around ~75% of the time
Include an image (~25%-~75% of the time)
Include a video from YouTube (~25%-~75% of the time)
Ensure there are subheadings
Ensure there are bullet points
Ensure tags are used – vary the number
Select 1 category
Complete SEO plugin settings
Link to 1 or more posts on the site
Link to 1 or more relevant authority sites
Anchor Text

1/3 phrase match
1/3 General (click here, about, more, info, resource)
1/3 naked URL

Update the Google Tracking document with the links you have built
~25% of articles should have no links to the money sites
Feel free to randomize this process as much as possible. For example you could build 3 links to one money site article while 0 to another. Also make sure to randomize which blogs in the blog network you select for posting the article. This should be spread around and randomized.
Here is what the link building would look like graphically (again do not follow this precisely – randomness is important to not leave a footprint)
We don't want every site to be promoted the same therefore make sure everything is randomized.
Module 2. Ongoing – New Content Published at a Money Site Needing Promotion (Backlinks)
When new content is published at one of my money sites, ie a new article shows up in your reader it is your job to promote it by building links to it.
Here are your job steps for a new blog post published on one of my money sites. (not every post should be promoted – randomness is key)
Identify the URL from your Reader
Enter the URL in the Google Tracking Document "Backlink Tracking Document "
Repeat steps in Module 3 to publish an article
Here is what the links COULD look like…
Module 3 – Monthly Reporting
It will be important for us to continue to monitor the success of these blogs and potentially if we do a good enough job some of these sites will be able to move from being a blog network blog and become an actual money site itself. It is for this reason and to keep an eye out for de-indexing of the sites that we need some monthly statistics updated.
The monthly statistics that need to be updated on the Google document within the first 3-4 days of each month.
Set up a Google calendar reminder for the first of every month to update the stats
# of Unique Visits – Google analytics is not installed on any of these sites, but you can get the traffic data from the hosting account – you may need to show the traffic stats for all sites combined.
# of posts – log in to the wordpress site and from the dashboard click on Posts. Enter the number of posts shown
#of widget links – NOTE – we do not build widget links to a money site anymore
PR & # of Pages Indexed – Using Google Chrome and the extension "SEO Site Tools" visit each site and enter the PR and the # of pages indexed.
There you have it…the system me and my team uses to manage my blog network and silo'd feeder sites. I hope this was helpful!
Final Thoughts
As I said at the beginning the use of expired domains can be effective and not black hat if done correctly. My hope is this somewhat large 😉 document will help people put the entire expired domain strategy into perspective from A-Z!
If you are feeling lost/overwhelmed here is what I recommend….
Looking for 4 Actions to Take Now? Here is the Quick Action Guide…
Find expired domain via the free list method
Build out 2-3 highly relevant sites on a different host (recommended host)
Use them as feeder sites to promote a few money sites
Measure the success and then move onto the Manual Method once then start finding the powerful domains with my Free Tool
See the recommended learning progression below…
I leave you with this trailer which is somewhat relevant and has an important parting message…
 Be Careful Searching for Expired Domains Does Not Consume You!