If an AI makes your job easier as a content writer, it'll be ridiculous not to use it. There are many AI content-generation tools, and Content At Scale is one of them.
In this review, we aim to find out how Content At Scale differs from the rest of AI content generation tools and does it transmit the DNA of an experienced human writer.
Overall Content at Scale Review
What Is Content At Scale?
Content At Scale is an AI copywriting software based on a combination of 3 AI engines, two natural language processing (NLPs), and semantic search technology that understands user intentions and the underlying meaning behind their searches to create long-form content within 5 minutes.
It claims to generate an entire blog post without human intervention, which is fantastic, considering other competitor tools require somebody to control the content flow. However, you will still need to accomplish the reality check and optimize the content before publishing it.
Unlike other popular AI content generation tools, you get access to a comprehensive editor, which I find very similar to Surfer SEO. The editor provides relevant keyword insights and an on-page SEO checklist to ensure you create epic content insured to outrank the competitors.
We were able to generate articles of ~ 2000 words in less than 5 minutes that include a title, meta description, table of contents, headings, a URL slug, and paragraphs.
Top Features of Content At Scale
3 AI copywriting engines working together.
Inbuilt plagiarism scanner tool.
SEO optimization interface & checklist.
Long-form content creation without a human writer.
Low-cost solution.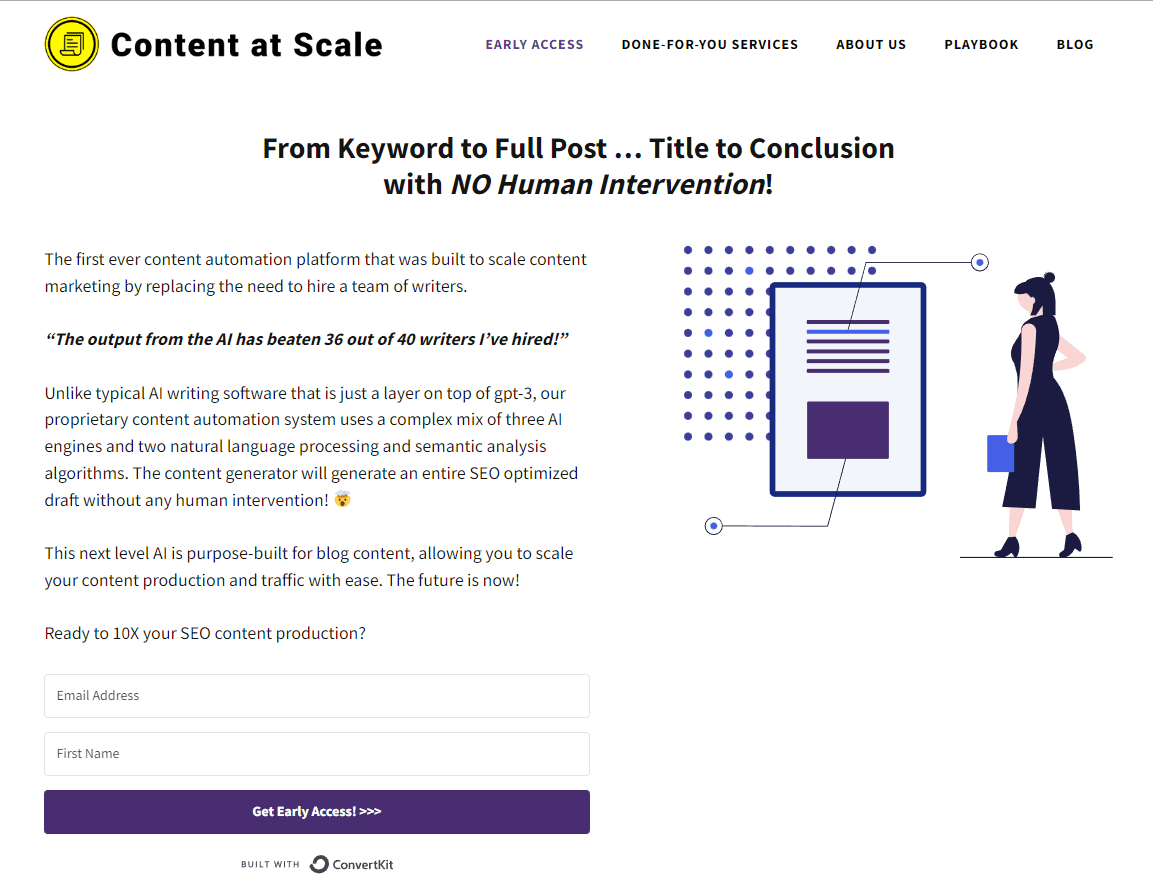 A Walkthrough to Content At Scale
Not many AI content generators can create long-form content without an editor combining the pieces like Content At Scale. You start by providing the AI with a keyword that generates the entire article, which is plagiarism-free.
That means you don't have to spend time generating a single or couple of paragraphs and having to make sure the content is plagiarism free on top of that. This is the most attractive feature Content At Scale has that separates it from popular AI copywriter Jasper (previously known as Jarvis) and many others.
It's not only about the generation of long-form content; it's more about the quality it brings to the content which we found is close to well-written content. Although, the standard might vary with the types of content you are aiming to create.
1. A look at the dashboard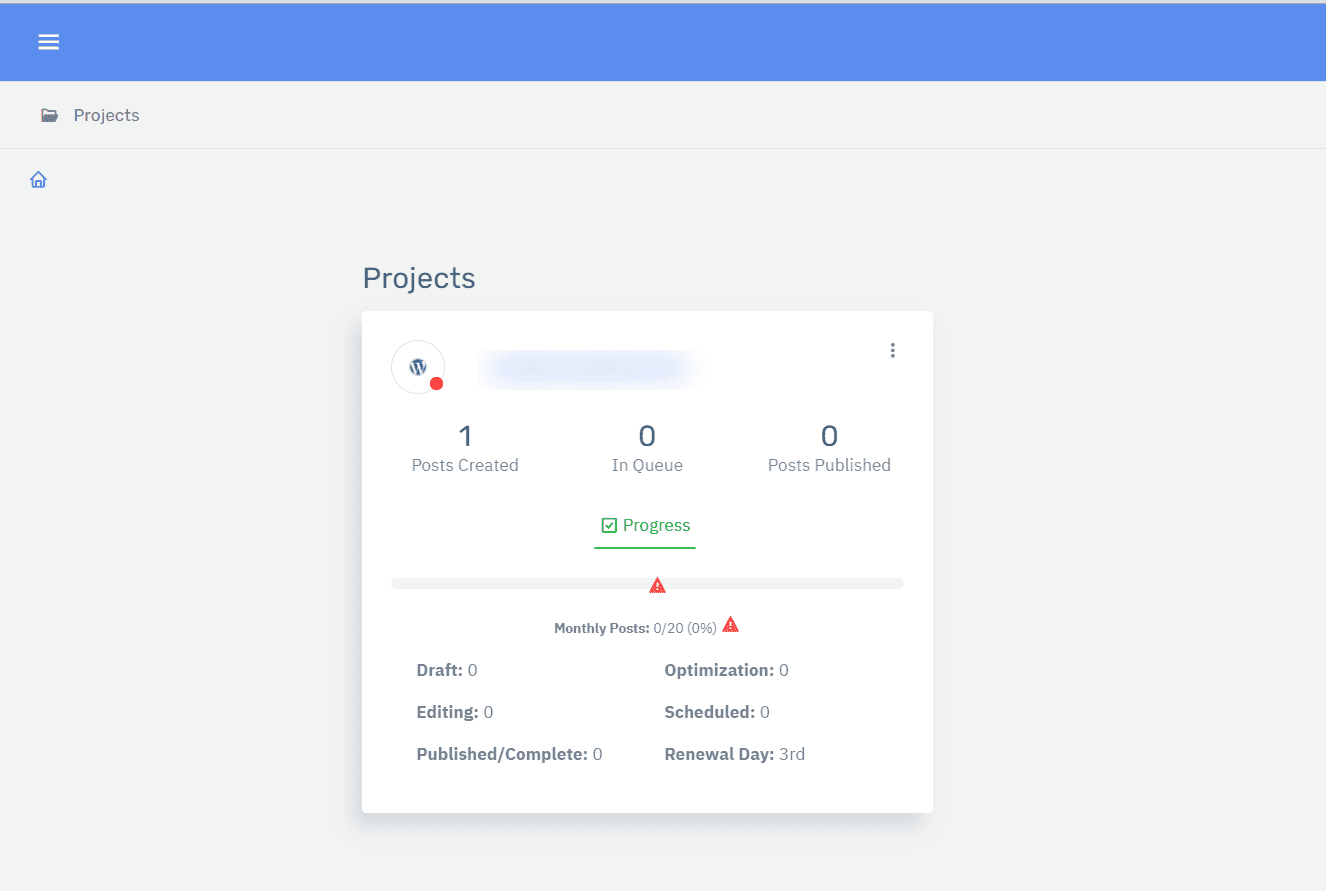 The Content At Scale Dashboard is the first place you arrive after logging in. It displays the projects you are working on. The projects are like folders where folders are the site or project name, and all the test contents remain inside it. It's a simple but very effective way to have control over multiple projects running at the same time.
You can add your website URL, the number of posts that set monthly post creation goals for the project, and the context of the website and contents. We really like the idea of having content goals that benefit you to push towards meeting the milestone and keep track of your progress so far.
The dashboard is simple. At the initial stage, you might require little help, but once you create a project, you can get the key data of your content creation process under each project, which is really helpful.
Adding an easier navigation interface can be helpful, but our goal is to create quality content which is what Content At Scale is very good at.
2. Project Management
Content At Scale makes it easy to manage projects from the Dashboard. You will notice three dots on the top right corner of project cards, which expands to the menu during the click event.
The menu gives you an access link to view the project, connect it to the actual WordPress site and manage the project.
In addition, you will notice a project overview that includes the number of drafts and published posts scheduled but not published yet, under editing and optimization.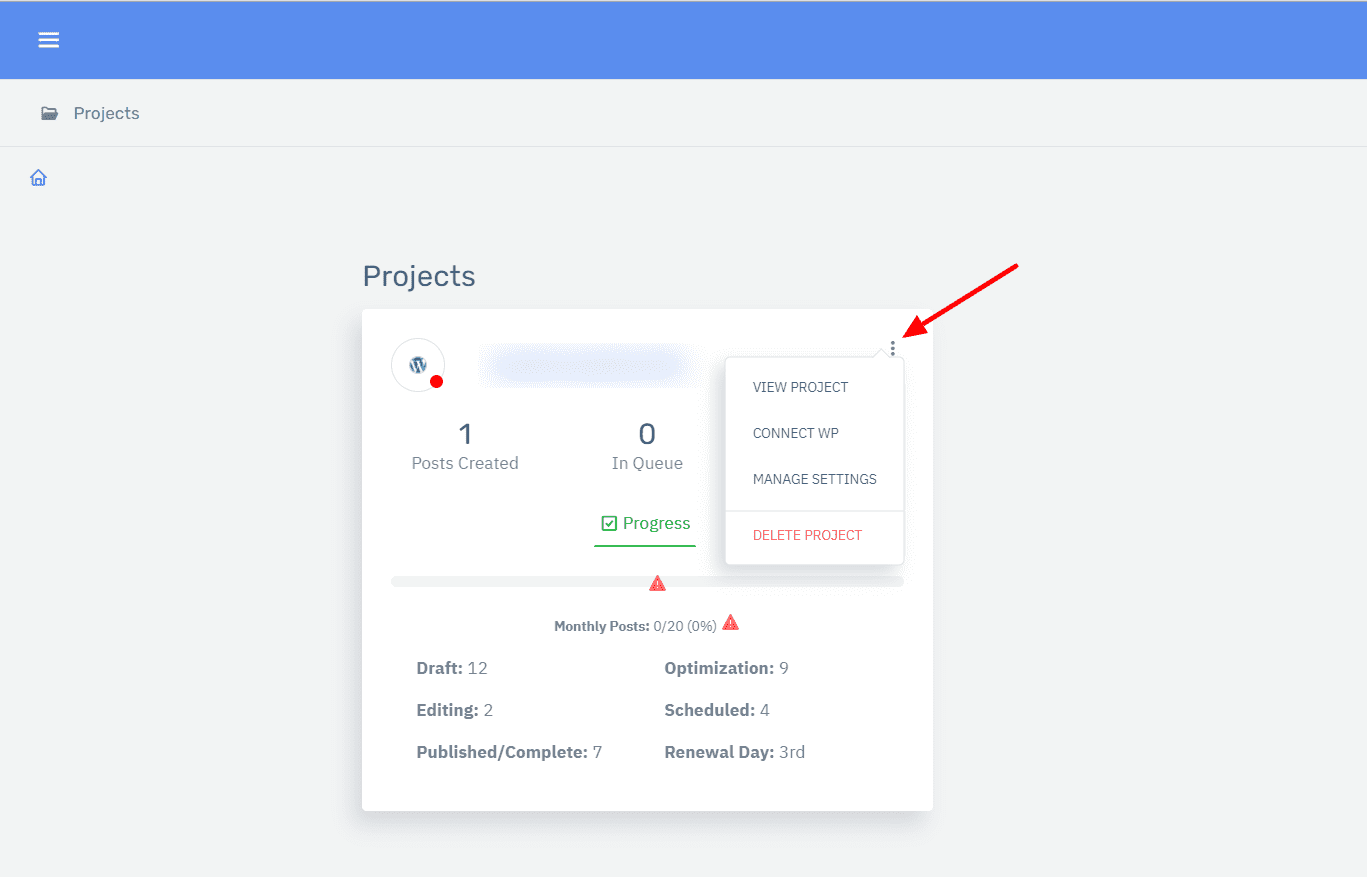 To adjust project settings, you can go to 'manage settings', where you can adjust the project name, details, and goals. You can also set a few settings to ask the AI to automatically point out key takeaways from a longer section of content.
The AI will automatically generate Tweets with helpful info from your blog post too. All you have to do is toggle the 'click on the Tweet' and add your Twitter handle for the tool to do the rest. This could be a fantastic way to attract more visitors to your site.
You can also set pre-defined 'Post Intro CTA' and 'Post Conclusion CTA' in the text. Here's what the project settings window looks like.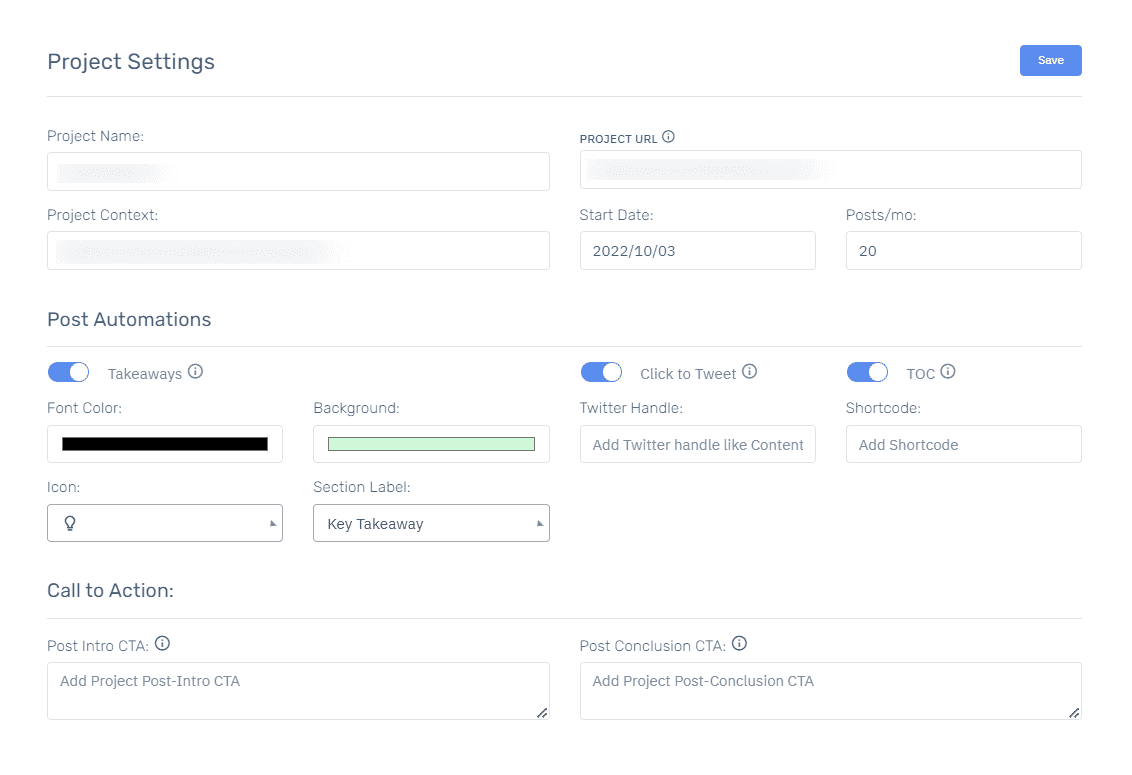 3. The WordPress Connection
You can connect your WordPress site with Content At Scale within the website's dedicated project. Doing so will set the AI to publish content on your site automatically. While this sounds too good to be true, you might miss out on setting up post meta, tags, and custom designs inside your post.
Additionally, I don't think this would be an ideal solution if you are using a page builder like Elementor, Thrive, or Beaver builder to create your pages. Regardless, you can try this feature on your WordPress site to let the AI take care of publishing content.
How do you create content with Content At Scale?
Content At Scale has an explicit way of content generation. You must have your content intent ready and explain it to the AI. The AI does the rest for you. Here is how to do it:
First, open the project under which you want to create content.
Click on 'add content' at the top right corner to create a new post.
Provide your primary keyword, or you can add multiple keywords with a .csv file.
Then provide an overview of the content for AI to better understand what to cover in the post.
With everything set up, you can either set the generation in a queue or create the content immediately.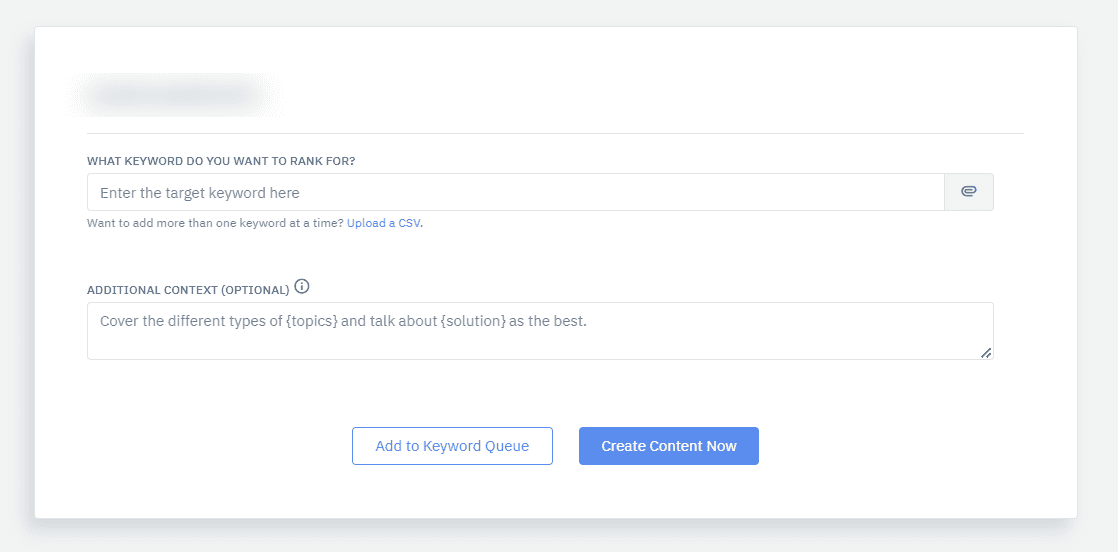 Once the content generation has started, the AI will take a couple of minutes ( less than 5 minutes usually, as we calculated during our tests). Generating an average of 1500 words per article per 5 minutes is an incredible speed.
What Does Content At Scale Editor Brings?
The content editor is the most exciting part of this AI copywriter tool. The interface is great and provides important data about your content. It has the keyword occurrence counter on the right, similar to Frase, followed by an on-page checklist, which is crucial for SEO.
This is how the editor interface looks like in action:

The AI has already generated an article and URL slug for the post. Within the editor, you can adjust them according to your SEO needs, including the meta description. The meta description was almost on point for our test and felt natural, so we kept them as they are most of the time.
You have the classic editor on the left side of the editing panel. Above the editor, you will find the word count, paragraph, and headings counts. Then to the right, you will find the optimization panel where you can track the optimization progress and maintain the NLP terms by looking at the counts.
Moreover, you can switch the tab to the "Brief" tab, which gives you additional information relevant to the topics you might consider including. The review tab has the plagiarism checker running behind, which checks the plagiarism stats for the content you have just generated.
How Good is the Content Quality?
It will not matter how fast you generate and publish content if the content does not provide value to the readers. They must provide accurate information, be grammatically correct, and not duplicated.
The tool automatically checks plagiarism, so you could use Grammarly to analyze its grammatical profile. You can verify the plagiarism with Grammarly plagiarism checker as well. We tried to run Grammarly check for one of our test contents and found a decent overall score –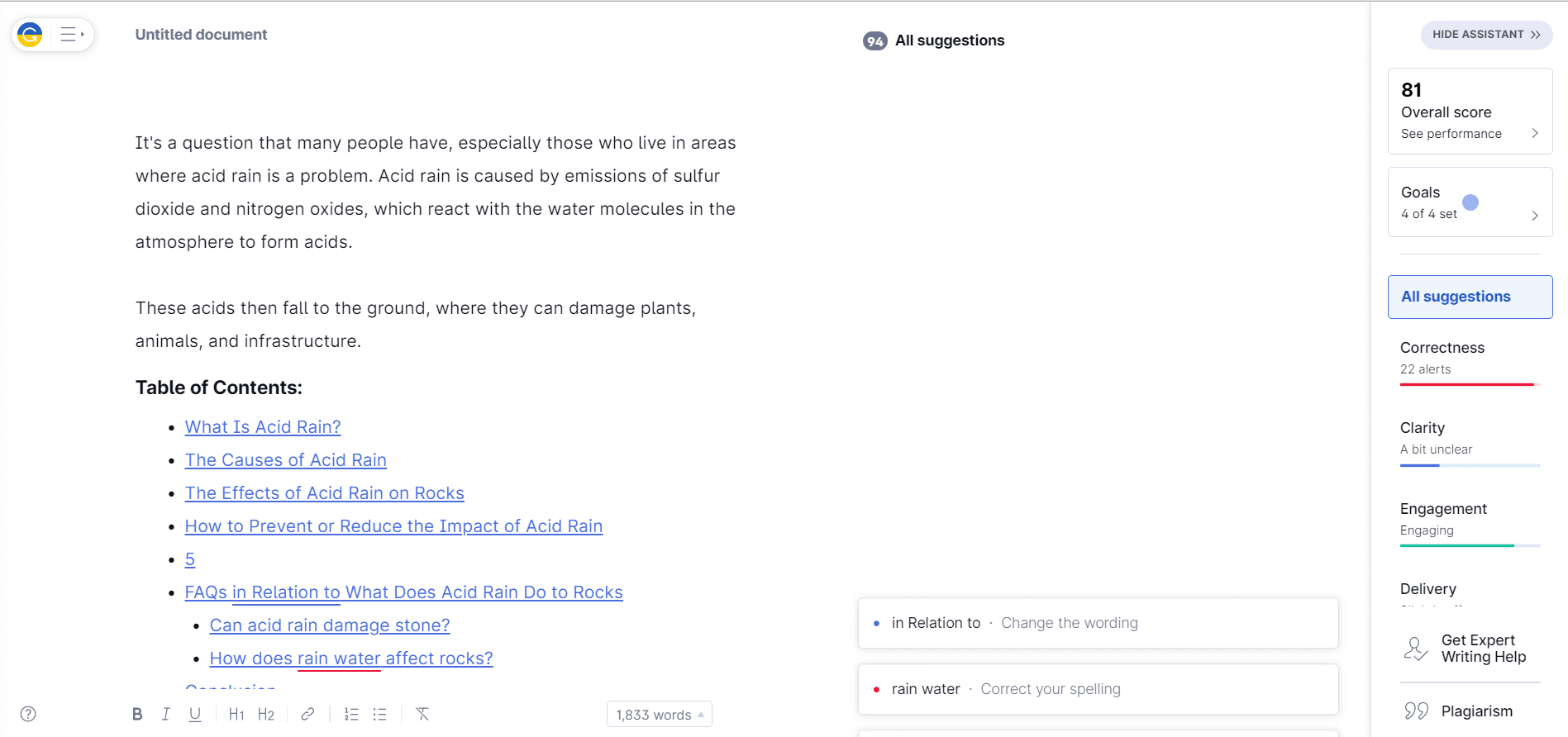 We then tried to compare the output with a human-written copy, which wasn't nearly as remarkable as this. The comparison with the top-ranking articles for that particular term was closer to our output. However, you might still require to perform a reality check before publishing AI-generated content.
Based on the content generation speed, involvement of humans, free from plagiarism, and overall content quality, it's safe to say Content At Scale is ahead of other AI copywriter tools like Jasper and Rytr.
… or is it too soon to conclude this tool?
Apart from all the good we find out on Content At Scale, it felt like the AI was slightly struggling to create in-depth content for:
Tech tutorials
Comparison articles
Product reviews
We could also need the creators' assistance (documentation) to create stunning content in these areas. Having said that, we still believe that this tool generates a solid foundation for such content, and you would require an experienced editor to give the content a proper shape.
Pricing | Content At Scale
Looking at the current price, $500 per month for 20 credits does not sound cheap. Each credit means you can generate one article.
The developer claims that we pay an average of $0.04 per word to experienced writers, whereas the AI costs up to $0.01 per word. This sounds closer to what you are paying to an experienced writer, although the AI rate might vary, considering your article length.
You might be generating shorter content (~ 1000 words), but the post will consume 1 credit regardless of the word count.
Content At Scale also has a Done-For-You service which starts at $2,000 per month for 20 articles. They will do the keyword research for you, run their system, optimize your posts, and have 20 posts per month on the website according to the schedule.
Our Verdict | Does Content At Scale Worth It?
Content At Scale does a great job. The overall output, considering the required time place it above other AI content-generating platform by the look of it. This AI copywriter can be a great choice for you when you have the funds and need the content to keep moving.
Having Content At Scale in your project can be helpful to generate content at a much faster rate than with human writers. Being able to generate epic blog posts in 30 minutes sounds too good to be true yet achievable with Content At Scale.
Again, there's no guarantee this AI tool can always compete against well-researched technical, complicated content written by human writers. Contents that have lots of examples and share insights with data might not be outranked by AI content.
Still, you can create great quality content with Content At Scale, and having your editors run through the content and optimize it will only improve it further.
Alternatives to Content At Scale:
Hopefully, this review of Content At Scale has given you what you were looking for. Here are a few other solutions that might be useful for growing online business:
Read More