Scripted vs. Contently
In this article, we're comparing two of the top players in the content marketing space – Scripted and Contently. Both are successful content marketing platforms, but there are large differences between their service offerings. We'll be offering a quick analysis of both, and letting you know how to decide which is right for you.
Scripted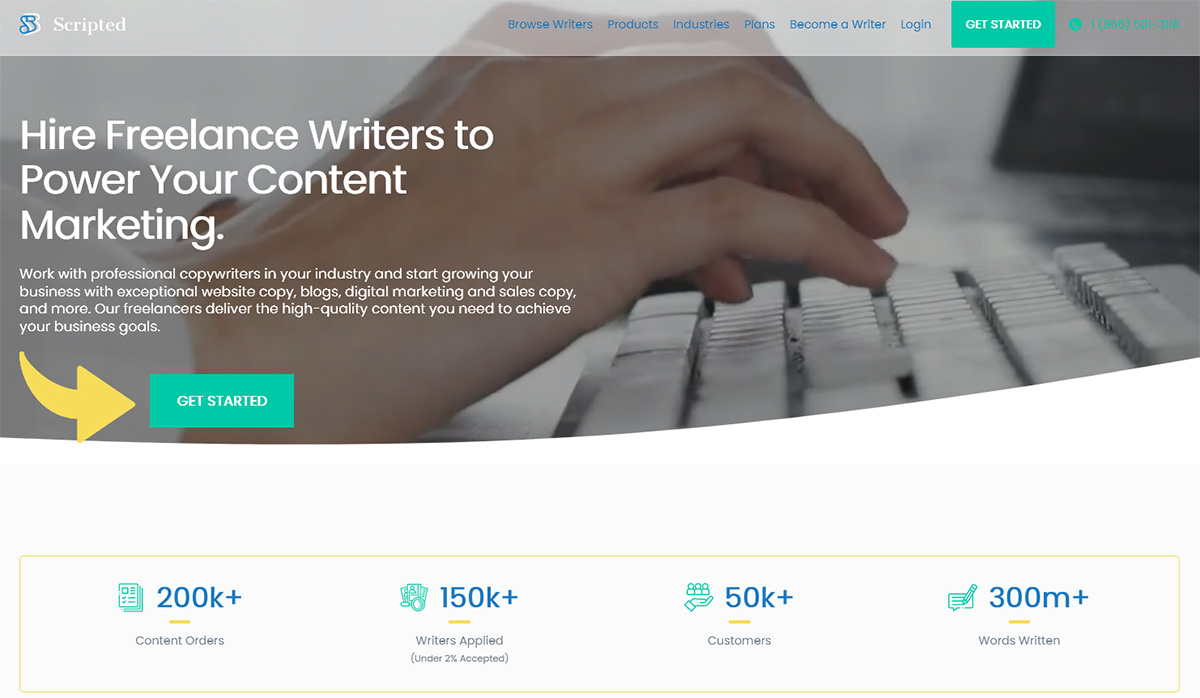 The Platform
Scripted is a content writing service with a rather straightforward business model. Clients sign up for Scripted, describe their business goals and content writing needs, and the work is assigned to an experienced content writer, who completes the work in a matter of days. Scripted specializes in a wide range of content types, including blog posts, social media, web content, press releases, and much more. Scripted boasts "SEO friendly" content, although its SEO practices are somewhat minimal, and seem to be limited to keyword optimization. Services like Content Refined have stronger SEO tools.
The Writers
Scripted prides itself in hiring top-quality writers. In fact, under 2% of writers who apply are approved. The writers have expertise in a number of different areas, and Scripted's SmartMatch technology ensures that the work is assigned to the proper writer. Scripted is well-known in the writing community for paying its writers well, which allows them to retain top talent. A content writing service is only as strong as its writers (although that's far from the only factor), and Scripted has a quality team.
The Cost
As far as content writing services go, Scripted is on the higher end, but by no means exorbitantly priced. Scripted operates on a subscription basis, with clients required to commit to an annual subscription after the first month. The "Premium" plan is their most popular, and offers clients 5-10 monthly content pieces for $349/month. Clients can purchase additional content credits at any time for extra content.
Pros
Experienced team of writers – less than 2% who apply are accepted.
Straightforward and streamlined content creation process.
Reasonable prices.
Cons
Requires yearly commitment.
SEO tools are somewhat lacking.
Contently
The Platform
Contently is less of a straight-forward content marketing service, and more of a comprehensive content marketing platform. As opposed to purchasing work, clients pay a subscription fee for access to the Contently platform, which offers them a comprehensive tool for organizing and creating content marketing materials.
Due to its complexity, it's difficult to sum up Contently's service in a few paragraphs, but we'll give it a shot.
Essentially, after paying their subscription, clients gain access to Contently's "Intelligent Content Marketing Platform." This platform contains a multitude of tools to help create content marketing ideas which align with the business goals and target audience. From there, it connects the business with a freelance professional (vetted by Contently) who has the expertise to create the content. From there, Contently uses AI software to optimize the content for SEO. Once the content is eventually published, Contently's analytics tools let users monitor the content's success, so they can improve results over time. Sounds complicated? Well, it is rather complicated, but users aren't expected to learn the platform all at once. Contently's platform contains tutorials, and there's also a customer support team to help navigate the beginning stages. And once you get the hang of the platform, you'll probably be happy that there are so many options at your disposal.
The Freelancers
Contently, like Scripted, prides itself in hiring top-quality freelancers. However, Contently is more than just content writers. Contently also works with a network of videographers, illustrators, editors, and more. There is freedom to create much more than just content writing, and you can deck out your content with as much visual flair as you see fit. Unlike Scripted, you'll actually get direct access to these creatives, allowing you to build a relationship with them, so you can continue to create content together. The catch is that you have to pay these freelancers. Contently lets you build your own network of freelancers. It is the middleman connecting you to top talent.
The Cost
Contently is much more expensive than Scripted, but the two services are entirely different markets. Scripted is designed as a content writing service, in which you pay on a per project basis. On the other hand, Contently is a comprehensive content marketing platform, allowing you to plan, manage, and monitor all of your content marketing efforts. It's designed to be integrated into your day-to-day operations as a company, rather than to outsource your content writing to someone else.
The exact cost of Contently will depend on your organization, and you'll have to book a consultation to sort out the details. Larger companies can spend tens of thousands on the platform. This cost consists of not only a subscription to the platform itself, but also the cost of hiring freelancers depending on content requirements.
Pros
Comprehensive content marketing platform.
Tools to plan, monitor, and enhance content strategy.
Comprehensive SEO optimization tools.
Highly-qualified network of freelancers who are capable of much more than content writing.
Cons
Much more expensive than a content writing service. Designed to be integrated into your business, rather than a stand-alone service.
Much more hands-on. Those looking for content outsourcing would prefer Scripted.
Which Should You Choose?
If reading the above hasn't made this clear – Contently and Scripted are very different content marketing services. Scripted is ideal if you're looking to have content produced which supplements your business's promotional materials. Contently is for businesses who are looking to overhaul the way they manage and organize their content marketing. Contently is much more expensive than Scripted, but offers many more tools as well. It's difficult for us to recommend one or the other, because your preference will heavily depend on your business's needs. You need to evaluate your business goals, and see which service better aligns to your strategy going forward. Both Scripted and Contently have impressive services which have a lot to offer different businesses, but you'll have to decide which is best for you.