PBN Lab Review and Tutorial – How to Easily Find Expired Domains in 2015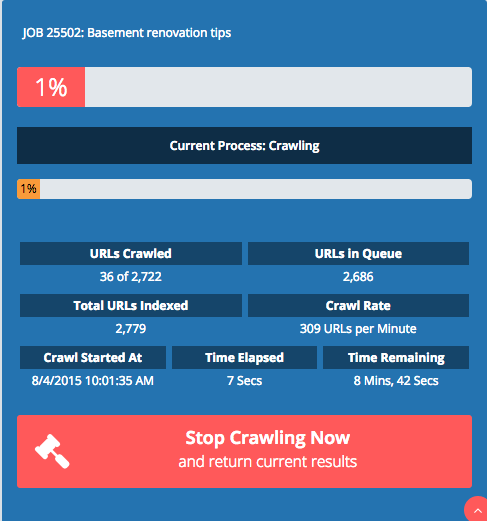 For the last few years I have used every domain finding tool on the market including custom in house tools to try and make my team incrementally more efficient. After delivering or building 1,500 domains I am only now showing the second tool I use (first was talked about on my ultimate guide to expired domains and PBNs).
NOTE – The links here are affiliate links for PBN Lab… as you will see my team does use it extensively for my PBN business and this is only the second tool I have ever recommended for finding domains!
The reason I am reviewing PBN Lab is because it brings something different to the table. Most of the services and tools out there are some variation on a big list of domains that you can sift through and if you can't find what you are looking for then wait for more domains to be added. Or the others are tools to make the scraping method incrementally easier. This basic setup is available for free at ExpiredDomains.net but you are very limited in the quality of domains you can get if you are also wanting to find relevant domains.
This is where PBN Lab is different – you can very easily find quality domains that can be VERY relevant and they handle the entire process with only the minimum number of inputs from the users!
In this article I will share…
The "problem" PBN lab created for my business
My PBN Lab Review
My Teams PBN Lab Tutorial (the exact training how my team uses it)
Heavier Emphasis on Relevance Over Authority:
The reason I like PBN lab so much is because it works well with my systematized processes and allows my team to find high quality and very relevant domains!
PBN Lab "Problem" for PBN & Expired Domain Business
PBN Lab has introduced one "problem" for my team… we have been finding a lot of domains in some very commonly used niches and as a result built up a surplus of domains we don't want to lose out on. In addition with a supply of quality sites no longer used by clients I have launched a service that addresses some of the most common concerns raised by potential PBN clients…
Done For You PBN Service Concerns…
"Costs to much to get started"
"I can't wait 4 weeks for my PBN, I need rankings now"
"Not a fan of the monthly costs"
"Can I build just one PBN I think that is all I need?"
So my solution is that, in conjunction with the launch of the Source Wave marketplace, I have introduced a new smaller/introductory offer…
Done For You PBN With Unbeatable Prices vs Metrics Delivered in Under 24hrs!
Prebuilt (customized for you in under 24hrs!) (my team does not like me right now with the procedure I created for them 🙂 )
Reduced Price (under $100!)
No Monthly Fee (Free Hosting for 1 Year)
What is the Downside? Lower Metrics, Less Relevant and some sites have been gently used (but are well indexed and pass my detailed QC check)
Check out the launch offer now and let me know your thoughts.
Thanks to everyone who has made this product the TOP seller on the new Source Wave SEO Services marketplace…
Back to the PBN Lab Review…
PBN Lab Review
Pro:
RELEVANT DOMAINS – This is the part I like the most, the ability to find relevant domains in obsecure niches easily by using the search results and not generic keyword searches on other sites or the scrape method.
Queuing Ability – This ability to set up a series of searches and then let the system run while my VA's
Works Well With My Systematized Approach
Multiple Logins – With one account my team of 3 domain finders can all set up their searches to run
Results – Finding GREAT domains!
Con:
Speed – It is fast but not instant. We often have a back-log of crawls waiting to be run. If it was instant I would like it more. If there was an easier way to jump the que and pause the current crawl so I could start the one that my short attention span had me wanting to look for now.
Cost – Not inconsequential!- See Prices
Who Is It For:
The ideal people to use PBN Lab are SEO Agencies who build their own PBNs in house or domain finders.
Who Is It Not For:
I think for smaller site builders/owners it is a fairly expensive route to go to find expired domains. If my only use for PBN Lab was my portfolio of sites making in the $3-$7k/month range it would be an expensive investment! But with the monthly sign up options using it extensively for 1 month to find many domains in your niches would be good value!
PBN Lab Tutorial
Here is the exact training and procedure my team goes through…
Search Setup
Once you enter your login details, you will be brought to your dashboard. Here you can quickly check the different jobs you have going and view the domains in each job. In order to start a new job, you will need to go to the side panel and click on Add Job Wizard.
You will now be brought to the screen where all the magic happens. You will want to name your job. I usually name my job using the same keywords I am basing my search on, so for this search I will use basement renovation tips.  What PBN Lab will do is for your keyword that you use, it will take the top 50 sites in Google for that specific keyword(s) and check its backlinks to see if any of those domains are available. If you choose Crawl Depth 2, it will even check those sites backlinks to see if any of those domains are available. There are a 2 cons with going 2 deep; takes longer to run (as there is many more sites to go through) and the domains become less relevant to your keyword(s) you are aiming for.
Next, you will be brought to the Crawl Source page. On this page, the first thing you have to do is choose where you want the domain crawler to crawl. You have 3 different options to choose from; search by keyword, manual list of seed URLs or parse google serps results. I would suggest sticking with searching by keyword as this will bring up more domains and will be more targeted to your niche, however if you have specific sites you want the bot to crawl through, you can input them using the manual list of seed URL option.
What I really like about this tool, is the fact that you can choose which country you would like the search results from. This is really handy if you are looking to target certain countries. This tool will bring up domains that are relative to the country you are searching in. For this search I will stick with United States.
Next you will input your keyword(s) you are hoping to search for as well as how far back in age you would like to go. If you are looking for newer domains, you can change this year, however I keep it at 1998 as it brings up the most domains for you to sort through.
On the next page, you will find a summary of the details of your search. This page will also show you the sites it will crawl to find your domains. If you do not like what you see, you can always go back a page and edit the information. Once you have all the details correct, you can go ahead and click finish.
Viewing Results
Depending on the amount of sites PBN Lab has to crawl and the depth of crawling, it could take anywhere from 5 mins to 2 hour. If you click on Dashboard on the left hand side, it will bring you back to the main page. Here it will show you if you have any jobs being crawled. If you do have jobs being crawled, it will tell you how many domains it's gone through, how many domains left to crawl as well as the amount of time until the job is completed.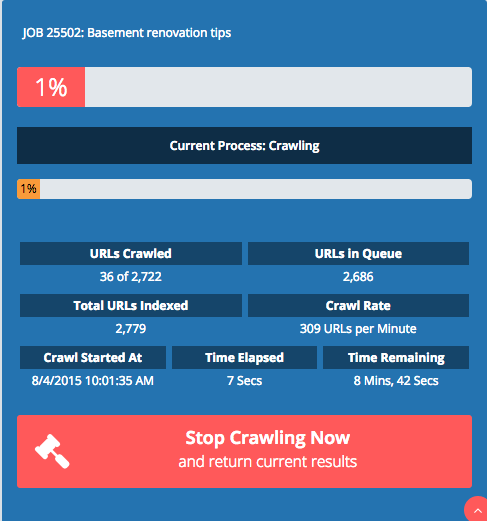 The main screen will also let you know how many jobs are running, queued, waiting or completed. Depending on what type of plan you have, you can either have 1 job running at a time or 2 jobs running. If you bought the plan that has 2 jobs running, it will be quicker at getting through the jobs then if you were to have the 1 job running at a time.
Once a job that you are waiting for is completed, you can click on Completed. This will then bring you to a page that has all of your completed jobs. This page will also tell you how many domains turned up in the search at a quick glance. For my search, 25 domains are available. On this page, you can also redo the search, re-fetch the metrics or delete the job easily. This is helpful if you have done a search a while ago and you would like to redo the same search to see if any new domains or new metrics have become available.
Sorting Through The Domains
If you click on the number of domains for the job you are looking at, it will bring up all of the domains available. For my job, it brings up 25 domains. Once you click on the number of domains, it will take you to a page where you can view all of the domains the bot found for you. You can now go ahead and sort the domains in ascending or descending order by any metric you would like. If you have a specific TLD your looking for you can also set the filter to show only those domains as well.
Another way you can filter through the domains is by expanding the filter settings. I usually set the filters to:
PA > 20
DA > 10
CF > 5
TF > 5
By filtering the domains, it narrows down your search even further. This narrowed down my search from 25 domains to 4 domains. This allows me to spend more time looking at domains with quality metrics rather than sorting through a bunch of domains with weak metrics.
Once you find a domain you are interested in, you can click on the domain and it will give you a brief overview of the domain. If you want to further analyze the domain, you can click on Action and it will drop down a variety of different tools for you to use such as Moz OSE, Ahrefs,  MajesticSEO, Archive.org, Screenshots.com, NameCheap and Hostnine.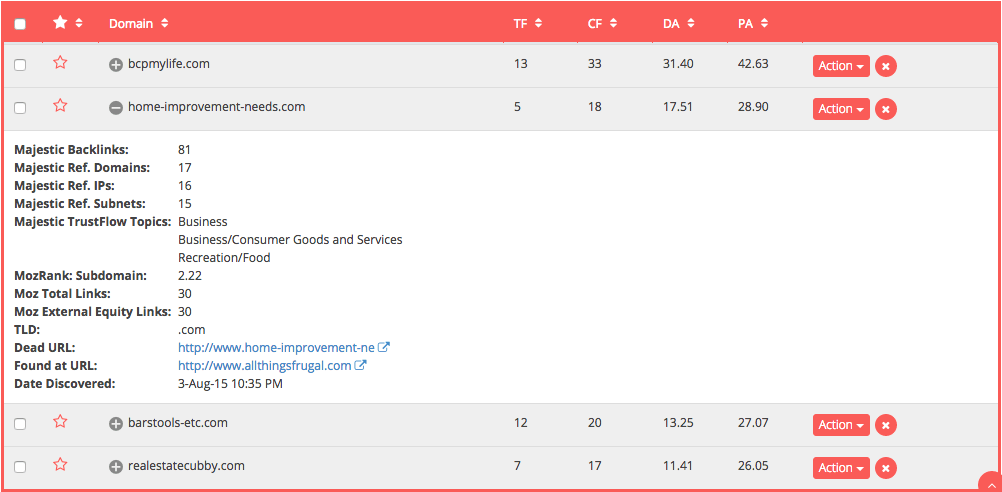 I use the following to ensure the domains are quality:
Moz OSE : Use to confirm the PA and DA of the domain as well as checking the inbound links to the site.
MajesticSEO: Use to check the TF and CF of the domain. You can also check the anchor text, referring domains as well as the external backlinks of the domain. I ensure that the backlinks are spam free and the metrics are quality.
Archive.org: Use to look at the sites history to ensure that is was never abused with spam.
Thats its! PBN Lab is that simple to use. There is a lot of different customization you can use to suit your needs better as explained. Another good thing to do is to link you Moz API credentials to your account. This will help speed up the process when your bought is running the searches. You can set this up by going to your account settings on the left hand side at the bottom and clicking on Your Account –> Moz Access Credentials.
Happy Domain Finding!
Special thanks to our Project Manager Kelley for updating our PBN Lab procedure and turning it into this post.