Mailchimp vs Hubspot: A Side By Side Comparison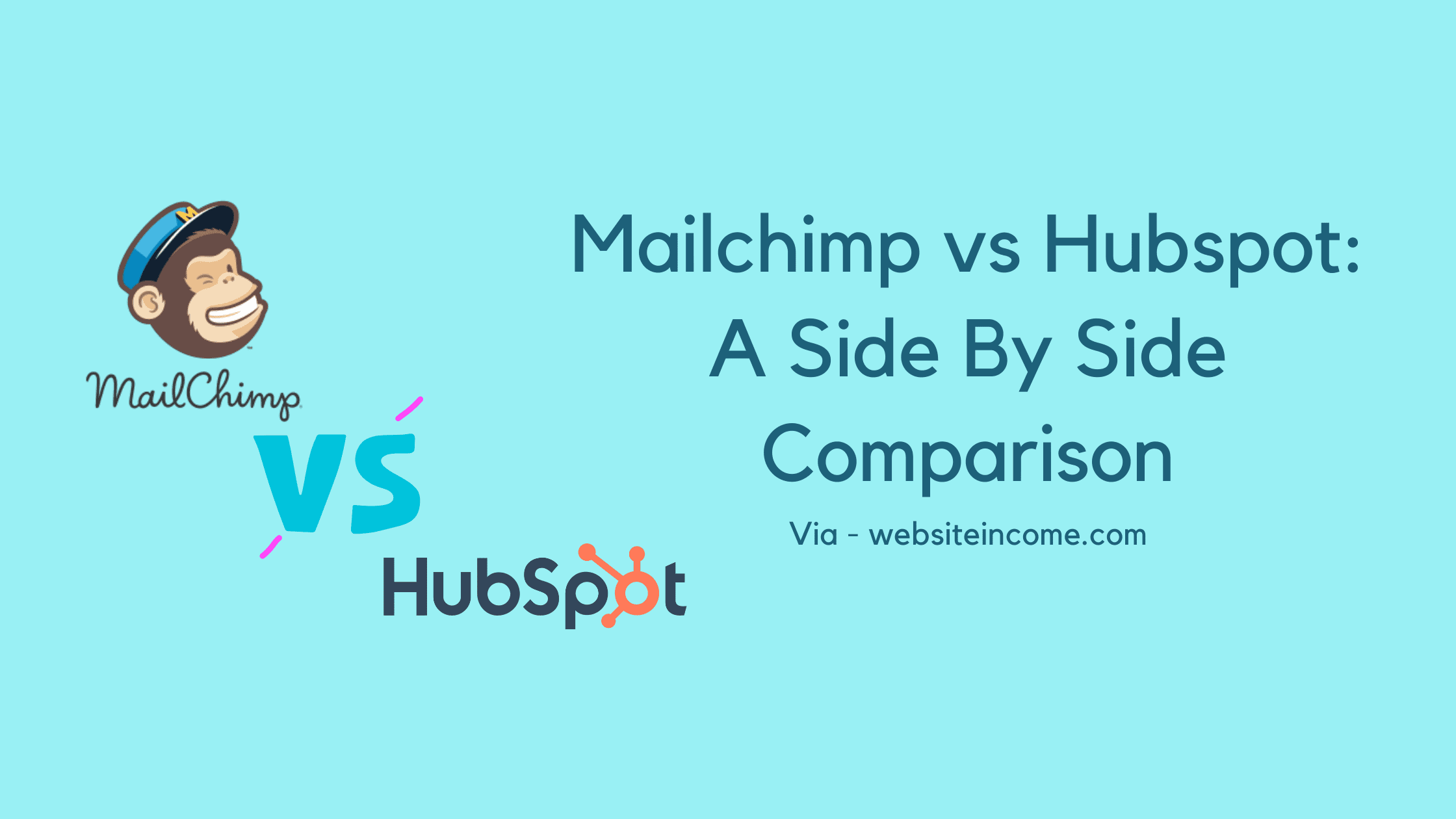 When it comes to email marketing, there are a lot of different platforms to choose from. Two of the most popular ones are Mailchimp and Hubspot. They both have their pros and cons, but which one is the best for you? In this blog post, we will compare Mailchimp and Hubspot in terms of –
Feature comparison
User experience
Support
Compatibility
Pricing
Mailchimp is a popular platform that is known for its user-friendly interface and robust features. Hubspot is also a popular platform with many features but tends to be more expensive than Mailchimp. Let's take a closer look at both platforms and see how they compare!
What Is Mailchimp?
Mailchimp was recently recognized as #8 on G2's 2020 global list of Best Software Companies. Mailchimp is frequently the first email marketing platform that comes to mind when people think about it. Maybe you've used Mailchimp at school or at work, or maybe you've received emails sent by Mailchimp. Regardless, this is an email marketing service that has earned a reputation for simplicity of use.
These are the features that stand out when your look at Mailchimp:
Editable drag-and-drop templates
Personalization
Basic list management
Email analytics and reporting
A free (under 2,000 email subscribers) account
Premium subscription available
If you're new to email marketing, Mailchimp is an excellent choice. It can make it simple for small-to-medium-sized enterprises with little budget to enter the world of email marketing. The majority of Mailchimp tools are free, which means it's a good option for firms with little money to spend. You'll have to pay to remove their branding if you don't want it at the bottom of your emails.
In addition, you also have a number of premium options for extra features. If you're sending fewer emails, a pay-as-you-go account is an option too. Later on, we'll compare Mailchimp's rates to the services it offers.
What Is Hubspot?
HubSpot is another marketing platform that has similar tools to MailChimp, but it goes much further. They provide customer relationship management (CRM), inbound marketing, analytics, support and help desk, website CMS, and more services. HubSpot offers more extensive email personalization than MailChimp, and it also does a lot more when it comes to online customer-facing services. That being said, it is not the most affordable choice for all of those activities.
HubSpot is designed for small and medium-sized business owners. It may, however, be used by large organizations and enterprises as well. It serves businesses that do more than just email marketing as an integrated marketing solution. It's a fantastic choice for content marketing, sales, and other applications. It's a great option for content marketing, sales, and numerous other activities.
1. Feature Comparision
1.1 Email Marketing
HubSpot has a simple but effective Email Marketing software that includes a variety of pre-made templates that can be customized to suit your company's needs. Access to more complicated features, such as A/B testing, timely smart send times, and other functions can be purchased for a bit extra.
The easiest approach to get started with HubSpot's Email Marketing solution is to link it with their CRM. You can build nurturing campaigns by utilizing data from the CRM by combining it with HubSpot's Email Marketing tool.
Mailchimp on the other hand provides more templates in comparison to Hubspot. You can also select from Themes, which offers a variety of collections with distinct designs and features. Both provide a drag-and-drop email editor as well as the ability to create custom-coded email templates.
You can customize your emails and produce quick and efficient transactional messages with them. You'll also get access to data like open rates, clickthrough rates, heatmaps, and other information. You can also split test different templates to see which are more effective.
Here's a quick comparison of the Email Marketing features on both platforms:
| Features | Hubspot | Mailchimp |
| --- | --- | --- |
| Drag and drop email editor | ✅ | ✅ |
| Ecommerce emails | ✅ | ✅ |
| Email personalization | ✅ | ✅ |
| A/B testing | ✅ | ✅ |
| Time zone sends | ✅ | ✅ |
| Optimized for any device | ✅ | ✅ |
| Post-send email analytics | ✅ | ✅ |
| Comparative reports | ✅ | ✅ |
| Transactional email | ✅ | ✅ |
1.2 Contact Management
As your online business develops and expands, the number of people on your list will also expand. When choosing between HubSpot and Mailchimp, this is an important consideration. Marketers understand the value of engaging their leads to increase conversions.
HubSpot's Marketing Suite is built on top of its own CRM, which allows you to keep track of everything on a granular level. You can learn a lot about how your contacts interact with your website, how many emails they open, the outcomes of a sales call, and the number of tickets they have opened with your support staff. You may create as many custom properties as you'd like to segment your contact list with the HubSpot CRM.
Mailchimp too has a marketing CRM that utilizes tags and segments to help you better manage your contacts. Tagging contacts allows you to establish your own categories or groups. Mailchimp also provides a Customer Journey builder that enables you to automate and create customer journeys.
It also gives you significant control over how consumers interact with your business. If you sign up for a premium account, you'll get all of the segmentation features. Free users can use up to five conditions when creating an audience segment.
A quick comparison between the Contact management features of the two:
| Features | Hubspot | Mailchimp |
| --- | --- | --- |
| List management | ✅ | ✅ |
| Create custom contact properties | ✅ | ✅ |
| Combine unlimited filtering options to further segment your lists | ✅ | Premium feature |
| Update contacts in bulk | ✅ | Only through import |
| Timeline of all interactions with your company | ✅ | Limited |
1.3 Marketing Automation
Marketing automation is a tool that enables you to automate your marketing processes. HubSpot's marketing automation software is one of the most comprehensive on the market. It includes powerful features such as lead nurturing, contact management, and content creation.
HubSpot's marketing automation software grows with your company. As your business scales, you can take advantage of HubSpot's more advanced features, such as A/B testing and multivariate testing. You can also use HubSpot to create workflows that trigger based on a variety of conditions, such as time, contact activity, or interactions with your website.
Mailchimp's marketing automation tool on the other hand is more limited in comparison. While it does offer some features that HubSpot does, such as lead nurturing and content creation, it doesn't have the same depth or breadth. Emails can be sent based on your users' actions, such as abandoned cart emails, birthday notifications, and a variety of other things. Mailchimp's Customer Journey builder, while a step toward bridging the gap between Mailchimp and HubSpot, focuses primarily on email targeting.
The Mailchimp automation software seems like it's designed for smaller enterprises. If you're a larger business, you may need to search elsewhere for marketing automation solutions.
| Features | Hubspot | Mailchimp |
| --- | --- | --- |
| Single automated kickback emails | ✅ | ✅ |
| Multi-step Drip campaigns | ✅ | ✅ |
| Conditional if/then automation logic | ✅ | ✅ |
| Automate internal notifications and tasks | ✅ | ❌ |
| Automate lead management & segmentation | ✅ | ❌ |
| Automate the process of updating contact or company properties | ✅ | ❌ |
| Custom automation through API | ✅ | ✅ |
| Pre-built journeys | ❌ | ✅ |
1.4 Ads and Social Media Performance
It's critical to have a strong social presence if you want to interact with your audience. On the other hand, advertisements allow you to reach highly precise with your messaging across both search and social media. You can use advertising to create new leads quickly, improve your messaging and targeting, or re-target contacts in order to nurture them.
| Features | Hubspot | Mailchimp |
| --- | --- | --- |
| Social publishing | Facebook, Instagram, LinkedIn, Twitter | Facebook & Instagram, Twitter |
| Social monitoring | ✅ | ❌ |
| Social reporting | Report on your success no matter where you published | Only report on social posts that were made through Mailchimp |
| Facebook/Instagram Ads | ✅ | ✅ |
| Unlimited surveys and responses | ❌ | ✅ |
| Google search ads | ✅ | ✅ |
| Google display ads | ❌ | ✅ |
| LinkedIn ads | ✅ | ✅ |
| Free website builder with Stripe buy button | ❌ | ✅ |
| Advanced website audiences | ✅ | ❌ |
| Contact list audiences | ✅ | Facebook only |
| Facebook lookalike audiences | ✅ | ✅ |
| Ads ROI Reporting | ✅ | E-commerce integration required |
| Ads reporting across a number of attribution types | ✅ | ❌ |
1.5 Forms and Landing Pages
It is essential to create intuitive landing pages in order to improve sales. Landing pages are intended to boost conversions and draw attention to key products or services' main advantages and features. When selecting a marketing automation solution, you should look for one that includes a full-featured landing page builder so you can offer discounts and show off your products with it.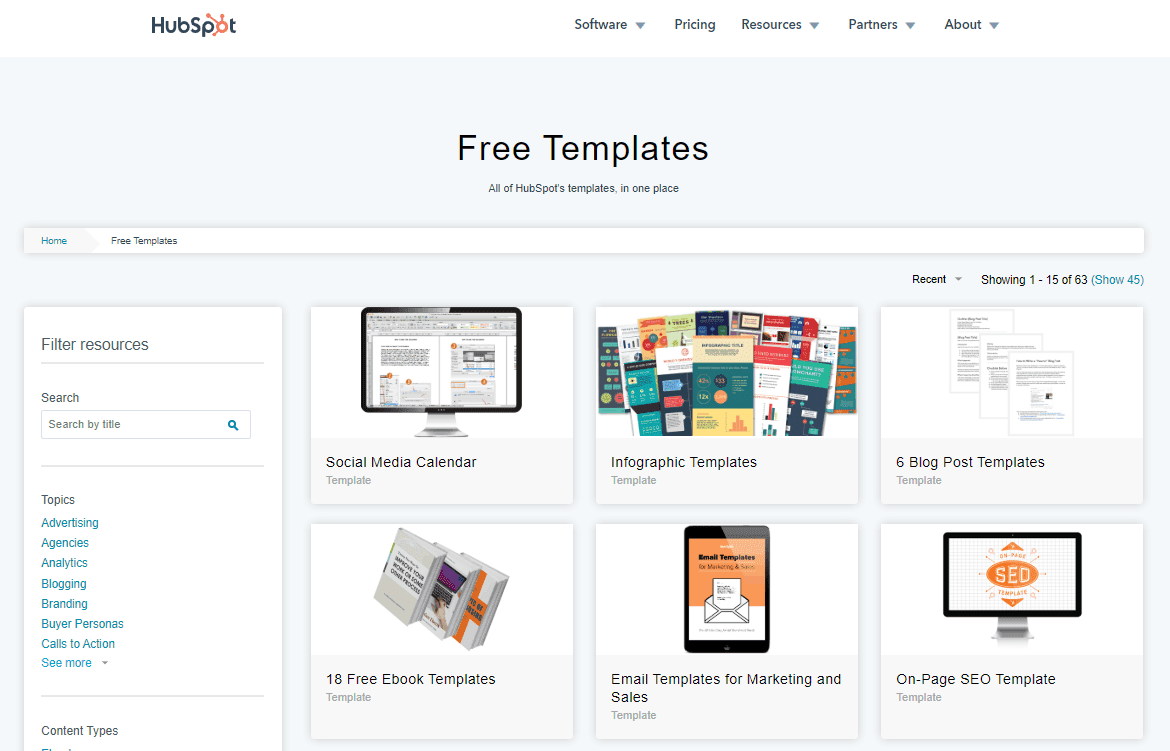 HubSpot's landing pages and forms solution is quite robust. The flexibility of HubSpot is what sets it apart from Mailchimp. You can integrate data from any form tool you use into HubSpot by adding the HubSpot tracking code to your site.
The goal of form submission isn't always to convert a new lead for the first time, as shown by HubSpot's understanding of intent. Progressive profiling allows you to change what your site's visitors see if they're already a contact in your database, ensuring that each form fill provides useful data for your company.
Mailchimp also offers a great landing page builder with a variety of pre-designed templates. To create the pages, you don't need any technical skills, and you can always modify form elements to collect more information from your customers.
However, there are no progressive profiling alternatives and you can't add dependent variables. Mailchimp is a simple tool to use that allows you to quickly publish your website and create as many landing pages as you want for no extra cost. HubSpot, on the other hand, costs $40 per month to remove restrictions.
A quick comparison between Landing Pages and Form features of both:
| Features | Hubspot | Mailchimp |
| --- | --- | --- |
| Forms | ✅ | ✅ |
| Pop-up forms | ✅ | ✅ |
| Embedded forms | ✅ | ✅ |
| Collect data from any form of solution you use | ✅ | Through integrations |
| Custom form fields | ✅ | ✅ |
| Hidden form fields | ✅ | ✅ |
| Progressive profiling | ✅ | ✅ |
| Dependent fields | ✅ | ❌ |
| Drag and drop page building | ✅ | ✅ |
| Template/custom-coded landing page development | ✅ | ✅ |
| Use custom domain | ✅ | ✅ |
| Scheduled publishing | ✅ | ❌ |
| On-page SEO optimizations | ✅ | ❌ |
2. User Experience
You must carry out aesthetically attractive marketing activities in order to stand out from your competitors. Fortunately, you can't go wrong with either HubSpot or MailChimp.
HubSpot has a lot more features than Mailchimp, which can make it overwhelming for new users. It can take some time to get used to HubSpot's interface. Mailchimp's interface is much simpler and easier to use. The learning curve isn't as steep, so you'll be able to get started quickly. If you're looking for a platform that you can quickly learn and use without any headaches, go with Mailchimp.
Both offer drag-and-drop capabilities. You can quickly move design items where you want them or change colors with a single click. The templates make editing enjoyable and straightforward. It's safe to say that you don't need to hire a professional designer to make your campaign appear attractive.
There are more templates at Mailchimp, but HubSpot's themes can better match your customization demands. MailChimp is quicker at generating designs, but because of its adaptability, HubSpot will assist you in developing a more specialized branding.
If you're in a hurry to get something designed, MailChimp is the way to go. If you're looking to create a company with superior branding which outstands, HubSpot is the one for you.
Hubspot Reviews:
Mailchimp Reviews:
3. Support
When considering a marketing automation solution, one of the factors that should be taken into account is the quality of customer support. No matter how intuitive and user-friendly a platform is, at some point, you'll need help from customer service.
Both Mailchimp and Hubspot offer excellent customer support. They have teams of knowledgeable and friendly customer service representatives who are always willing to help.
Mailchimp's customer support is available 24/seven via email, live chat, and phone. You can also find a lot of useful information in their extensive knowledge base. Hubspot's customer support is available Monday to Friday from 09:00 to 17:00 EST via live chat, email, and phone. They also have an extensive knowledge base where you can find answers to most of your questions.
In terms of response time, both platforms are pretty quick. However, Hubspot is a bit faster, especially when it comes to living chat. Overall, both Mailchimp and Hubspot offer great customer support.
4. Compatibility
Both Mailchimp and HubSpot integrate with a wide range of applications and services. However, HubSpot has a slight advantage over Mailchimp because it offers more native integrations. This means that you can connect to more applications and services without having to use Zapier or another third-party integration tool.
Mailchimp integrates with all the major email service providers, CRMs, eCommerce platforms, webinar tools, and more. Some of the most popular integrations include Salesforce, Shopify, WordPress, Eventbrite, and Google Analytics.
HubSpot, on the other hand, integrates with all the major email service providers, CRMs, eCommerce platforms, webinar tools, and more. In addition to all the integrations offered by Mailchimp, HubSpot also offers native integrations with popular applications such as Instagram, Twitter, Facebook, LinkedIn, and Google Ads.
5. Pricing
Mailchimp is a great choice for small businesses because it offers a free plan for up to 2000 contacts. This plan includes most of the features that you'll need to get started with email marketing. As your business grows and you need more features, you can upgrade to one of their paid plans which starts at just $11 per month.
Hubspot offers a free plan for up to 2000 contacts. However, this plan is very limited and doesn't include most of the features that you'll need for email marketing. If you want to use Hubspot for email marketing, you'll need to upgrade to one of their paid plans which start at $45 per month.
Overall, Mailchimp is a better choice for small businesses because it offers more features at a lower price. However, if you're looking for a platform with more advanced features, Hubspot is worth considering.
HubSpot's pricing starts from $45/mo and goes all the way to $3,200/mo for Enterprise solutions.
Paid plans for Mailchimp start from $10/mo for their Essentials package, going all the way up to $306/mo for their Premium offering.
Our Verdict: Which Is Better: Mailchimp or HubSpot?
In today's technological world, email marketing is one of the most efficient methods to promote your company and develop a connection with your consumer. According to a HubSpot study published in 2020, over 80% of marketers have seen an increase in email interaction over the last year. Consider carefully which email marketing solution will work well for you and your company before making a selection.
Mailchimp and Hubspot are both great platforms for email marketing. They both offer a wide range of features, excellent customer support, and great user experiences. However, there are some key differences that you should take into account when choosing between them.
Mailchimp is a better choice for small businesses because it offers more features at a lower price. However, Hubspot is a better choice for businesses that need more advanced features. If you're not sure which platform to choose, we recommend starting with Mailchimp and upgrading to Hubspot as your business grows.
Thank you for reading! We hope this article helped you understand the difference between Mailchimp and Hubspot. Feel free to share your insight in the comment section below.