June Income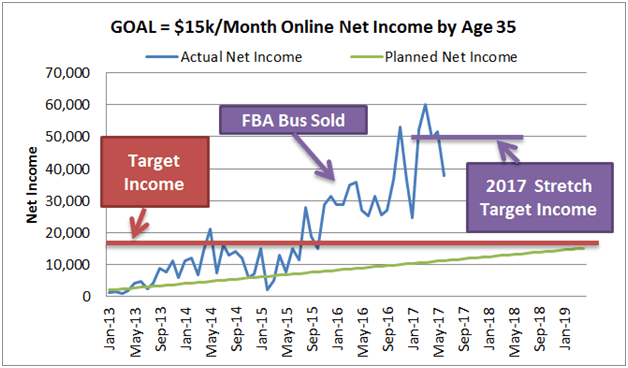 June was a solid month. Although the results did not hit the target we were still able to push forward a lot of larger initiatives.
In particular, the team has a few big projects that are on the go and we are pushing hard on some larger goals.
The results from this month were a little disappointing! Having been growing nicely and having a string of very solid months back-back it felt like a step backwards when the final results of this month came in. However, when I sit back and look at the overall/absolute results I really shouldn't be disappointed… but alas human psychology is cruel and regardless of the size of the earnings one key to satisfaction is growth.
Many projects are underway nicely but a couple of my core businesses which can be a little cyclical had down months at the same time. I am looking forward to them bouncing back for July and moving forward.
Hopefully, this post will shed some light on how I build/operate my online business and gives you some useful insights. There are plenty of areas for improvement in my business and I try to highlight these as well!
Hope your summer is going well and your business is growing!
The Business "Divisions" For My Online Business:
Money Site Portfolio
AuthorityWebsiteIncome Blog
Services – Web Development, Content Marketing & Link Building:
Amazon FBA Business

Brands 1-6 – All have specific targets for 2017
ListingEagle – Amazon FBA Hijacking and Suppression Monitoring

Put Outside Capital to Work Efficiently in the Online Asset Space
Key Successes
Great Acquisition – Working with a very small group we have acquired a couple great FBA businesses and have a world-class manager installed/ready to grow the business! The business achieves ~40% net margins which is very rare for FBA businesses. A couple great options for acquiring FBA businesses are TheFBABroker (who we used in this case), FE International or EmpireFlippers.
Scalable Site Growth – My site building initiative this month is having a lot of success with continually adding more and more traffic
Unique Acquisition – A deal will close in July that started in June I will be excited to share the story behind it!
Shopify Site Had Record Month – One business that had a record month was my Shopify site.
Key Failures
Diversification Isn't Always Awesome – Diversification is great because it generally means that earnings/business results will not have huge swings. But… when a couple of the bigger businesses have a couple naturally down months the benefit of diversification isn't as obvious.
Consistency – This is the most concerning failure of the month but my lack of consistency in terms of putting out highly useful content is the biggest failure in June.
Facebook Ads – I launched and tested a free + shipping offer for my Shopify site and did not have any success with it unfortunately!
2017 Business Goals
Below is my businesses main goals for 2017…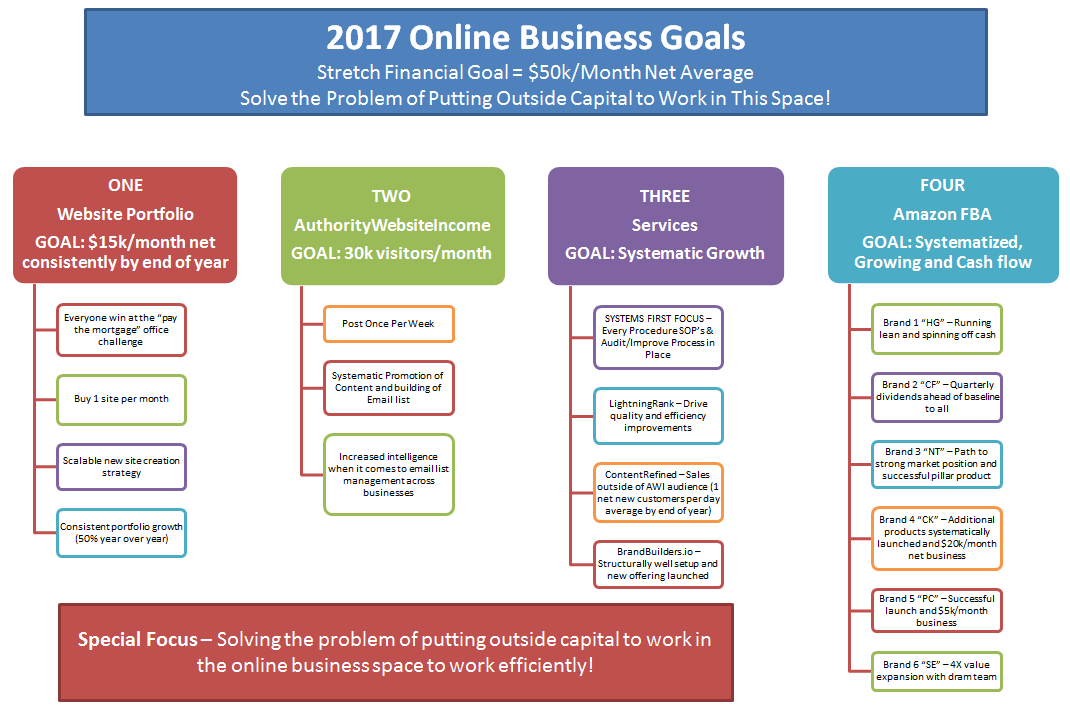 Part 1 – Passive Authority & Niche Website Income Profit/Loss
3 Goals in 2016 for my Website Portfolio Business
Everyone Win at the Mortgage Crushing Competition
June Update – Traffic definitely took a dip on this business as a couple very well performing posts slipped in rankings.
Traffic = 15,071
Earnings = $108.24
2. Buy 1 Site Per Month
June Update – No new sites for my personal portfolio were purchased in June. None of the ones that came across my plate were interesting. I will have one new small/medium sized acquisition to chat about next month
GOAL = 1 New Website Purchased
ACTUAL = 0 New Website Purchased
If any readers are looking to sell their profitable site(s) VERY QUICKLY let me know by emailing me. I can let you know in 12hrs if I am interested and complete the purchase in 24-48hrs – Contact Me Here
I have found the right sellers are those…
Desire a simple/efficient/non-invasive sales process (no option is easier to sell to)
Looking to sell FAST (under 24hrs has been accomplished!) (shorter time for due diligence on my end increases risk for me)
Not wanting to spend a lot of time on the sales process (analytics and income proof is all I need)
SEO done to the site can be questionable and that increased risk will be reflected in the sales price
Understand that the benefits of the bullet points above means the sales multiple will be lower than if you went a more traditional route
If you have a profitable website you are looking to sell fast please let me know
3. Scalable New Site Creation Strategy adds $5k to Portfolio
June Update – Traffic has been working out extremely well with this project! Across the new sites I have grown the traffic to 55k uniques last month! This is a great sign for the project but we are SUCKING at turning that traffic into earnings. No point in having all this traffic without converting it. We will continue pushing hard to earn more from the traffic.
Traffic – 55,210
Earnings – $380.10
PRIMARY GOAL – OVERALL INCOME FOR WEBSITE PORTFOLIO GROW TO $15k/MONTH CONSISTENTLY
June Update – Solid performance from my Shopify Ecommerce site helped out the portfolio a lot. I am still struggling with monetization and have put pressure on myself and my team to not do anything other than grow earnings this month for the portfolio!
Part 2 – Authority Website Income Blog Profit/Loss
3 Goals in 2015 for AuthorityWebsiteIncome.com
Post Once Per Week
June Update – Not a great month for content production! What I have started is a mastermind for content marketing which I go to weekly and combined with this monthly update and that mastermind my goal is to get caught up on quality content production!
2. Systematic Promotion of my Content and Building of my List
June Update – No Progress – One of the team members it is on their list.
3. Increased Intelligence with Email Automation
June Update – No Progress – Need to carve out a dedicated workday to go through this!
PRIMARY GOAL – GROW TO 30k VISITORS PER MONTH
June Update – 12,782 which is all I should expect if I am only producing 2 articles in a given month! Summer usually has a small downturn in traffic due to vacations and such but no excuses I need to do a much better job on this site! I feel I owe you this audience more then I have done over the last month.
Part 3 – Services Business Profit/Loss
Systems First Focus
June Update – Great signs that the culture of systems and SOPs is getting embedded. Team members are rolling out procedures without being prompted and are starting to see the benefit.
LightningRank.com – Quality and Efficiency Improvements
June Update – No change this month, continuing to see great results for clients with many very LARGE PBNs being discussed now.
Visit LightningRank.com for Link Building Services!
ContentRefined.com – 20k MRR by June & 40k MRR by End of Year
June Update – A weird billing nuance where anyone who signed up on the 31st got billed on the first showing up in July vs June with my tracking has this number a few thousand less. CHURN is the enemy of any growing recurring subscription business! For us we were experiencing some awesome growth numbers but with a big push last month and then some normal/happy customer churn we have seen this growth slow.
Planned MRR = $20,000
Actual MRR = $26,031
4. BrandBuilders.io Structurally Well Setup & New Offering Launched
June Update – Achieved – The TurnKey affiliate sites ready in 24hrs are selling out in a handful of hours every time we launch!
PRIMARY GOAL – SYSTEMATIC GROWTH!
Part 4 – Amazon FBA Business
Brand #1 – HG – Running Lean and Spinning off Cash

June Update – Continuing to perform solid but not amazing. Running it very lean and piling up some cash in the bank.

Brand #2 – CF – Quarterly Dividends Ahead of Baseline

June Update – Business is performing solid, a little behind the planned numbers but solid!

Brand #3 – NT – Path To Strong Market Position and Successful Pillar Product

June Update – This business we are running until out of inventory and then wrapping up.

Brand #4 – CK – Systematic Growth to $20k/month Profit

June Update – A big promotion push has this business moving nicely again

Brand #5 – PC – Successful launch and $5k/month Business

May Update – Only a couple months in and sales are starting to pickup. Showing some definite signs of promise!

Brand #6 – SE – 4X Value Expansion with Dream Team!

June Update – VERY disappointing results on this business. Although it was a great plan the results did not line up with what we were looking for. Despite the affiliate site driving $40k worth of sales to a competitor the same amount of traffic to our site has driven $0!

ListingEagle.com – Hijack and Listing Suppression Monitoring Service

June Update – Steady business
Part 5 – Put Outside Capital to Work Efficiently
June Update – A great deal and manager has been onboarded with this project. We are continuing to look for additional world-class un-hireable managers who are looking to play a bigger game. Feel free to reach out if you have a world class skill set, proven track record growing a business and are looking to play a bigger game!
Overall Income Update
Original Monthly Net Income Target (original goal $15k/month reliable income by age 35)
Target Net Income = $11,275
Actual Net Income = $37,827.23
2017 Average Net Income = $45,962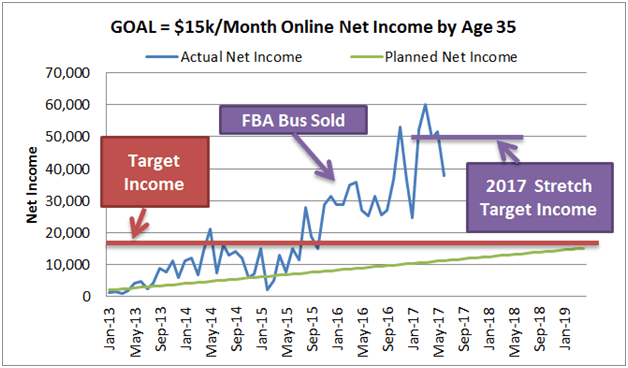 Gross revenue is a vanity number for my business and I do not share it.
Final Comments
June was a tougher month! I need to evaluate if my focus is correctly allocated or not especially when it comes to providing useful posts at AuthorityWebsiteIncome.
This I believe has been my biggest issue with my business over the last couple months and I will be addressing it!
Please let me know in the comments below what posts have been the most useful for you and I will work