Best 6 Hunter.io Alternatives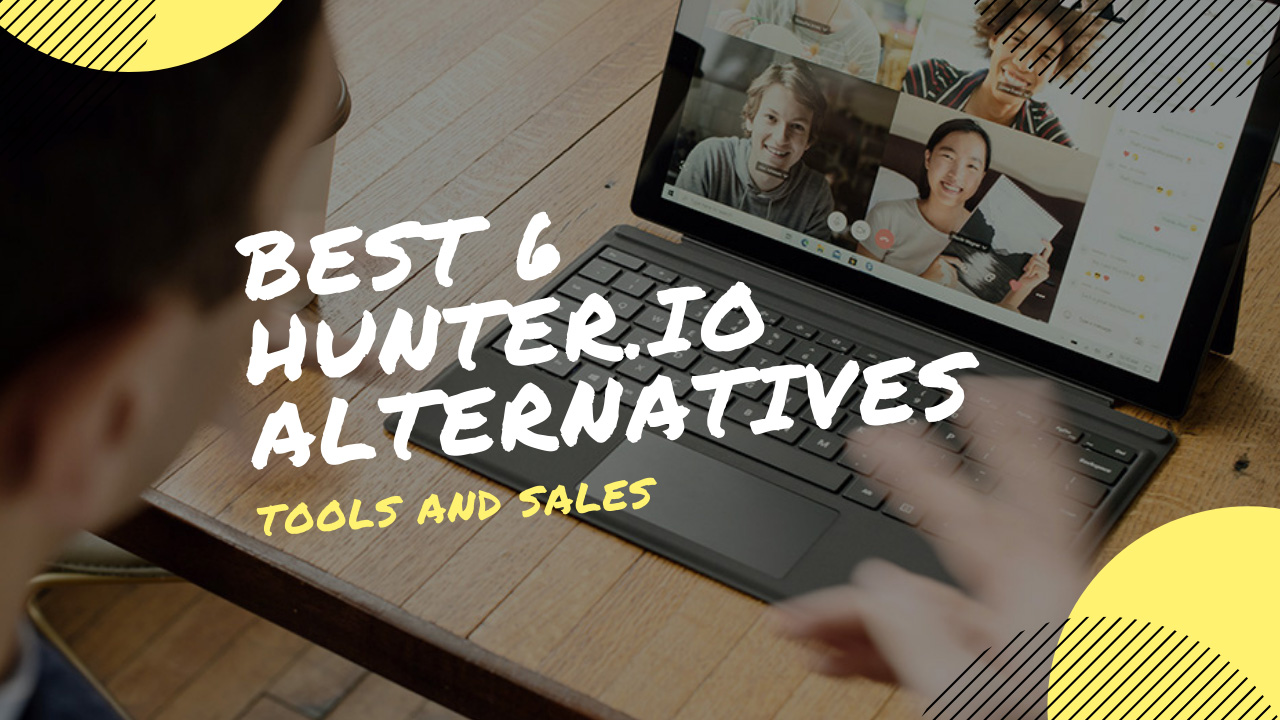 All employees, managers, and business owners need to contact several persons daily. There are some occasions when they struggle to get in touch with any person because they do not have any contact details.
Email finders are designed to gather contact information, especially the email addresses of any person you might want to contact. It saves some of your valuable time and effort.
What is Hunter.io?
Hunter.io is an excellent solution for businesses to find their prospect candidates' email addresses or anybody they might want to contact.
The software includes several search parameters so that you can find profiles according to your requirements.
However, the software's web extension is not well optimized for LinkedIn, and you might not get all the information you are looking for.
If you are looking for a Hunter.io alternative that is more efficient and easy to use, you are on the right page.
Top 6 Hunter.io Alternatives
Most business professionals and executives from various departments like marketing, sales, PR, content marketing, and recruitment managers generally use an email finder to search addresses.
An email finder is valuable because it helps them reach out to their prospects and turn them into customers.
There are more than 3.8 billion email accounts across the world. Now you know why it is crucial to have a good email finder.
How would you identify a good email finder? Check the accuracy, interface, price, and performance to know if a particular software is suitable for you.
Here is a list of the Top 7 email finders that you can choose:
1. ContactOut
If you are looking for the easiest way to go from LinkedIn to Email or Phone list then checkout ContactOut.
The Chrome extension allows for the easy generation of lists based on LinkedIn profiles, company URLs or email addresses. The rich data that is created covers 250M professionals.
The feature that is most interesting is that it gives you the ability to generate a rich contact list from either LinkedIn or just a company URL.
Main features:
AI Writing Aid
Turn any list into a rich database (LinkedIn or Email Addresses)
Chrome Extension
API & CRM integration
2. FindEmails
If you are looking for an accurate email finder that is affordable at the same time, FindEmail might be the ideal option.
Most email finders use external databases from popular platforms like LinkedIn to search and verify addresses, but FindEmails performs the same task with its technology.
It is a better alternative to Hunter.io because it offers an additional two-in-one search option that will simultaneously identify and verify email addresses.
Main features:
Offers detailed scoring for found addresses.
Accessible via browser extensions and their official website, whichever you prefer.
Offers the best features and accuracy at a reasonable price.
3. Anymail Finder
Anymail Finder is the perfect solution for any organization looking for verified emails only and does not require confidence scores.
Besides a web-based tool, you can incorporate the email finder and checker into other software.
Unlike Hunter, Anymail can be used to scrape emails in bulk from Twitter and LinkedIn. But it requires an external extension like Followerwonk or Dux-Soup to perform this task.
Anymail Finder's pricing is designed in an innovative way that ensures users only pay for verified emails.
Key features:
It helps you find several email addresses based on name and domain.
Charges for verified emails only.
Allows you to load the verified emails in your system through the API.
4. NinjaOutreach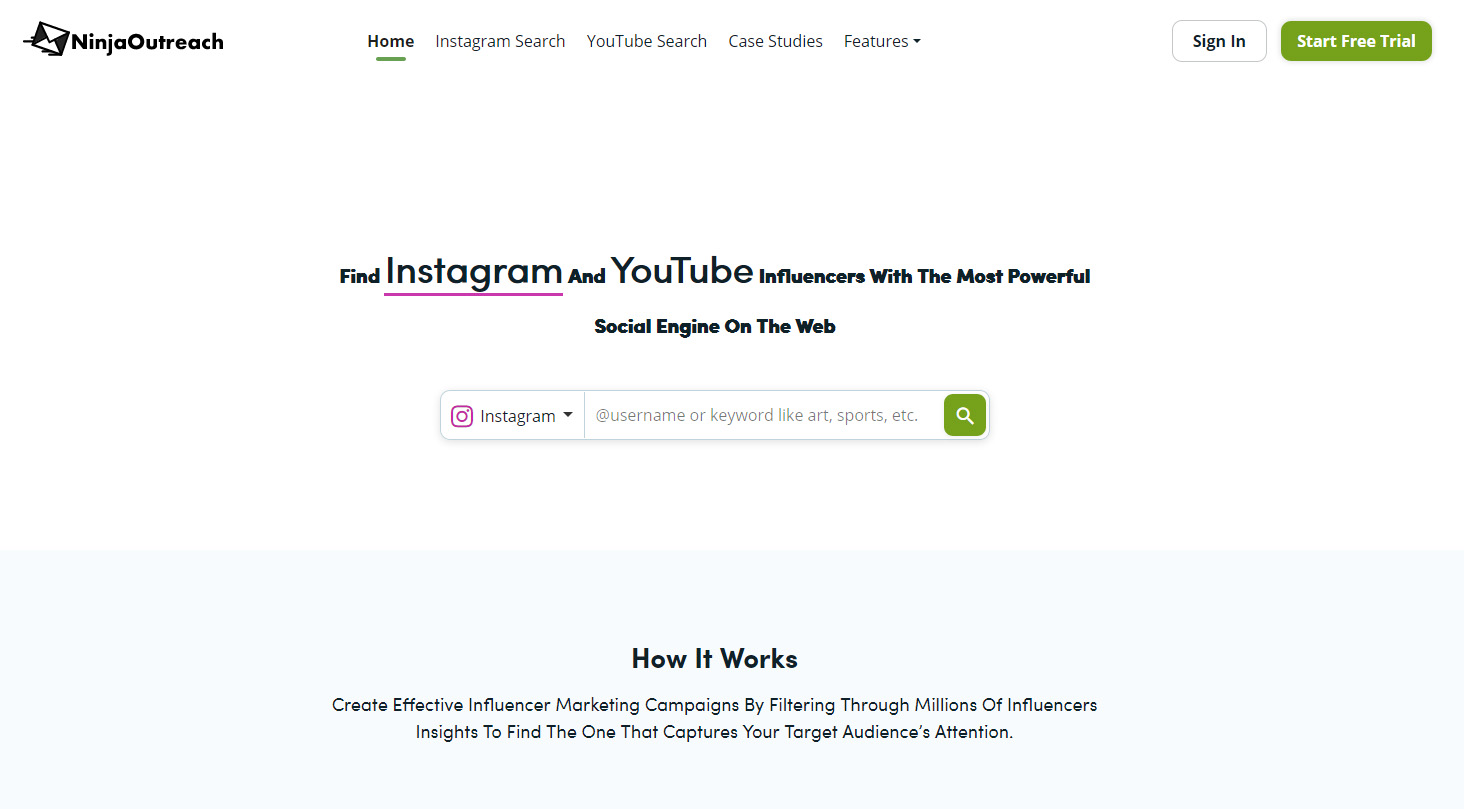 NijaOutreach is the best option available in the market for people searching for the email addresses of content creators, bloggers, and journalists.
The software has its database that includes more than 4 million leads. It is designed to help the users to identify relatable profiles.
Apart from bloggers and content makers, its database includes trained executives who can promote your brand.
NinjaOutreach is among the most premium email finders in the market. It has two plans: Flex plan is priced at $119 per month that offers 1,000 contacts, and Pro plan at $199/ month for 4,000 contacts.
Main features:
It offers a chrome extension.
Includes a database with more than 4 million leads.
Effective and scalable outreach service.
5. GetProspect
The ultimate B2B prospects solution uses LinkedIn to find employees, managers, and business owners' email addresses.
You can use GetProspect to find contacts based on company size, domain, industry, and position. It also helps you to manage your contact list and export it to another CRM software.
GetProspect is one of the best performers in terms of accessibility and functionality, which offers integration with more than 750 CRM software. This is way more than what you get from Hunter.
Key features:
Allows bulk import and export to XLS files.
Delivers accurate results, including physical address, website, email address, and other contact details.
6. Snov.io
Most sales and marketing professionals prefer Snov.io over Hunter because of its simple interface. The software is an excellent choice for finding qualified leads, follow-ups, and conversions.
The email finder is also suitable for other business executives like outreach, recruitment, and lead generation teams.
Unlike Hunter, this software relies on LinkedIn for searching potential matches. But it does not offer efficient search results.
The best aspect of using Snov.io is that it asks you to pay for verified leads only. So, it will save some additional expense for you.
Key Features:
Allows you to streamline marketing and outreach to potential customers.
It boasts deliverability and accurate data.
Free monthly credits up to 50 leads.
It offers an unlimited freemium plan and allows you to sign up without adding your card details.
7. Prospect.io
Prospect.io is more than an email finer, and it is a sales automation software that helps you develop email lists, analyze and synchronize data, and create prospects.
The software is optimized to be integrated into several other tools and platforms.
It is a great tool for your sales and marketing team to enhance productivity and close more deals using several connecting features.
Unlike Hunter, Prospect.io does not offer a free plan. It provides a single Essential plan that is priced at $89 per month and charges $29 for each additional user.
Main features:
Offers 250 verified emails per month.
It helps you in building potential lists.
Automatically performs outbound marketing.
Conclusion
Now you do not need to spend several hours searching email addresses. Our list of top six email finders is dedicated to making your leads generation process easy.
We have included six free and paid email finders that professionals of several industries prefer. Our in-depth description of the six best email-finding software will help you choose the perfect business intelligence tools.