Free Amazon Affiliate WordPress Plugins [2022 Update]
Monetizing your WordPress site is important if you are looking to make money with it. The passive streamlining of income from a WordPress site can be pushed to a very fine limit with a combination of content that provides value to the readers, SEO-related adjustments that help your pages to stand out in the search engine, and a reliable monetization method.
One good way to monetize your WordPress site is with an Amazon associate. Basically, you must have an amazon associate account that is fully approved and you will be promoting products from Amazon that are being reviewed or relatable to your niche.
To prepare this setup with a WordPress site you might need some plugins that will help your business run smoothly. This guide shares some of the free amazon affiliate WordPress plugins that you can start using right away without having to pay extra bucks as a startup investment.
These free WordPress plugins provide a variety of features designed to increase Amazon sales, such as automated product updates and personalized recommendations, link localization, etc. Additionally, you can create a certain setup for your preferred amazon ads to appear on certain areas of the website without having to do it for every page. I have also included some essential plugins that maintain amazon associate disclosure for the entire website without needing your interaction.
Overall, these free Amazon affiliate WordPress plugins help an Associate to start running a profitable Amazon affiliate website. Keep reading till the surprising bonus tool is added in the final section of this post.
Prerequisite for using these Amazon affiliate plugins
Not all the plugins in this post require a special setup before unveiling their true functionalities. Some of these plugins are really handy to configure. However, plugins like Affiliatetable do need access to Amazon's product advertising API to be able to configure with your site.
Some other plugins may require additional on-page configuration to control their functionality based on your requirements, for example controlling Amazon affiliate disclosure on pages that has amazon products embedded.
As these plugins are free to use so you might feel the lack of features at some point however they are good enough to get kickstart your Amazon Affiliate site. Some of these plugins are freemium that come with advanced features when you consider upgrading to a premium plan.
To begin using these free Amazon WordPress affiliate plugins –
Simply install the plugins and activate them to access their controls on the WordPress dashboard.
Next, you might need to add your Amazon affiliate ID (in some plugins)
You might also need to add PA API in certain cases too.
That's should be good to start using them on your web pages.
That being said let's dive into these amazing free amazon WordPress affiliate plugins you should definitely try out.
9 Free Amazon Affiliate WordPress Plugins
1. Disclosure for Amazon Affiliate
Disclosure for Amazon Affiliate plugin allows your site to be compatible with Amazon trademark disclaimer and affiliate disclaimer. It's very easy to use, just install the plugin, and no additional setup is required on your end.
This plugin places the disclosure text from amazon at the right location of post-type pages, depending on plugin configuration. The disclaimers are set to ignore by Google so that crawlers do not pick anything from the disclaimer texts while indexing your page.
The disclaimer texts are fully editable and customizable however you see them fit on your pages. As for customization, you can utilize the classic editor environment to add additional html tags and design them via custom CSS applied to your site.
Moreover, you will have global and custom control to adjust the requirement of disclosures on-page levels. It's a simple but efficient way to control the utilization of the plugin because you might not need the disclosure on every single page.
Overall, this is a perfect plugin to have the FTC and Amazon disclosures on posts and pages! Its basic utility and simplicity make this plugin so awesome. Apart from that Disclosure for Amazon Affiliates is available for FREE on the WordPress repository.
Check the plugin here: Disclosure for Amazon Affiliate
2. Site Buddy
As you grow amazon focused websites you will realize the need of ensuring correct affiliate tags are in place, broken links need to be fixed, and products that are out of stock need to be reviewed so that you are not losing your well-deserved commissions.
Sitebuddy is a tool that can manage all of that hustles for you. The way it works is by scanning your website's pages, finding out amazon links, the crosscheck if the product ID is available in stock. In addition, it will check if the tags are correctly placed and link status.
The best part is this is a freemium tool and the free plan lets you scan 25 pages per month. Another advantage is you don't have to install any plugins on your site, everything can be managed via their dashboard.
Additionally, it ensures the pages that include amazon products are Amazon compliant with Amazon terms and conditions. It finds all the pages without Amazon Affiliate Disclaimer and asks you to add it so your Amazon Associate account runs safely.
Check this tool: Sitebuddy
3. Add & Replace Affiliate Links for Amazon
As an Amazon Associate you know it's important to have your affiliate tag included in any links that you share. The add & replace affiliate links for Amazon plugin ensures your links have the right affiliate tags so that you get the credit for your hard work.
This plugin automatically changes shortened amazon links (e.g., amzn.to) that hide the Amazon associate tag and replace them with long-form amazon links that embed your affiliate tag. It saves you a lot of time from manually changing shortened amazon links and adding correct affiliate tags.
Shortened Amazon links do have the affiliate tags assigned if they are created via Amazon associate site stripe, but in case you want your links to be visible with correct affiliate tags these plugins definitely help.
The plugin can automatically find and replace all shortened links on your website with long links that include your affiliate ID tag. This way, you can be certain you are earning revenue from every sale that's made through your website.
Check this plugin: Add & Replace Affiliate Links for Amazon
4. Ad Inserter
Ad Inserter is another free WordPress plugin that can be useful for your Amazon affiliate site. This plugin allows you to insert ads into your WordPress site. This can be useful when you want to display a certain contextual Amazon Native Shopping Ads or product box in all posts.
Managing the ad blocks is pretty handy – all you have to create your preferred blocks and then set them for either manual or automatic insertion at any location of your web page. You can even control the visibility of blocks in your preferred page type.
A plugin like Ad Inserter fully packed with various important features for free is a no-brainer. It's a powerful plugin that you definitely need to look at if you are serious about listing amazon products on your site without investing in premium plugins.
This plugin supports all types of ads, including Google AdSense, Google Ad Manager (DFP), Amazon Native Shopping Ads, Media.net, Infolinks, and rotating banners. You can insert opt-in forms, header scripts, Javascript, CSS, HTML, and PHP anywhere on the page. In addition, the Ad inserter plugin comes with a built-in debugging, and ad-block notice tool.
Check this plugin: Ad Inserter
5. Thirsty Affiliates
If you want your links to look genuine and add a little bit more trustworthiness when sending someone over affiliate product pages, the Thirsty Affiliate plugin can help you. This is a freemium plugin that allows users to clock an outgoing link with custom slugs.
ThirstyAffiliates also has special features to help you comply with Amazon's terms of service, especially about link clocking, which is their smark uncloaking to stay under Amazon regulation. We have been using this plugin without any issues.
With this plugin, you can insert links into your posts with ease. You can search Amazon from within your WordPress dashboard, find the product of choice and link it so that affiliate tracking is available in Thirsty Affiliate's reports!
The best part is you can get the basic plugin for free and later upgrade to the premium version once you are able to pull the desired result on your site. With the premium subscription, you can also get links placed automatically in your content for relevant keywords and geo-target your visitors.
Check the plugin here: Thirsty Affiliate
6. Affiliatable
Affiliatable helps you to build a product table and product box to showcase amazon products as an affiliate. With better visual representation the conversion can be improved and Affiliatetable is one of those plugins that make this work super easy. It also comes as a freemium plugin so you can definitely benefit from using it.
With this plugin, you can create high-converting product comparison tables, top product boxes, pros and cons boxes for products, and single product boxes. For this plugin to work you must have access to Amazon API. Other features such as geotargeting, in-depth click reports, and templates are available on the premium version.
Affiliate Table comes with similar features to AAWP which is a premium plugin, so trying out Affiliate table's free version definitely worth it. With the free version, you can create unlimited tables and boxes for one website.
Check this plugin: Affiliatable
7. EasyAzon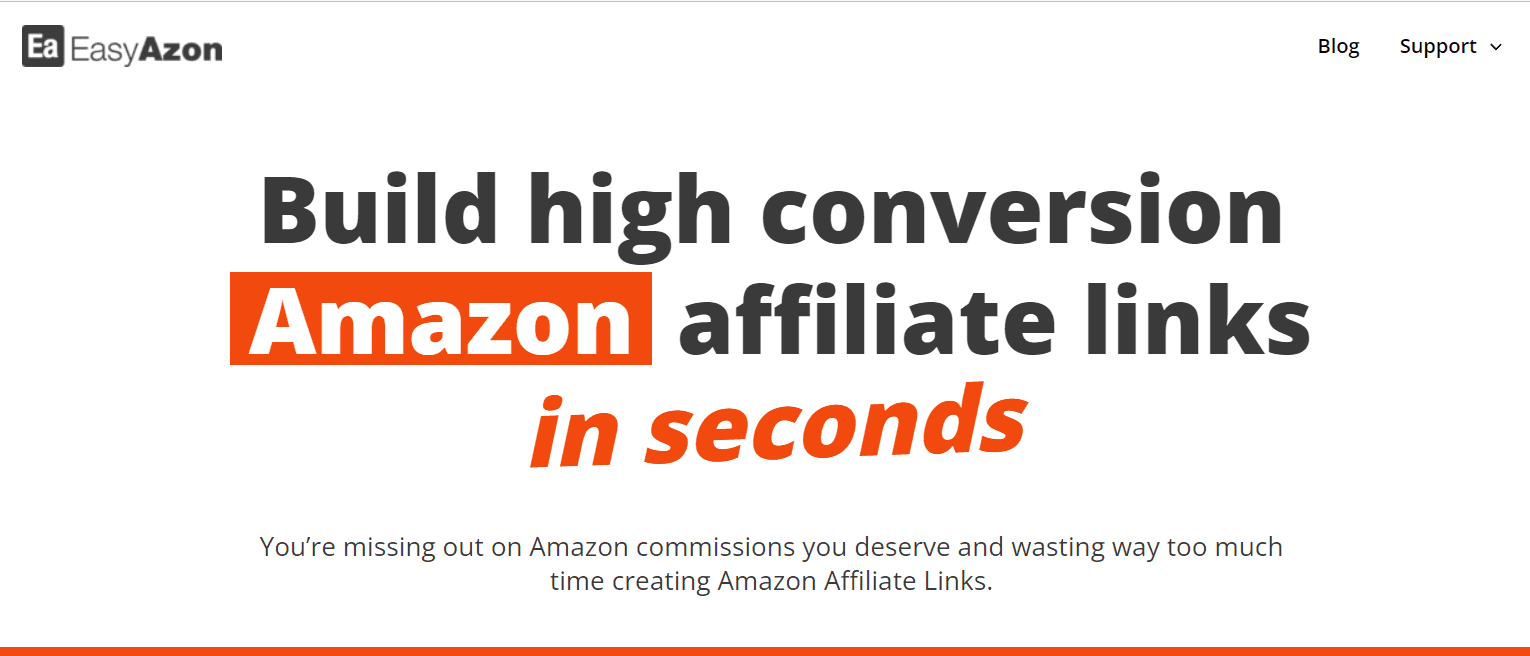 As an Amazon associate, you would want to capture maximum profit from the products you have been reviewing and adding to your content. Well, EasyAzon does that for you, which is a free plugin with no premium plan.
Although EasyAzon is described as a plugin to improve conversion and increase profit with the geo-targeting feature it still lacks some of the advanced features available on similar plugins. Although, you can still benefit from the features it offers for free.
This plugin is compatible with the current WordPress version and frequent updates make it more convenient to use on your site. EasyAzon features an automatic link localizer, advanced analytics & reports, product popup from a link, and link clocking.
With EasyAzon, you can create text affiliate links directly to any product available for sale on Amazon.com without having to go through the steps of manually creating links from within the Amazon.com website. This saves you a ton of time and makes creating affiliate links much easier!
Check this plugin: EasyAzon
8. Amazon Link Engine
Amazon Link Engine is a free plugin that is actually a part of geniuslink. Geniuslink is a powerful tool for localization, link management, and link tracking. The Amazon Link Engine is a child of Geniuslink and inherits its localization and link management properties, however, to achieve these features you must create an account on Geniouslink, which is a premium tool.
You can download the plugin on the WordPress repository. It's frequently updated and compatible with the current WordPress version. In the plugin setup, you can connect to Geniuslink too in case you have an active account on Geniuslink.
The plugin automatically converts existing amazon links localization compatible, so you earn commission from various country's Associate accounts. Note that, even though your links will be automatically localized to be able to earn commission you must have an active account on Geniuslink. The newly added links on your WordPress site will get converted too.
Overall, Amazon Link Engine comes as an entirely free plugin with some limitations, which can be activated via having a Geniuslink account that turns out to be cheaper than many other similar plugins. You pay a small flat fee for a certain amount of clicks you receive via your site.
Check plugin: Amazon Link Engine
9. Product Comparision Table Generator
To display a nice-looking Amazon product table or product block with automatically updated price tags and description needs Amazon API. As you might know, nowadays, Amazon requires 3 valid sales and policy compliance for you to access their advertising API.
So as an alternative to building good-looking Amazon product tables that can be inserted inside your content without needing Amazon Advertising API, lab softsolvate's Product Comparison Table Generator is one tool you would definitely want to give a try.
It is simple but also an effective way to create eye-catching tables for the products on your website. You will have to assign Amazon product URL (affiliate URL), product name, product producer, and description. Once you add those you can select your preferred table color from the table control.
To get your table or product card into your WordPress site, add their CSS via WordPress customizer (one-time setup), and then add your table HTML wherever desired in your post.
Check this tool: Product Comparision Table Generator
Conclusion: Now you have these 9 plugins to set up your Amazon Affiliate website without investing a dime on Amazon product publishing tools. There are superior tools to go for if your budget allows you and you should definitely consider those premium tools. But that doesn't mean the free tools available to you are not useful enough. These are for certain some of the great free tools you can use as an amazon associate.
There are many more WordPress sites. Bookmark this page so you find the rest when I update this post with more free amazon affiliate plugins for WordPress site.
You can also read: