Chat GPT for Content Marketing (Use Cases)
ChatGPT is an Inspiring artificial intelligence tool that can make your life much easier. It can be a valuable tool when it comes to content marketing, and Chat GPT definitely can assist you in upgrading your productivity.
Despite having some major limitations to match its hype in the media, ChatGPT is quite impressive, at least as a product very much a work in progress. Its generation capabilities are particularly useful.
So ChatGPT by your side, you will be able to craft an e-mail copy effortlessly, dissect customer data, to prepare your marketing plan to drive conversions and boost revenue.
Let's take a look at how you can use ChatGPT to improve your marketing strategies and upgrade your content production.
1. Brainstorming content ideas:
Finding new ideas for content is a challenging aspect of content marketing as a whole. Generating fresh and engaging ideas that fit into your website niche will attract and retain an audience can be difficult, which makes it challenging.
So you can ask your AI assistant to find out ideas that are relevant to your site. OpenAI excels at generating numerous ideas once you give it a single concept as input. Its technology is based on predicting the next word in content, which makes it highly skilled at expanding ideas once you have given it a starting point.
For example, if you have a site that discusses mobile apps, now you can ask the AI what industries can be benefited from using mobile apps.
"What are the top 10 industries that can benefit from using mobile apps".
Now ChatGPT has covered industries that we have not touched on in our blog topics. This can be really helpful to expand your website's content reach and fits well for programmatic SEO, which we will come into later.
Then you can split the main ideas into sub-ideas to follow a top-down design before finding out low competitive keywords for each sub-category you can cover on your blog.
When I ask ChatGPT, "Can you provide ideas of categories related to app in Food and hospitality industry," it gives me the type of apps we can talk about in the food and hospitality industry.
2. Upgrade existing content:
People are hyped about using ChatGPT to generate tons of content, but we overlook that one of the most impactful ways to utilize this AI tool is to enhance the existing content and tailor it to a specific audience.
We have previously discussed how to find content for upgrades, how it can help you stay in the competition, and how many SEO agencies leverage this strategy to boost site traffic and overall conversion without crafting content from scratch.
ChatGPT has incredible potential to elevate what you already have because you are providing enough input for it to play with and use its intelligence to upgrade the overall output quality.
You can ask ChatGPT to upgrade certain phrases on your posts: "explain the following for better understanding: [paste the text]."
Here's what I get.
In this instance, the AI statement may appear disconnected from the prior discussion; however, utilizing ChatGPT as your helper, you can experiment with various approaches to arrive at a clearer and more comprehensive explanation.
3. Accelerating content creation while reducing expenses
Copywriting is the most obvious way of using Chat GPT in digital marketing. Using the typical Chat Open AI website, you can produce tons of content which should significantly reduce your content production cost.
If you can go one step ahead, you have the resources to leverage Open AI API and generate a large number of contents (on a scale of 200+) in just a couple of hours. If you cover an average of 1000 words per article, that is more than 2,00,000 words.
There are several options for accomplishing this task. On WordPress, you can install a plugin to generate content and send it to post draft automatically. You can utilize the API to generate multiple pieces of content simultaneously using a spreadsheet for a more innovative approach.
Here's a basic illustration of using OpenAI API and Google Excel to broaden your content ideas and establish the fundamental components of a comprehensive content collection.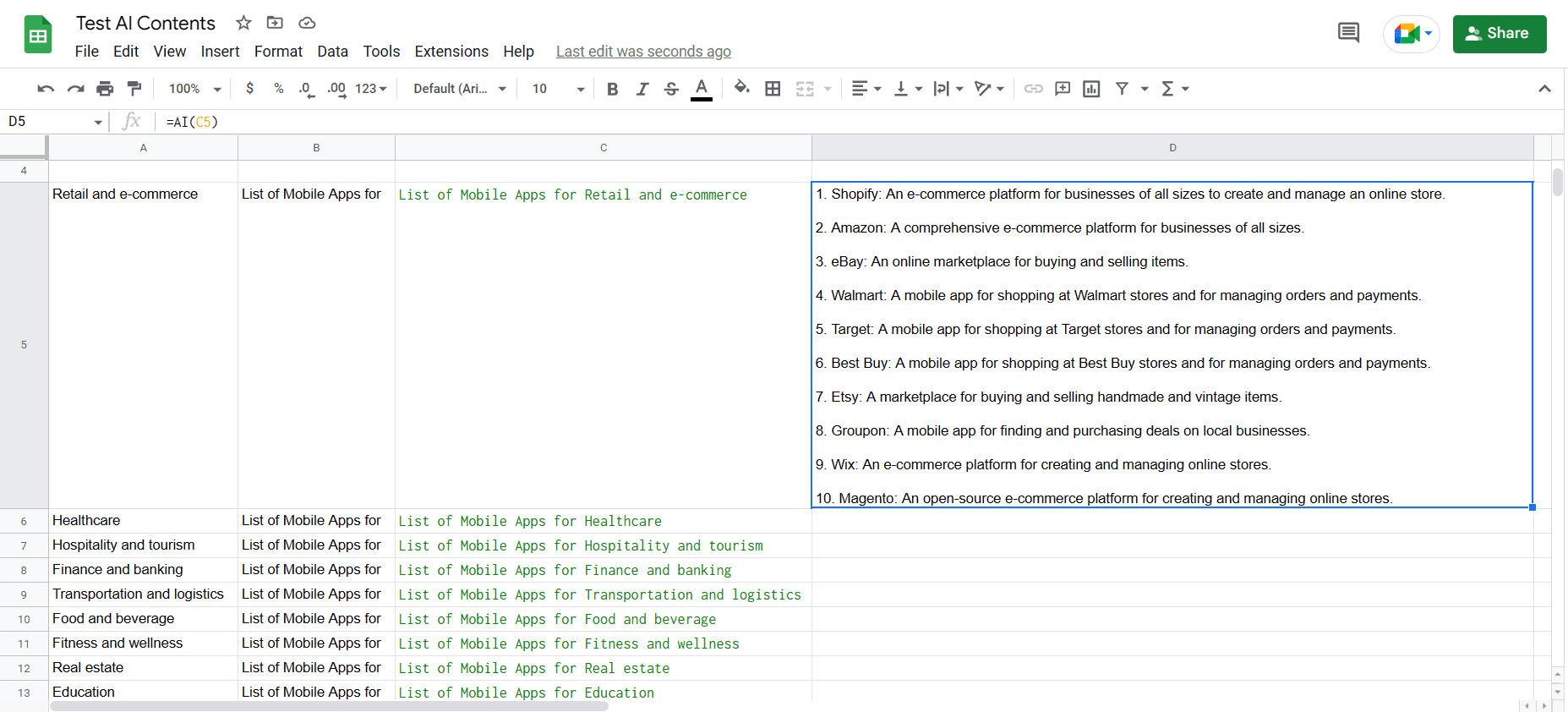 4. Writing cold emails enquiring about backlinks
Backlinks still play a crucial role in search engine optimization (SEO) and can significantly boost a website's performance in search engine result pages (SERP). Backlinks from reputable and authoritative websites serve as a vote of confidence in your website.
This can add credibility and trustworthiness to your pages in the eyes of both search engines and users.
Although you can't generate backlinks 🙂 like you generate content using ChatGPT, there's a way this AI tool will significantly reduce your work creating cold emails. You can use Semrush Link Building Tool to collect prospects and their email address before running your OpenAI API to generate multiple outreach templates for different purposes.
5. Generate content FAQs
FAQs are an important aspect of SEO. FAQs often include relevant keywords that can help improve a website's ranking for those keywords. A well-designed FAQ section is a way to provide quick answers to common questions related to your topics.
In addition, by providing concise and clear answers to common questions, a website may be more likely to appear as a featured snippet in search results. They help expand your content cover, and that may increase the overall authority and credibility of the web pages.
Creating FAQs with chat GPT is fun. You don't have to dig for questions as the tool gets you the question with a near-perfect answer. You can just ask ChatGPT to create FAQs about certain topics or keywords, and it will come up with a bunch of those. All you have to do is select the ones that make sense to the page contents.
6. Easy to Execute Programmatic SEO
Programmatic SEO involves the creation of large numbers of pages for a website using a standardized template and a data set. The pages appear to have been created individually, but they are generated using a systematic process.
The primary advantage of ranking for a large number of smaller keywords with less competition and search volume, rather than relying on a few big keywords.
This strategy reduces the risk of significantly dropping website traffic if Google changes the ranking for your major keywords. The strategy is similar to a long-tail approach, and it's like spreading out eggs across many baskets, making it less vulnerable to changes in ranking.
Now, one of the main issues in Programmatic SEO is that most parts of the content remain the same because it's a template and variable-based approach. That's a major content duplication issue.
So by harnessing ChatGPT's content creation ability, you can generate unique content across the variable matrix just by following what we did to generate the email outreach template.
Once your content machine setup is ready, you have a couple of things to take care of:
Make sure your website's content is helpful and original.
Check that your website is listed in Google Search Console.
Ensure that each page on your site has unique content.
Build a valid XML sitemap to help search engines index your site's pages.
Interlink various pages on your site to create a strong internal linking structure.
The most important part?
It is important for you to use ChatGPT ethically and responsibly, ensuring the information provided is accurate and up-to-date.
Overall, incorporating ChatGPT into a content marketing strategy has the potential to increase your efficiency and enhance the quality of content.
Similar posts: