Plagiarism is the act of copying someone else's work and presenting it as your own. There are serious consequences when you plagiarize not only in academics but also in the online world of content production, which means that if found guilty there will be negative effects both reputationally-and financially too!
To avoid plagiarized content you can utilize plagiarism checker software that will assist in identifying phrases in your work that matches & copied from another source. These tools can be useful for robust content production, students, and teachers to ensure the authenticity of the content.
You can find plenty of plagiarism checker tools online, however, in this article, we have reviewed the 10 best plagiarism checker tools that offer great value and value for money options. These tools are listed based on their general features, the complexity of use, and pricing. 
Not all plagiarism checker tools are equally effective. To be sure your preferred tool can fulfill your requirements it's important to look at the features carefully. You can also try out the demo version before purchasing.
List of free plagiarism checker tools
1) Grammarly
Grammarly helps you proofread and enhance your writing to perfection. It not only spots errors in punctuation but also grammar mistakes like mixes up of verb tenses or subject/verb agreement problems that can be easily fixed with just a few clicks!
It features a robust plagiarism checking system that can cross-check and detect plagiarism as you focus on the content. Its plagiarism checker can detect matching text phrases from billions of pages on the web, as well as identify plagiarized content from ProQuest's academic databases.
This is a freemium tool, which means the free plagiarism checker version can tell you whether or not your content contains duplicate sentences. To be able to know exactly which lines are plagiarized and to be able to edit right from the spot you must purchase a premium plan.
Features:
Plagiarism checker.
Content tone, clarity, and engagement adjustments.
Grammar check.
Automatic spelling correction.
Microsoft word and outlook add-on available.
Browser extension available for Firefox, Mozilla, Safari, Edge
Instant word definitions and synonyms are available via the browser extension.
Usability: Grammarly is a polished and easy-to-use tool. It allows users to control and apply fixes to their work right from the spot. The ability to fix major grammatical issues and plagiarized phrases in a few clicks without switching to another platform makes it one of the most user-friendly tools on this list.
Pricing: Grammarly is quite affordable and the premium plans justify it. The free version will provide your basic features to proofread your content and find out duplicate phrases. You must purchase their premium plan to be able to edit plagiarized content and experience other advanced features.
The premium plan costs $12 per month (includes the plagiarism checker)
The business plan costs $15 per member per month (includes the plagiarism checker)
Check Grammarly plagiarism checker
2) Plagiarismdetector
This tool will help you find plagiarism for free up to 1000 words. To avoid this word limit you must buy the premium plan.
This is a free online plagiarism checker tool that utilizes lexical frequencies, matching phrases, and word choice including other algorithms to find duplicate contents.
They articulate that their advanced deep search mechanism will run the given text through millions of sites to detect identical contents. With Deep Search, users will get an extra level of plagiarism check to ensure their works are truly unique among billions of content available on the internet.
Features:
Deep search feature
Search by URL
Search by a file that includes target content
Full data encryption.
Supports multiple file uploads
Users can download plagiarism reports in PDF
Usability: Since this is an online tool means you will have to visit their site for plagiarism checks. For the word limit, longer contents might require multiple checks which can be avoided with a premium plan. Unlike Grammarly, the free plan will highlight the plagiarized content. Multiple users from your organization can work at the same time as well.
Pricing: The basic version of this tool is free. Premium plans are classified into Student, Institute, and Enterprise.
The student plan gives you up to 72,000 words limit for $20 (around $1 per 3600 words)
The Institute plan provides up to 2,10,000 words for $50 (around 4200 words per $1)
The Enterprise plan provides up to 5,40,000 words for $90 (cost you $1 per 6000 words)
3) Dupli Checker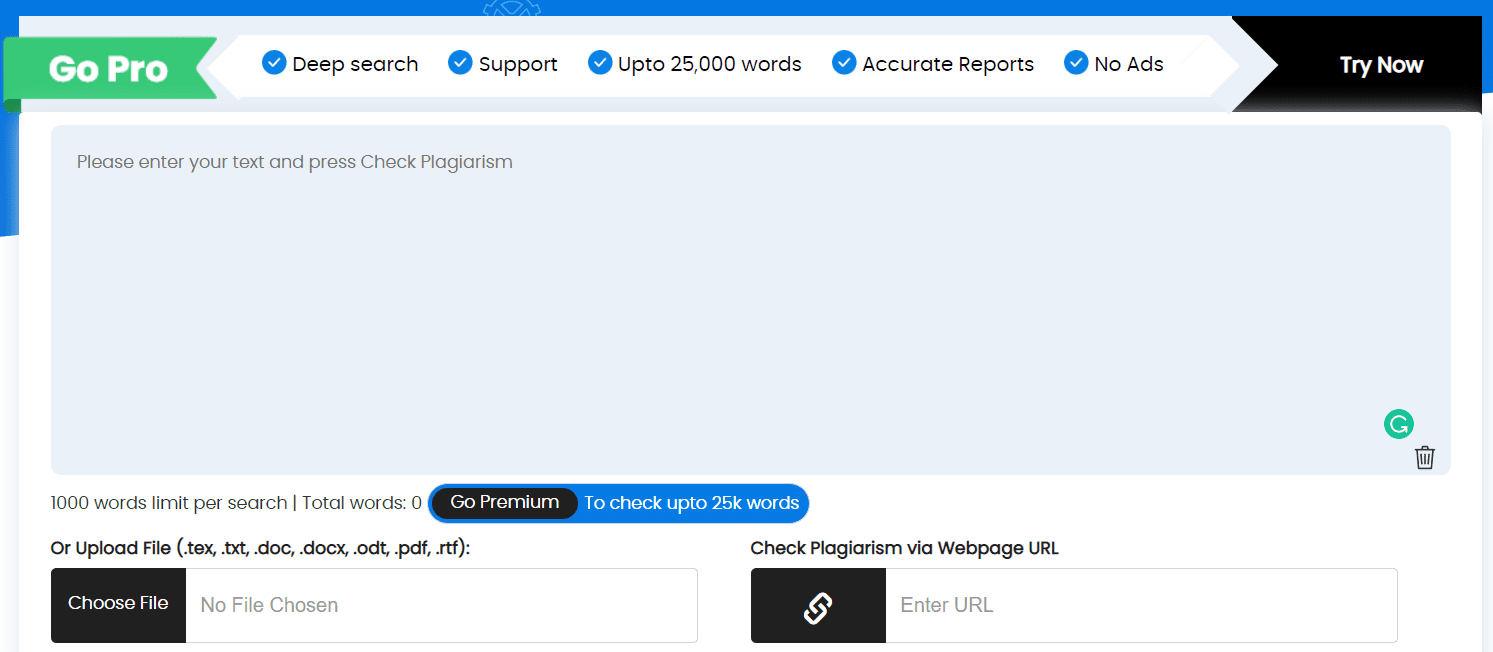 The Dupli Checker is a free tool that lets you inspect any kind of content for plagiarism. You can either copy & paste your content on their textbox, or provide website links and locally stored documents.
Regardless of the input, this online plagiarism checker tool will provide immediate feedback about whether your text has been lifted from another source.
In addition, other utilities such as grammar checker, spelling checker, word counter, text case changer, and a lot more are included on the Dupali site.
Features:
Plagiarism checker.
Grammar checker.
Support uploading of multiple file formats.
Support checking plagiarism via web URL.
Sync doc from cloud storage.
Usability: Similar to Plagiarismdetector, the Dupali checker offer basic free plagiarism checks under the limit of 1000 words. Plagiarised contents can't be checked from the original doc, instead, you must provide texts, URLs, or file for the tool to detect duplicate phrases.
Pricing: The free plan allows up to 1000 words per search. The premium plans are divided into Basic, Pro, Institute, and Enterprise; each of them comes with sub-plans based on word limits. The pricing structure is identical to Plagiarismdetector as well as the overall UI.
Basic plans (up to $50 with 2,10,000 word limit)
Pro plans (up to $100 with 6,00,000 word limit)
Institute plans (up to $150 with 9,00,000 word limit)
Enterprise plans (up to $200 with 12,00,000 word limit)
Check Dupali plagiarism checker
4) SmallSEOTools
SmallSEOTools is a powerful and comprehensive tool that lets you perform various tasks to optimize your website. The utilities are targeted toward site owners, allowing them the opportunity of checking 1000 words per search for duplicate content on their site via text input, URL, or file uploading.
Users can upload files from drive and dropbox as well. They claim to have the fastest plagiarism scanner that automatically runs checks over billions of pages for duplicate content.
In addition, it comes with an automatic rewriter for those who want to tweak the plagiarized phrases right away.
Features:
Plagiarism checker.
API and plugin available to integrate with websites.
Support multiple file formats
Plagiarism check via URL
Available on Google Play, App Store, and Mac store.
Usability: the plagiarism checker provided by small SEO tools allow you to check plagiarized content up to 1000 words per search. Unlike the previous two tools, it provides API support to integrate its plagiarism check feature into your tools or plugins. This tool is easy to use and comes with Android and iOS support making it multiple platforms compatible.
Pricing: SmallSEOTools plagiarism checker is a freemium tool. While the basic 1000-word limit comes as free to use, users can upgrade their plan to Basic, Classic, Enterprise, and Institute.
The Basic plan covers up to 1,60,000 words for $59.80 per month.
The Classic plan covers up to 2,50,000 words for $79.80 per month.
The Enterprise plan covers up to 5,10,000 words for $149.80 per month.
The institute plan covers up to 2,220,000 words for $599.80 per month.
Check SmallSEOTools plagiarism checker
5) Quetext Plagiarism Checker
Quetext is a great tool for students, teachers, and website content writers to use when they need help checking their work against other sources. This tool provides phrase matches along with a plagiarism report indicating where the duplicate content comes from or how much time has passed since the matching content has been created.
Quetext claims to be using deep search as a combination of contextual analysis, Fuzzy Matching, and word placement to develop this fast plagiarism software. The tool will provide you with a percentage score showing how much of your text was duplicated from online sources.
Features:
Ad free tool
Fast Deepsearch Technology
ColorGrade Feedback
Interactive Duplicate Text Snippet
Usability: Quetext is unique and useful. Its simple and ad-free interface lets users input desired text for plagiarism check and verify instantly. The tool is fast to indicate the duplicate areas of a piece of content as well as create snippets for users to interact with and change the plagiarized content phrases.
Pricing: The basic version of Quetext comes for free that supports up to 2500 word checks or a 5-page document check. Additionally, it offers 3 plans PRO BASIC, PRO PLUS, and PRO ORGANIZATION accordingly.
100k words for $9.99/month or $69/year
250k words for $19.99/month or $129/year
500k words for $49.99/month or $499/year
Check Quetext Plagiarism checker
Final words:
You can find various types of plagiarism checker tools online. These tools come with different features and suit different scenarios. We have listed these 5 tools that we find really helpful and can be used free of cost.
Here you get tools like Grammarly useful for robust content production, and student teachers while other tools such as SmallSEOTools, and Quetext can be helpful for instant plagiarism checking.
Read More