Customer Relationship Management (CRM) is a specialized software that enterprises use to enhance communication with their consumers and potential clients.
The CRM system helps an organization to strengthen its relationships with the customer along with building streamlined processes.
Ultimately this system assists a company in increasing sales and revenue and enhances profitability by providing customer satisfaction.
You may also use this system to generate leads through LinkedIn Automation or any other platform.
LinkedIn is the largest professional community that connects more than 200 countries and territories across the world. Their official records also state that more than 660 million professionals have registered themselves on this platform.
Besides providing several opportunities to job seekers, LinkedIn is valuable for generating new customers and leads.
Approximately 15% of digital marketers are creating content for LinkedIn.
Let us see which CRM software is more efficient in terms of LinkedIn Automation.
For a complete tutorial on B2B Lead Generation checkout our guide here – https://websiteincome.com/b2b-lead-generation/
Dux-Soup vs. Octopus CRM
Here, we will compare two famous CRM software head to head based on their features, pros and cons, pricing, and efficiency. Let us see which is the better option for B2B lead generation.
Both the software are excellent automation tools that are optimized for Chrome only. You can automate the prospecting funnel on LinkedIn. However, Octopus has an additional feature that allows you to check the status of your performance on LinkedIn.
On the other hand, Dux-Soup includes several unique features like customization and personalized messaging that give this software the edge.
Octopus and Dux-Soup CRM seem to be equivalent in developing market funnel, linking campaigns, activity control, and integration.
Again, Dux-Soup seems to be the better choice based on its main feature, which is automation. Octopus is a great automation tool as well, but when it comes to LinkedIn, Dux-Soup can automate actions more efficiently.
The free version of Octopus has a limit of 10 targets. Whereas the Dux-Soup free version does not have any limit on the targets, but it excludes most of the advanced features.
The premium plans of Octopus start at $99 per month that offers 11 targets. You will need to pay more if you need more targets. They have several premium plans, and its price keeps increasing with the number of targets.
The paid subscription for Dux-Soup is not based on the number of targets. They have only two professional premium plans and turbo. The professional program is priced at $11.25/ month, and the turbo plan costs $41.25/ month. You may like to get the annual subscriptions to save a handsome amount.
Dux-Soup- Our Favorite LinkedIn Automation Tool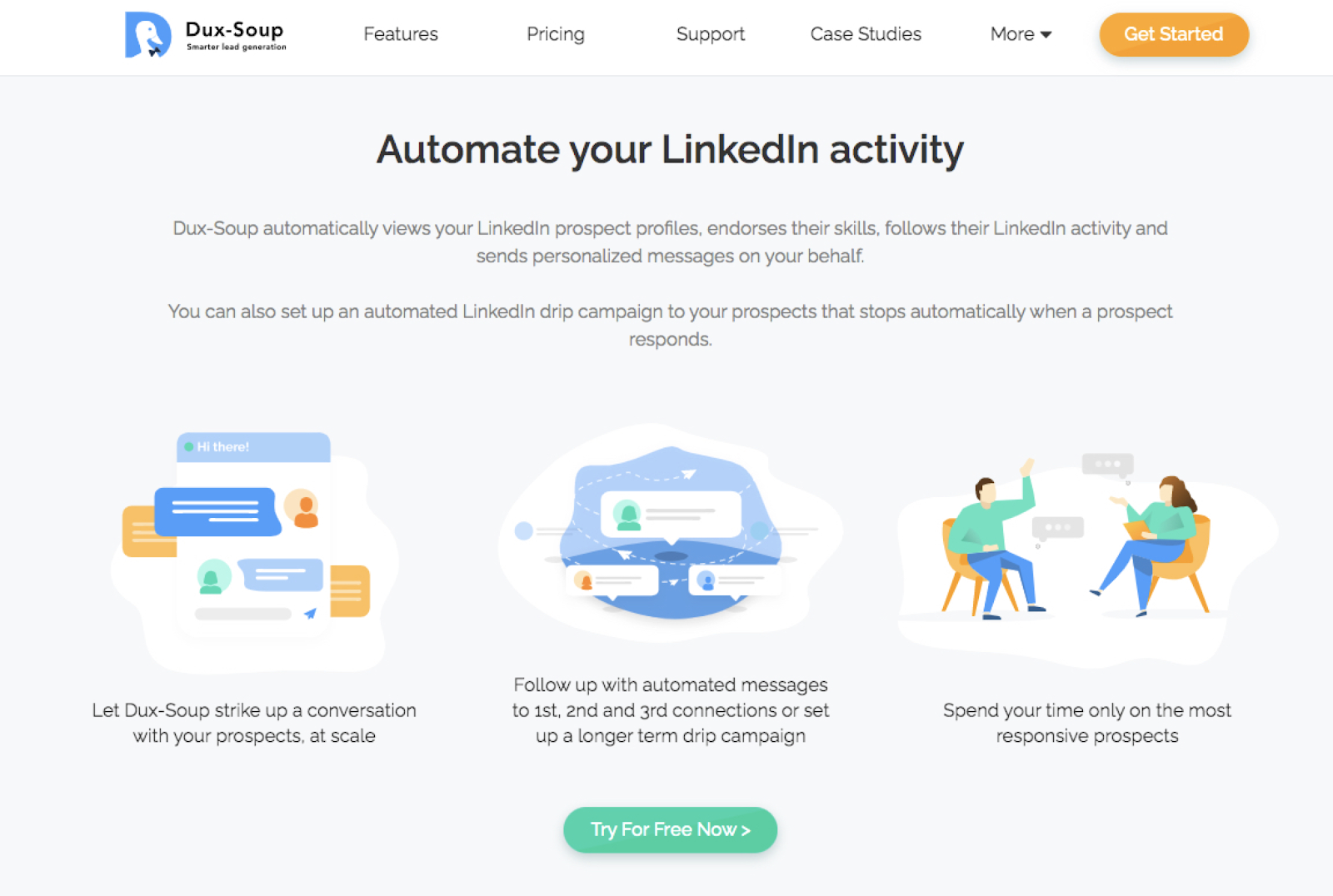 You can download Dux-Soup for free, but you will need to pay a monthly or annual fee to use the advanced feature.
This tool is one of the best performers in the market in terms of lead automation. The Dux-Soup Chrome extension helps you to set lead generation on autopilot.
This mode will automatically perform leads generating tasks such as profile research, inviting candidates, and private messaging to the connected groups.
Please take note that this automation tool is considered a black hat according to LinkedIn terms and policies. If they find you misusing an automation tool or set the parameters too high, you may receive a warning message from their administrator.
However, most people who have used Dux-Soup for leads generation on LinkedIn did not face any problems.
It will take a while for you to get familiar with this software as the learning curve is too steep, especially for the advanced features.
You can quickly download the Dux-Soup extension from their official website. As the plugin is optimized exclusively for Chrome, make sure you are using the Chrome browser and log in with your Google account.
Dux-Soup is enriched with advanced features, unlike other automation tools. The main features of this lead generation software are:
Prospecting
Professionals mostly use Dux-Soup for generating qualified leads and establish strong relations with them. It helps you to blend some personal touch with automation. It will need a certain level of expertise for this, but you can try your best as the extension runs on autopilot.
This CRM is used for enhancing and automating search prospects so that it meets specific criteria.
View Profiles, you can use this feature of Dux-Soup to browse listed profiles automatically and capture the available data. Remember that the people will be able to see who viewed their profiles.
It is an engaging way to start attracting prospects to view your profile, which is also available on its free version.
Visit and Connect. This feature is quite similar to the previous one. It is also used to visit prospects automatically.
Also, it also sends that user a connection request that can be customized so that it may seem personal.
You might also use the Profile Scanner to scan user profiles without notifying them. This feature is valuable as it efficiently gathers information and export it to your CRM.
Outreach
Once you are ready with your prospects list and sent the connection requests, the next step is to prepare for follow-ups and segmenting lists.
Generally, follow-ups and list segmentation are done through tagging.
Dux-Soup has automated tagging that will allow you to visualize your leads' position in terms of interest, follow-up, and outreach.
You are free to decide which tags you want to choose and how to use them. This will offer you or your sales team freedom to act on their will to generate maximum revenue.
Automation
The automation features of Dux-Soup are what make the software stand out. You do not have to waste any time and energy on reaching out to prospects manually.
Besides, this software can effectively group your prospects on the basis of their industry, past engagement, and mutual connections.
You can automate the following tasks with Dux-Soup:
InMail
Follow Up
Invitations
Profile Viewing
Endorsements
Sending 1sr degree connections
Moreover, you may also integrate Dux-Soup free version with other automation tools and APIs. However, you will not need to rely on third-party tools if you are subscribed to the Pro version.
Customization
Customization is a mere luxury for most of the software, but Dux-Soup customization will allow you to operate under the watchful parameters of LinkedIn.
You are free to customize several automated actions of this software to improve your sales outreach. It has a unique feature that automatically skips a profile if it matches some specific criteria. It will help you to avoid sending multiple invitations to the same prospect.
The extension includes a throttling tab that allows you to fine-tune the speed and behavior of profile visits. For example, you can use this feature to increase or decrease the number of profiles that it visits per hour.
You may also set a limit to the requests that you can send per day, along with profile viewing and direct messages.
Customer Support
Dux-Soup customer support was not that great till the last few years. You will be pleased to know that the company is making genuine efforts to address and resolve this issue.
They have released a knowledge base to support their customers who are facing some issues with the software.
If you cannot find a solution in the knowledge base, you can talk to their customer care executives.
The company has introduced live chat support for US and EU business hours and an email support system.
Moreover, you may request a support call where an executive will try to resolve your query directly on the phone. These customer support calls have a time limit of 15 minutes.
Pricing
The free version of Dus-Soup can be helpful for you to prepare internal notes and organize LinkedIn profiles.
However, you need to buy the Pro plan of this software to use all the features. The Dux-Soup premium plan offers excellent value for your money. It also includes a turbo plan that offers additional features and tools.
Besides, you may cancel the subscription within 30 days of your purchase. This serves as a warranty for the plan in case you are not satisfied with the service.
The professional plan is priced at $11.25 per user per month. It is suitable for leads generation.
The turbo plan comes at $41.25 per user per month. This plan is the best option to scale up your leads generation system.
Pro User Tip
There are three types of connections on LinkedIn: first, second, and third-degree. People that you have already contacted are considered to be first-degree connections.
Whereas the people on your prospects list, with whom you have not connected yet, are the second-degree connections.
Finally, the potential customers that are not on your network are known as third-degree connections.
This is where Dux-Soup offers you maximum value by automatically sending personalized messages to your second-degree connections.
You will find an option named 'action' in the control panel, and you have to click on that to send a connection request. Carefully watch the case-sensitive markers to identify which function they denote to make sure there is no error while sending connection requests.
Octopus – The Trusted LinkedIn Automation Tool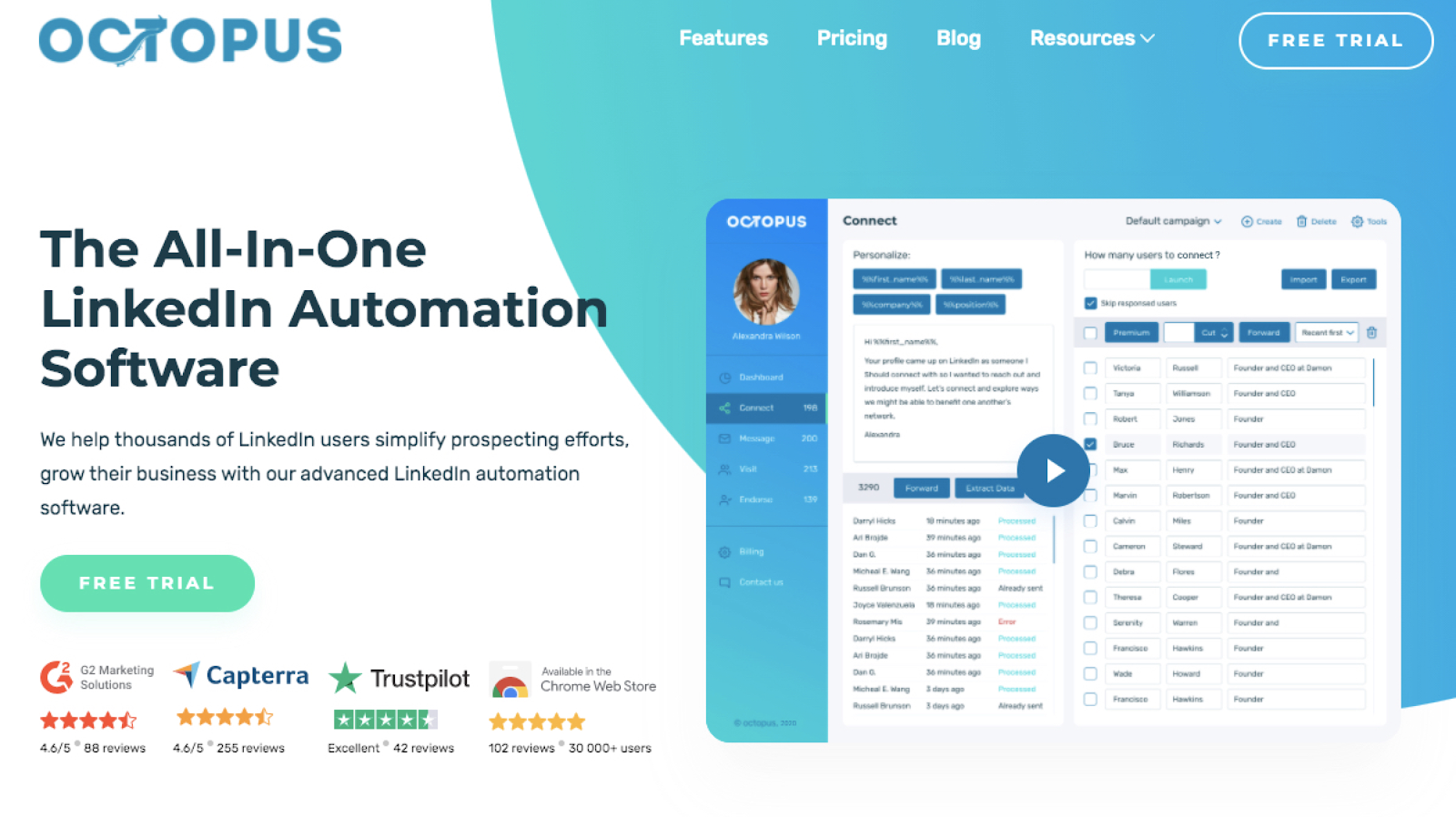 LinkedIn has become a compulsory network for all levels of employees, managers, and business owners. If you are an active user, use this platform for your company's lead generation.
Octopus is designed to automate the leads generation process that you can efficiently use on LinkedIn.
If you are trying to reach the potential customers manually and send them a dripping message individually, you are probably investing a lot of time into it.
Automation tools are designed to make it easier for you to turn your prospects into warm leads without putting in a lot of effort.
The primary features of the Octopus CRM are:
Automation
Octopus can automatically send personalized connection requests to first and second-degree connections.
It also allows sending personalized messages to hundreds of first-degree connections simultaneously.
This software can be used to automatically endorse up to seven skills on LinkedIn profiles of your contacts.
This software can perform basic automation tasks efficiently, like auto-visit thousands of profiles on LinkedIn.
Develops Marketing Funnel
Once you are ready with your lead generation funnel, the software allows you to add, remove, and merge features.
The marketing funnel will let you save all the prospect details to your dashboard.
Additional Features
Besides the basic automation features, Octopus offers a wide range of additional features to organize your prospects and generate revenue for the business.
The additional features of Octopus include:
Import and Export data
Activity control and link campaigns
Appraising performance and stats
Integration to other tools like Zapier and Hubspot.
Customer Support
Octopus is dedicated to serving its customers with anything they need. They have focused on developing and improving their customer support team over the years.
If you face any issue with the Octopus automation tool, you can quickly contact any customer care executives by creating a ticker on their contact us webpage.
Pricing
There is a free version available for Octopus CRM that includes many advanced features. But it has a target limit of 10.
If you want to increase your targets, you will need to buy any of their premium plans starting at $99.00 with 11 targets.
Octopus CRM has several packages with different target limits, and you must choose suitable plans according to your limit.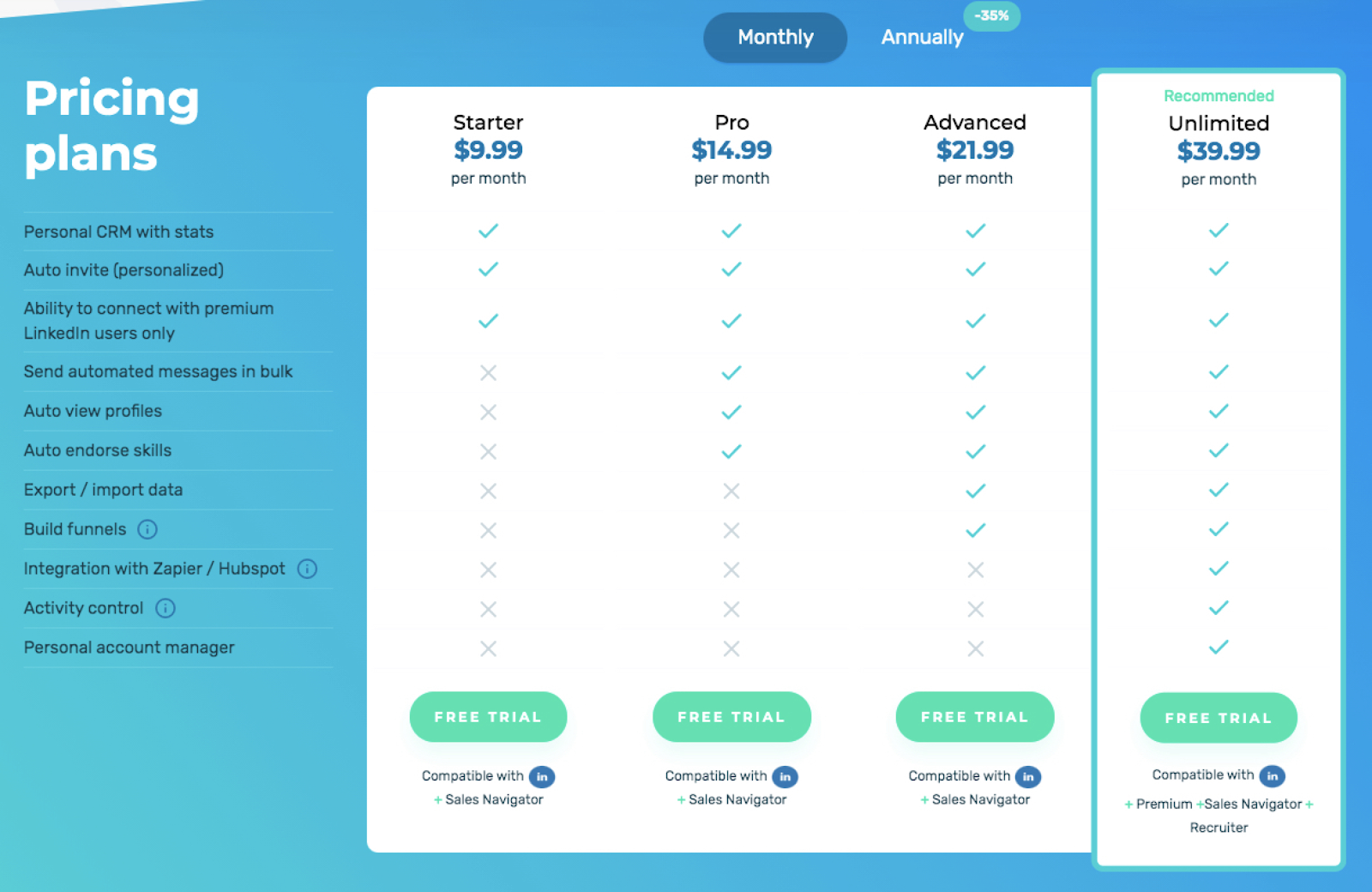 Pro User Tip
The software has restricted the number of messages and connection requests that you can send daily.
If you are using a free account on LinkedIn, you are allowed to send up to 100 private messages and 50 connection requests per day.
For premium users, the invitation limit is 100, and you can send up to 200 private messages.
Summary
Both Octopus and Dux-Soup are popular automation tools that you can use for leads generation on LinkedIn.
However, considering all the features, prices, and efficiency, Dux-Soup seems to be the better performer.
But you should decide which software is suitable for your needs.
Checkout our in depth B2B Lead Generation Guide that includes LinkedIn automation – here
Read More