Best lightbox plugin for WordPress
If you want to display images, videos, or other media types on your website, a Lightbox plugin can make it look more attractive and user-friendly. Essentially, it's a tool that uses JavaScript code to create a pop-up window that displays the media when a user clicks on an image or thumbnail.
When the lightbox appears, the website's background is dimmed, which helps draw attention to the media being displayed. Some lightbox plugins also offer additional features, such as zooming in or out, scrolling through multiple images, or navigating using your keyboard.
Lightbox plugins can be used in many ways, such as creating image galleries, displaying product photos, or showcasing portfolio items. 
In this blog post, we will explore the best WordPress lightbox plugins and provide some key factors to consider when choosing the right one for your site.
The Best Top 10 Lightbox Plugins for WordPress
1. FooBox
FooBox is a popular WordPress lightbox plugin among website developers and designers. It is known for its many features and customizable design options that allow you to create an engaging and visually appealing media display on your website.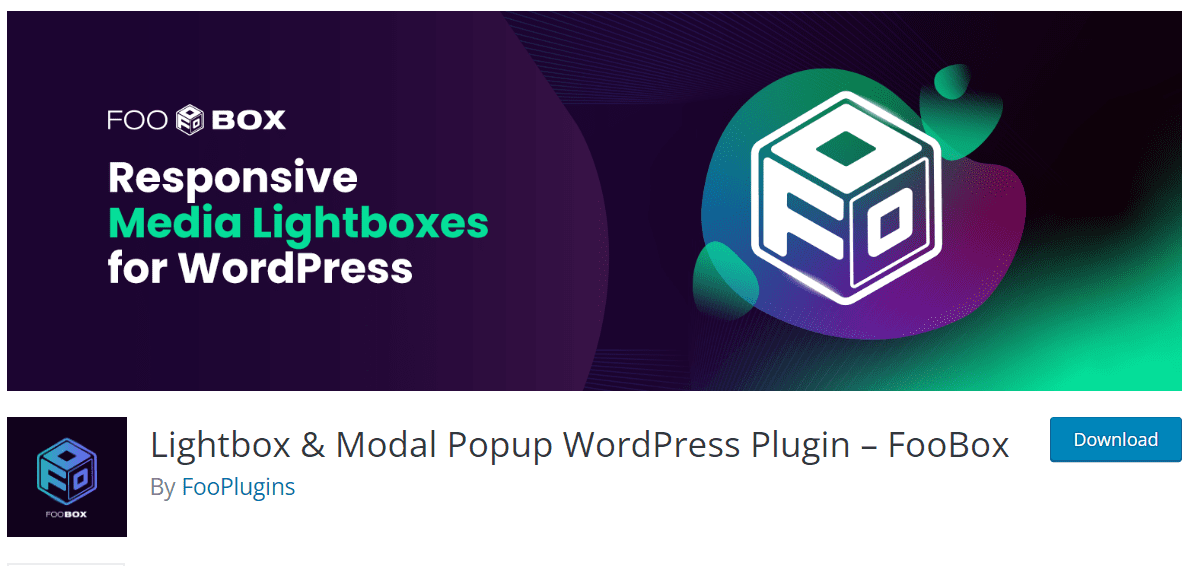 FooBox supports various media formats, including images, videos, and HTML content. This means that you can display a wide range of media types within the same lightbox, making it easier to organize and present your content in a unified and visually appealing way.
Features
FooBox offers a responsive design that can adapt to any screen size, ensuring your media content is displayed correctly on desktops, tablets, and mobile devices.
It's easy to set up and requires no configuration so that you can use it on your website immediately.
FooBox integrates seamlessly with WordPress galleries, making it easy to create galleries and display your media content in a unified and visually appealing way.
You can enhance your WordPress website by displaying captioned images in a more appealing and user-friendly manner. The plugin works seamlessly with WordPress captioned images, allowing you to showcase your images and captions visually pleasingly.
With FooBox, you can choose when to include or exclude its JavaScript and CSS assets, giving you greater control over your website's performance and load times.
Pricing
You can choose to opt-in for three different plans. The personal plan costs $49 annually and lets you use it on one website. You'll get all the plugin's features and one year of updates and support.
If you want to use the plugin on multiple websites, you can choose either the business or developer plans. The business plan costs $99 annually and lets you use it on up to five websites. The developer plan costs $199 per year and lets you use it on as many websites as possible.
These plans also come with all the plugin's features and one year of updates and support.
2. WP Featherlight
WP Featherlight is a responsive and high-performance jQuery lightbox plugin you can install on your site. It is a Featherlight jQuery lightbox plugin wrapper, offering a minimalistic and straightforward interface. 
Once installed, WP Featherlight automatically displays standard WordPress images and galleries in a clean and straightforward lightbox popup.
Features:
WP Featherlight automatically resizes your images to fit the user's screen, ensuring they look great on any device.
This plugin supports captions for your images, which you can add using the WordPress caption field.
It also supports galleries, allowing you to create beautiful image galleries that open in a lightbox.
WP Featherlight comes with a range of customization options that allow you to tailor the design of your lightboxes to match your website's branding.
Pricing:
You can download it for free. This makes it an excellent option for those looking for a simple, easy-to-use lightbox plugin without any added costs.
3. Modula Image Gallery
Modula is a lightbox highly rated plugin by users, allowing you to create stunning and personalized image galleries on your website. 
With its responsive design and customizable features, Modula makes it easy to add unique and professional-looking galleries that enhance your website's visual appeal.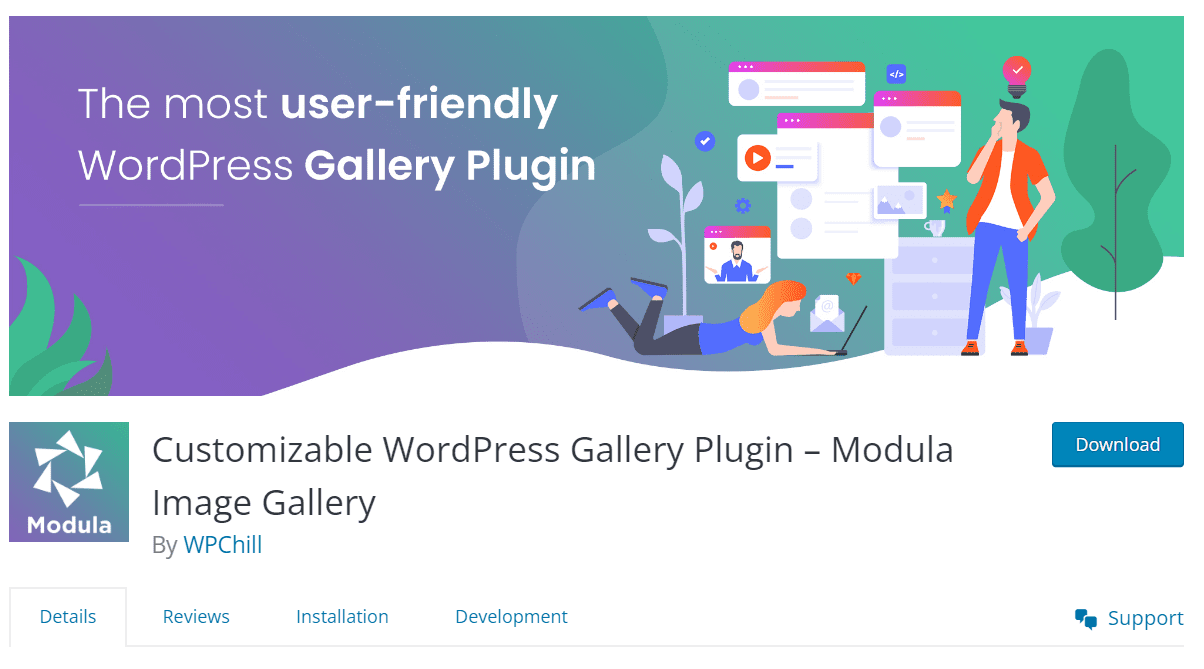 Additionally, Modula Image Gallery supports various media formats, including images, videos, and audio, making it a versatile solution for all types of content.
Features
Modula Image Gallery is compatible with popular website builders such as Beaver Builder, Elementor, and Divi Builder.
This lightbox plugin offers three types of galleries, Creative, Custom grid, and Masonry. You can choose the one that suits your website's style and design.
This plugin customizes the settings of your images and galleries, such as gutter size, width, image size, height, border size, border radius, border color, shadow size, and shadow color.
You can choose to display or hide the image title and caption. You can also customize the caption color and font size.
Modula has social buttons allowing visitors to share your images on popular social media platforms such as Twitter, Facebook, WhatsApp, LinkedIn, Pinterest, and email.
The plugin offers an import/export tool that makes it easy to move your galleries to another site.
You can also add your own custom CSS to personalize the appearance of your galleries further.
Pricing:
It has three pricing plans to choose from. The Basic plan costs $29 annually and lets you use Modula on one website. You'll get all the basic features, support, and updates for a year.
The Pro plan costs $69 per year and lets you use Modula on up to five websites. This plan gives you access to all the basic and pro features.
The Agency plan costs $129 per year and is the most comprehensive. It lets you use Modula on as many websites as you want, and you'll get access to all the basic, pro, and agency features, plus support and updates for a year.
4. Simple Lightbox
Simple Lightbox is another plugin tool that you can use to display images, videos, or other media on your website.
Simple Lightbox offers many customization options, including the look of the pop-up window, choosing the background color, the size of the window, and whether or not to include social media sharing buttons. That's a lot of features for you to play with the lightbox on the front end. 
Features
This plugin will automatically detect the items on a page to trigger the lightbox effect.
The pop-up window is responsive.
You can choose from different pre-designed looks for the pop-up window, called "themes".The themes are mobile-friendly and will look good on different screen sizes.
You can customize how the pop-up window opens and closes with different animations.
Extra features can be added using add-ons, making it more customizable.
It works with links to images that are uploaded to WordPress and also works with links in widgets.
Media metadata, like captions or descriptions, can be displayed in the pop-up window.
You can enable the pop-up window on specific website pages, such as the home or archive pages.
Pricing
It is an entirely free and open-source WordPress plugin. All of its features are available to everyone.
5. Responsive Lightbox & Gallery
The Responsive Lightbox & Gallery plugin is valuable for creating galleries and lightboxes on your WordPress website. It's easy to use and includes a Drag & Drop Gallery Builder. This plugin lets you showcase your images and create a better visitor experience. 
It's a popular choice, with over 300,000 active users who rely on it daily, and it's been downloaded over 3 million times.
Features
The gallery builder is user-friendly and easy to install and set up.
You have the option to customize the appearance of your galleries and lightboxes to match your website's design.
There are a variety of layouts to choose from for your galleries and lightboxes.
The lightbox feature adjusts automatically to the screen size of the device.
It's optimized for mobile devices and provides a seamless experience.
Your visitors can navigate through galleries using their keyboards.
Social sharing buttons can be enabled to make it simple for visitors to share your images on social media.
The gallery builder is translation-ready, allowing it to be used in different languages.
Pricing
Responsive Lightbox & Gallery offers both a free and premium version. The free version includes basic gallery and lightbox features and customization options, which can be downloaded from the WordPress plugin repository.
On the other hand, the premium version comes with more advanced features like more options for gallery and lightbox customization, support for videos, and priority support. You can buy the premium version starting at $29 for a license covering one website and up to $199 for an unlimited site license.
6. Meow Lightbox
Meow Lightbox is another lightbox plugin designed to be lightweight and fast, so it won't slow down your site. The plugin is optimized for mobile devices, so your galleries look great on smartphones and tablets. 
Meow Lightbox offers a wide range of customization options, including changing the lightbox size, background color, and transition effects.
Features
The images in your galleries will automatically adjust their resolution to match the screen and device used to view them. This ensures that your photos look their best, no matter how they're considered.
Meow Lightbox also allows you to display detailed information about your images, including EXIF data such as shutter speed, aperture, camera, and lens. This can be especially useful for photography websites or other sites where image information is important.
Pricing
Meow Lightbox has both free and paid versions. The paid version ranges from $19 to $299, which includes all the features available in the free version, including slideshow, location map, and deep linking
7. OptinMonster
Optinmonster is a plugin you can use to grow your email subscriber list, increase your sales, and expand your online business.
By utilizing Optinmonster, you can create personalized lightbox popups that will grab the attention of your website visitors and encourage them to sign up for your email list. This, in turn, will help you to develop a relationship with your audience and keep them engaged with your brand.
You can easily customize these popups to fit your brand's unique style and preferences.
You don't need to be an expert designer to use it because it's user-friendly and saves you time.
Features
User-friendly drag-and-drop builder for creating custom popups and forms
Multiple types of popups are available, including exit-intent, floating bars, slide-ins, and gamified opt-in forms
Targeting rules and behavior triggers to display popups to the right audience at the right time
A/B testing functionality to optimize campaigns for maximum conversions
Integration with popular email marketing services and CRM tools
Detailed analytics and reporting to track performance and measure ROI
Mobile responsive designs that look great on any device
Built-in page-level targeting to display relevant offers based on the content of a specific page
Customizable templates to match your website's branding and style
Constantly updated with new features and improvements to stay ahead of the curve in lead generation and conversion optimization.
Pricing
OptinMonster offers a limited free plan, which includes access to basic features and allows you to create up to one campaign per website.
If you want to go for the basic plan, it is the most affordable option, starting at $9 per month. It provides access to the user-friendly drag-and-drop builder, unlimited popups and forms, page-level targeting, and direct email marketing services integration. 
You can upgrade to the Plus plan for more advanced features, starting at $19 per month. This plan includes all the features of the Basic plan, plus A/B testing, exit-intent popups, and attention activation. And If you require even more advanced targeting and engagement tools, the Pro plan starts at $29 monthly. This plan includes everything in the Plus plan, gamification, countdown timers, and advanced targeting rules.
If you want the most comprehensive option, the Growth plan starting at $49 per month is the way to go. This plan includes all the Pro plan features plus on-site retargeting, device-based targeting, and priority support.
8. WordPress Gallery Plugin – NextGEN Gallery
Another alternative lightbox add-on you can use is the NextGEN Gallery which manages and displays the images in galleries. This plugin offers many features and customization options to help you create beautiful and engaging galleries on your website.
Features
NextGEN Gallery allows you to upload and organize your images into albums or galleries. You can easily add, delete, or edit your images as needed.
With NextGEN Gallery, you can choose from various display options such as thumbnail grid, slideshow, or mosaic gallery. Each option provides a unique way to showcase your images to your website visitors.
You can customize the look and feel of your galleries by adjusting various settings such as thumbnail size, border, and spacing. You can also choose from different display styles, transitions, and effects to create a unique and engaging gallery.
Pricing
NextGEN Gallery offers both a free version and a paid premium version.
The premium version offers features like eCommerce integration, image protection, and the ability to add watermarks to your images. It's available on the NextGEN Gallery website and is priced at $79 for a lifetime license with one year of support and updates included.
9. Easy FancyBox
Easy FancyBox is another lightbox plugin that helps to showcase your images, videos, and other media in a stylish and customizable lightbox. It is a simple, user-friendly tool that can help improve your website's user experience. 
With Easy FancyBox, you can easily display your media content in a visually appealing way that matches your website's style.
Features
Supports images, videos, and other media types in a customizable lightbox
Various customization options for the lightbox, including size, animation, and styling
Responsive design for optimal viewing on different devices
Compatible with popular WordPress plugins, such as Jetpack and NextGEN Gallery
Pricing
This plugin offers both a free and a paid version. To access additional features, you can opt for the Easy FancyBox Pro version, which costs $19.99 per year. This version includes social sharing buttons, Google Maps integration, and advanced customization options.
If you want to use Easy FancyBox on an unlimited number of sites and have access to all the Pro features, you can go for the Agency version, priced at $99.99 per year.
10. Smash Balloon
The Smash Balloon Lightbox Plugin is a user-friendly tool that enables your media to look stunning on all devices, including mobile devices. The plugin effortlessly integrates with social media platforms like Instagram, Facebook, and Twitter, making it easy for you to showcase your social media content attractively and engagingly.
You can use this plugin to create a stylish and interactive gallery that displays your social media content seamlessly.
Features
You can rest assured that your media will look great on any device, including mobile devices, as the plugin is designed to be mobile-friendly and responsive.
The plugin is super easy to set up, making it a hassle-free option for anyone.
You can tailor the plugin to your preferences by adjusting various settings, including the width, height, number of photos, number of columns, image size, background color, image spacing, and more.
It comes equipped with lightbox functionality, meaning images and videos open in a pop-up window when clicked, providing a more immersive viewing experience.
Pricing
The Smash Balloon Lightbox Plugin has two pricing options. The first option costs $39 per year and allows you to use the plugin on one website. This option provides access to all features, updates, and support. 
The second option is the Plus license, which costs $99 per year. It allows you to use the plugin on up to five websites and includes advanced customization options and priority support.
Conclusion
In conclusion, using a Lightbox plugin for your WordPress website can significantly enhance the user experience and make your website look more attractive. With plenty of lightbox plugin options, selecting the one that best suits your unique needs and preferences is crucial. 
Whether you want a straightforward and easy-to-use plugin or a complex plugin with advanced customization options, a lightbox plugin can cater to your requirements. By implementing one of the top 10 best lightbox plugins for WordPress, you can display your images and videos in a stunning and captivating manner, which can help create a lasting impression and a pleasurable experience for your site visitors.