B2B Lead Generation Case Study – 2k MRR in 1 week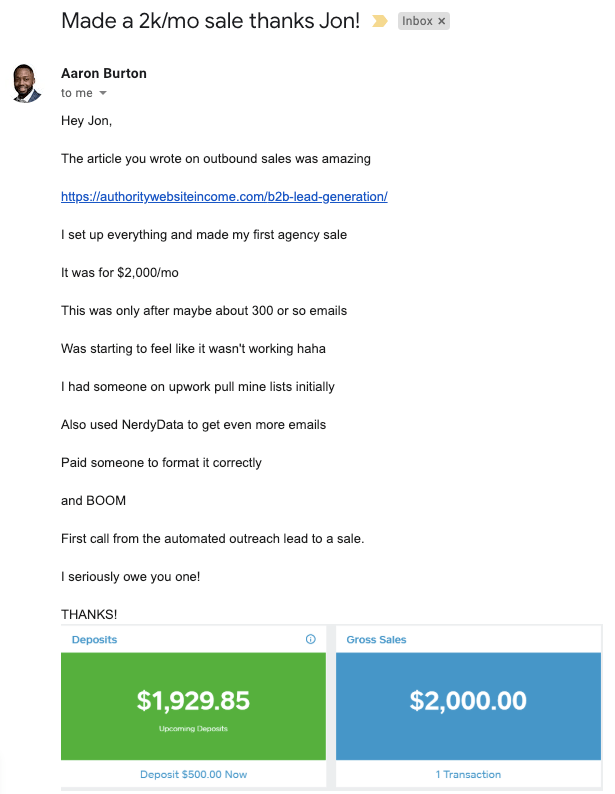 Guest post written by Aaron Burton founder of 20XMedia.com, an email marketing agency that specializes in Klaviyo.
Receiving articles like the one we did last week from Aaron make the time/effort/energy that goes into creating giant posts like B2B Lead Gen one totally worth it!
After reading the email and then having a quick call we thought his fast success was worth sharing with everyone!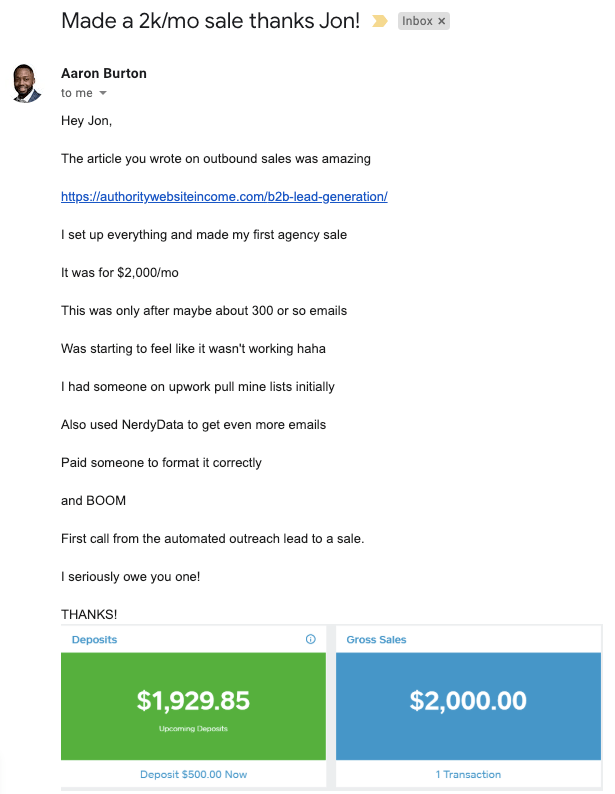 Here is Aarons post discussing how he was able to achieve the results above!
Introduction
About a week ago, I read an article on AuthorityWebsiteincome about landing B2B clients. Little did I know this would be the article that helped our agency land its first client.

Backstory
I was actually just looking for ways to grow my agencies SEO presence. In my search for Google domination I came across an article called "99+ Dofollow Backlinks List To Boost Traffic [Updated In 2019]". In that blog post I learned which sites passed link juice. Very powerful resource.

I then started browsing Jon's posts & came across an article called "Ultimate How-To-Guide For B2B Lead Generation". I was shocked at how in depth & organized it was. Did I mention it had gifs? Can't go wrong with gifs!

Implementation
After reading the descriptions of the 3 types of caveman models I figured it would be best to go all in.

I went with the Alpha caveman model. So far I've used Hunter.io (free), Mailshake, Zapier (free), Upwork, Nerdydata, & Google sheets (free). Total cost was around $254 so we are $50 away from how much the initial post said it would cost to go all in. At least at the beginning stages.
Building my infinite list
So I knew I wanted to target ecommerce store owners. I used a combination of Nerdydata & a VA to get my initial list of customers. I skipped BuiltWith & Similar Web since I already knew what software my target audience used for their companies.
Gettin' Nerdy
Nerdydata really lives up to its reputation. You truly do have unlimited power if you use the tool right.

It's $150 per month for 6 exports. You bet I was factoring if it was worth it or not. I figured worse case scenario I lose $150 but have access to tons of potential prospects. You would have to be extremely bad at outreach if you couldn't close at least 1 person out of tens of thousands of results.

In the Ultimate B2B Guide they go over how to find contact info from companies who use a certain technology. I had to read that section again because I found out that you can search for just about any keyword. So if I wanted to find beauty companies who use Shopify all I had to do was select Shopify then type in "beauty".
Formatting problems…
Wish I could tell you it was as simple as downloading the list and uploading it to Mailshake. But with great power comes great responsibility.

First Problem: A lot of the emails were missing or had dummy email addresses such as [email protected] or emails from popular Shopify apps like [email protected].

Second Problem: A handful of companies had more than one email on the same line separated by a comma.

Third Problem: For some reason the software sometimes pulls Shopify logos. I think this is because NerdyData thinks anything with an "@" sign in the text must be an email.
Solving the problem with filters & formulas

Before we dive in to the filters, make sure to select everything and go to data -> create filter. Every filter listed below can be accessed the same way.

Missing emails
Selecting all -> data -> create filter -> filter by the email column -> filter by condition -> is not empty

Dummy emails
Selecting all -> data -> create filter -> filter by the email column -> filter by condition -> text does not contain example

Logos as emails:
Selecting all -> data -> create filter -> filter by the email column -> filter by condition -> custom formula is

=not(regexmatch(F:F, "(?i)png|jpg|gif|jpeg"))

=not(regexmatch(F:F, "(?i)example|username|yourdomain"))
Functions

Multiple emails
Enter this formula to separate the emails:

=SPLIT(F3, ';")

F3 is referencing the first row of the email column. The semicolon is where Google sheets will make the split. If I had 3 emails separated by a semicolon it would spit out 3 emails in their own row.

PS: If you're planning to skip this step and just have MailShake clean your NerdyData list it's going to take forever. As a benchmark, cleaning a list of 250 emails takes like 5-7 minutes. So imagine uploading thousands of emails. RIP.

Virtual Assistant MVP
Something told me not to rely on just NerdyData so I had a VA search ecommerce companies on Linkedin. The process was simple. I sent them a job description. Letting them know exactly what data I wanted.

Here were the requirements:
Metrics:
Website Traffic: 20k-800k visitors per month
Numbers of employees: 1-20
Revenue: 250k-10M per year
Data To Collect:
First Name
Last Name
Email
Position
Company Name
Website
Positions Ranked:
CEO
Founder
Co-Founder
Partner
Executive Director
Director Of sales
Staff & Operations Manager
Operations Manager
Rate: $20-$30 per 250 contacts

I tried to include as many decision maker roles as I possibly could without restricting the VA to just the founder and CEO. Anyone who can sign off on hiring a marketing agency is who I want to get in contact with. The VA's actually did a good job with finding potential candidates.

These VA's were already so good at finding emails that I didn't have to tell them to use tools like Hunter.io. They most likely were already using them or something similar to complete the task.
Mailshake
I remember installing Mailshake and being really excited actually. We do email marketing for ecommerce but never in a B2B setting that's also automated.
Their prices are pretty fair. Although if you want to use their list cleaning feature and be able to split test you will have to upgrade to the $59/mo level.

The numbers
So I actually ended up creating 2 campaigns in Mailshake. This is because I ran into a formatting mismatch between the leads my Upwork VA's found & the data I formatted from NerdyData.

Stats from the first campaign (Nerdydata):
73% open rate
2% clicked
3% replied
30% bounced (forgot to turn on list cleaning)
Stats from the second campaign (Upwork VA):
32% open rate
1% clicked
4% replied
3% bounced
These screenshots are actually new, however we sent about 266 emails total that led to 1 sale. The funny part is our client actually wanted email marketing done for another company they had. So even if you contact the "wrong people" they may have another business that could use your service.

So which one worked the best? I would say the list the VA's came up with worked better. Linkedin contacts are more active & usually more long term. While pulling emails from NerdyData doesn't really guarantee you will find a business that's been in operation for a while. Mainly because you really have to sort intelligently on NerdyData to get good leads. Also, the high open rate is mainly because it's customer support job to open emails and respond.

Tips
Use list cleaning. You really don't want your emails to start bouncing like crazy. Even if you're using something like G Suite you can easily go to spam if your sending to dead emails.

Study your target market more thoroughly. Since your spending money finding the lists & sending emails its best to identify who exactly your looking to target. Think about what software your audience uses.

Make sure you're formatting is correct in MailShake. Mailshake takes a little getting used to. I had to upload multiple csv files a few times. It's actually really easy. Every column can basically be used as a personalized token inside Mailshake. Stick to one formatting process so you don't end up having to create multiple campaigns like I did.

Warm up your Gmail accounts. It's best to warm up your G Suite accounts so you can start sending more emails per day in Mailshake. G Suite has a limit of 2,000 emails you can send. You can also buy multiple G Suite accounts to send even more. It can get nuts really quick. I recommend making sure your messaging is correct before you burn thousands of leads. Your company's reputation is very important.

When reading big blog posts like the one's Jon & his team make, always bookmark them in relevant folders. If I wouldn't have done that, the post would have been lost forever.
Conclusion
To conclude this post I wanted to thank AuthorityWebsiteIncome for putting together such a great post. Your methods definitely made my life a lot easier. Now I have a consistent way to bring in new business. Thanks!
Aaron